Sweet & Tangy Sautéed Brussels Sprouts with Fried Eggs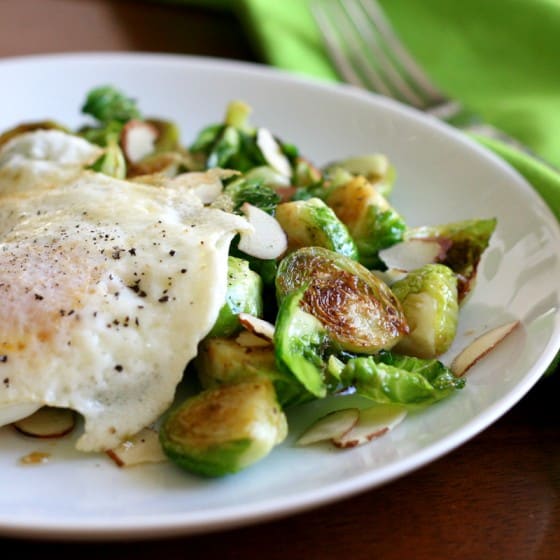 **You still have time to enter the Guy Fieri Food Cookbook giveaway! Just leave a comment on the giveaway post.**
There are a few quirky things about myself that I hesitate telling new friends. Like how when I used to eat M&M's I would separate them into color and make a "bar graph" of them to see the color distribution. Then I would eat them down until I had equal amounts of all colors. Then I would eat them color by color, saving red for last.
Or that I'm a font snob, and I cringe when I see Papyrus still used.
Or that I play tetris with my laundry piles so that there's no empty spaces on my coffee table.
See why I don't share these kinds of things? I'm kind of a weirdo sometimes.
But out of all of the weird tendencies I currently have, I can attribute most of them to my husband. Like craving vegetables and salad at breakfast. I know… I should really seek help.
A while ago I posted a recipe for shredded brussels sprouts, buckwheat crepes, and fried eggs, and discovered that brussels sprouts and eggs are a magical combination.
One morning my husband made himself halved, sauteed brussels sprouts for breakfast, and I thought he was kind of a freak. Until the next morning when I suddenly craved it. (Married couples really do turn into each other, I think.) I went to my fridge and glanced at the seven different kinds of mustard in the door. (Still a freak.) I pulled out the Apricot-Ginger Mustard from the sample pack I received and squirted some on the sprouts in the pan.
Probably the best decision I made all morning.
And thus a second entry in the Saucy Mama "Fabulous with Five" contest was born.
Sweet & Tangy Sautéed Brussels Sprouts with Fried Eggs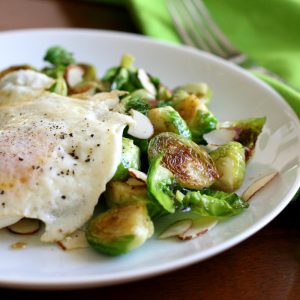 Ingredients:
3 T butter or olive oil

1 pound brussels sprouts

1 T Saucy Mama Apricot-Ginger Mustard or honey mustard

3 T sliced almonds

2 eggs

salt and pepper, to taste
Directions:
Prep the brussels sprouts by cutting off the tough stem ends, removing outer leaves that fall, then slicing them in half.
In a large nonstick skillet over medium-high heat, melt 2 T of the butter (or add oil, if using). Place brussels sprouts halves cut-side down in the pan and let them cook for 4-5 minutes, without stirring, until the bottoms are medium brown and caramelized. Give them a stir, then add the remaining 1 T butter, mustard, and almonds. Stir to coat the sprouts in the mustard and cook for another 3-4 minutes until they're tender. Add salt and pepper to taste.
Meanwhile, fry eggs in a separate skillet over medium heat to your liking. Serve eggs and sprouts together.
Serves 2.