Salmon BLT with Spicy Garlic Mayo
A well-made BLT is one of my favorite things in the whole world.
The bread? Thin and toasted.
The bacon?  Crisp.
The tomatoes? Fresh from the vine.
One aspect of a classic BLT that I always omitted was the mayo. I've hated mayo for years until I started
making my own
. For this particular BLT I made a spicy garlic mayo. (Recipe below!) My husband liked it so much he almost ate it by the spoonful.
This time I also did something I'd never done to a BLT before.
Oh yes I did.
That would be a piece of foil-packet wild-caught salmon. It's my favorite recipe for salmon (thanks Mom & Dad!) and what I always ask for when I visit my parents.
I don't think I need to say a whole lot about this. It pretty much speaks for itself.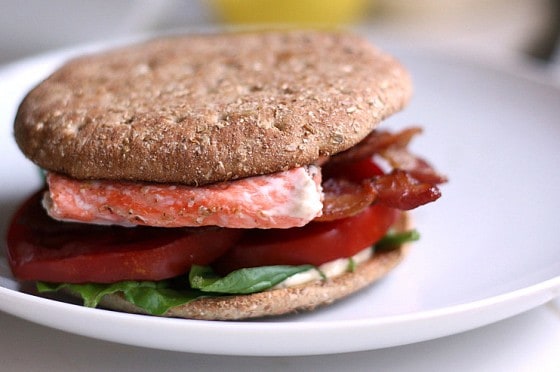 Salmon BLT with Spicy Garlic Mayo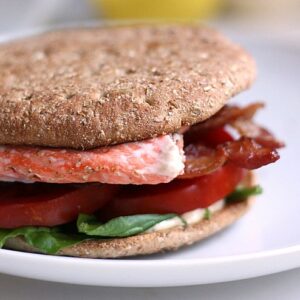 Ingredients:
1 4-ounce wild-caught salmon fillet, thawed

dash of lemon-pepper seasoning

dash of creole seasoning (like Tony Chachere's)

1 tsp butter

2 slices of bread or a sandwich thin

2 slices of uncooked bacon

2 slices of a fresh, ripe tomato

a few lettuce or baby spinach leaves

2 tsp Spicy Garlic Mayo (recipe below)
Directions:
Preheat grill, stove-top grill pan or broiler to medium-high heat.
Place salmon fillet on a piece of foil (large enough to make a sealed packet). Sprinkle with lemon-pepper and creole seasonings. Place butter on top of the fillet and fold foil over to seal the packet. Place packet on the grill (or in the oven) and cook for about 8-10 minutes or until the center has a couple of spots that are still dark. Cooking time varies depending on the thickness of the fillet. Remove from heat and let it sit for 5 minutes before unwrapping.
Meanwhile, cook the bacon slices until crisp. Assemble the sandwich, spreading the mayo on the bread.
Makes 1 sandwich.
Nat's notes: If you don't want to make mayo from scratch, simply grate 1 or 2 fresh garlic cloves into about a cup of mayo. Add a dash or two of hot sauce and mix well. Let it sit for about 10-15 minutes to infuse the mayo with flavor. Store covered, in the fridge.
Spicy Garlic Mayo

2-4 egg yolks (fresh, free-range eggs if possible)

1/2 tsp Dijon mustard

2 T lemon juice

1 1/2 T vinegar (I like balsamic)

3/4 tsp sea salt

2 fresh garlic cloves, peeled and quartered

a few dashes of hot sauce (Tabasco, Tapatio, etc.)

3/4 cup grapeseed or another neutral-flavored oil, like canola
In a medium-sized bowl (or a large plastic cup) combine all the ingredients except for the oil. Insert immersion blender and give it a quick buzz until it's creamy. Still continue to blend as you add the oil in a slow drizzle. The mixture should thicken after a minute or two. If you're using a cup, use up and down motions to bring the emulsion together. Adjust seasonings if necessary and store in an air-tight container for 2 weeks.
Makes about 1 cup.