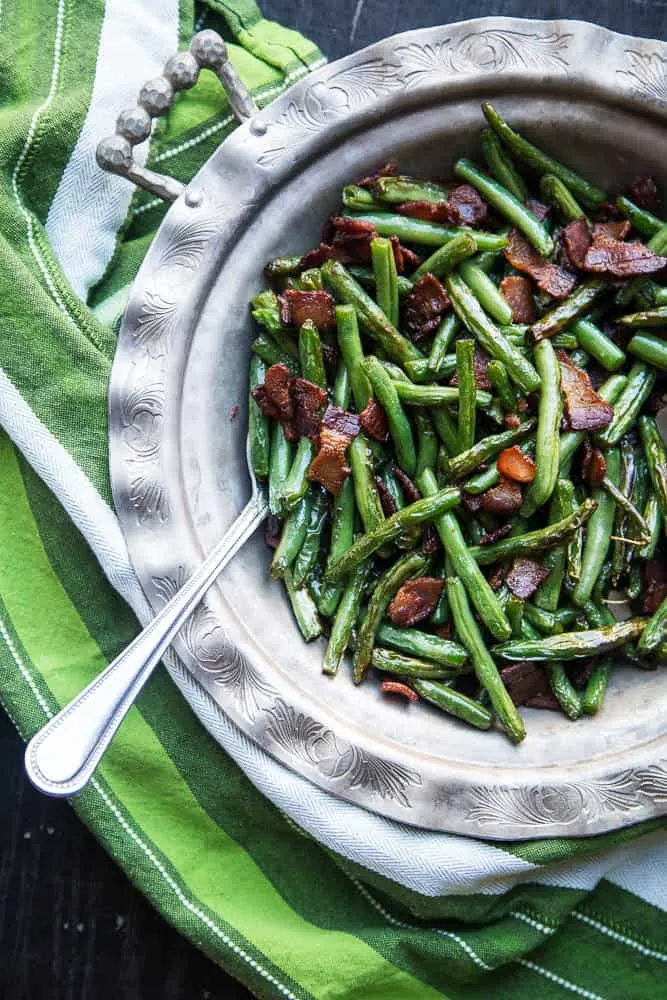 Green beans have never been my favorite thing in the world, but I'm convinced that cooking things in bacon drippings will make just about anything at least somewhat tasty.
Luckily, bacon-fried green beans are just a little more than tasty.
Ok, a lot more. They're completely delicious.
After cooking green beans this way I learned that I actually like green beans. Well, fresh green beans. Not the canned ones. (ew.)
This is actually a super old recipe that I rewrote and rephotographed. I figured that some of you might actually want measurements instead of "handfuls" and "a little of this".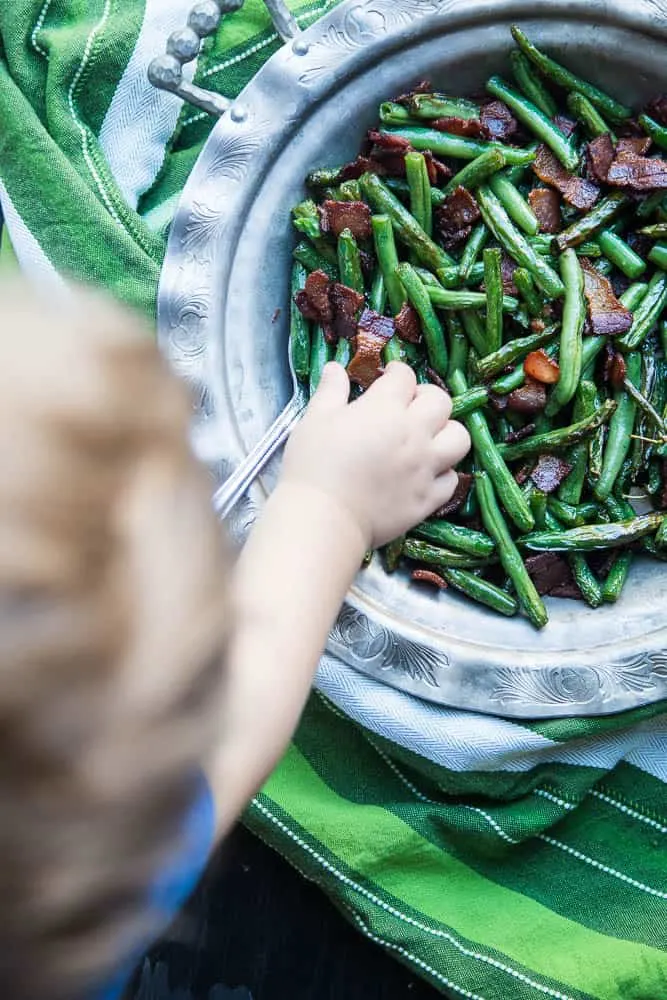 About Fried Green Beans
You've probably noticed fried green beans or fried string beans in the grocery store — packaged as a crunchy snack.
This recipe isn't about deep frying green beans to the point of making them unrecognizable. (Although commercially fried green beans are pretty tasty. I admit.)
I'm talking about pan-fried green beans here.
Why is bacon involved?
First of all, why NOT.
Second, bacon provides the oil to cook the beans. And all the delicious flavor that goes with it. It's the perfect combination, really.
Actually, make extra bacon when you make ANY recipes that call for bacon because you kids will wander in and swipe some off the counter where it's cooling off.
And then you'll shoo them out. And then they'll come back with their sneaky fingers.
Kids, man. Just cook the entire package, mmmkay?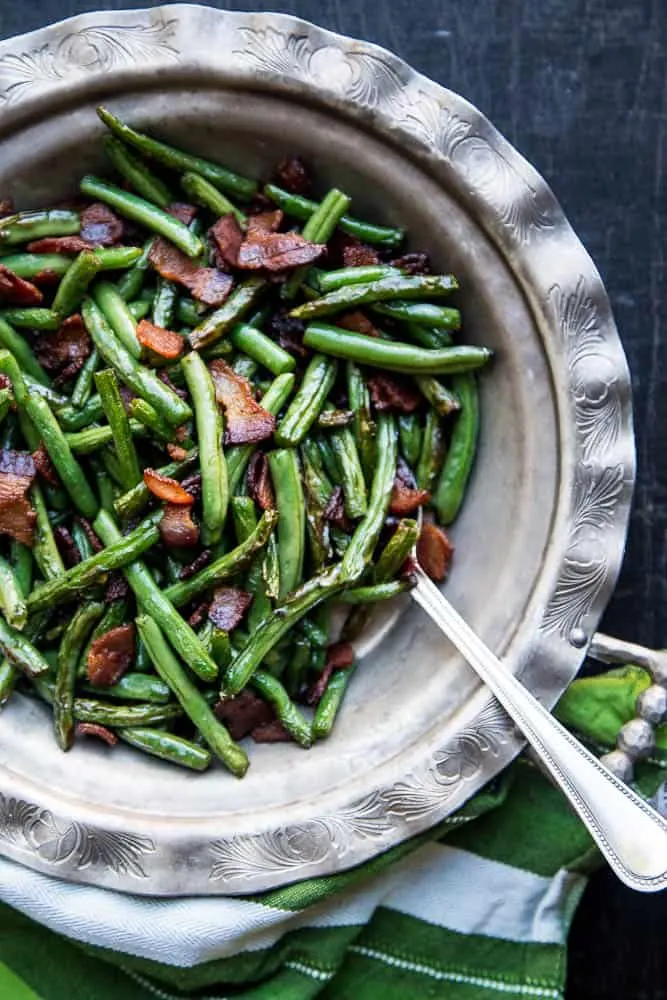 WATCH: Green Beans and Bacon
Do you need to blanch the green beans first?
For this recipe, no. It's not needed.
They cook quickly enough that you don't need to.
Plus any time I can avoid bring a pot of water to boil on the stove (and washing it afterward) is a plus for me.
Do these green beans reheat well?
Sure! I'd recommend throwing them back into a skillet.
They should still have enough cooking fat on them that you don't need to add anymore. Just heat them gently until they're barely reheated. If you cook them too long the green beans won't be so green anymore.
And they'll be mushy.
While we're on the topic of green beans, you should really try this recipe, too…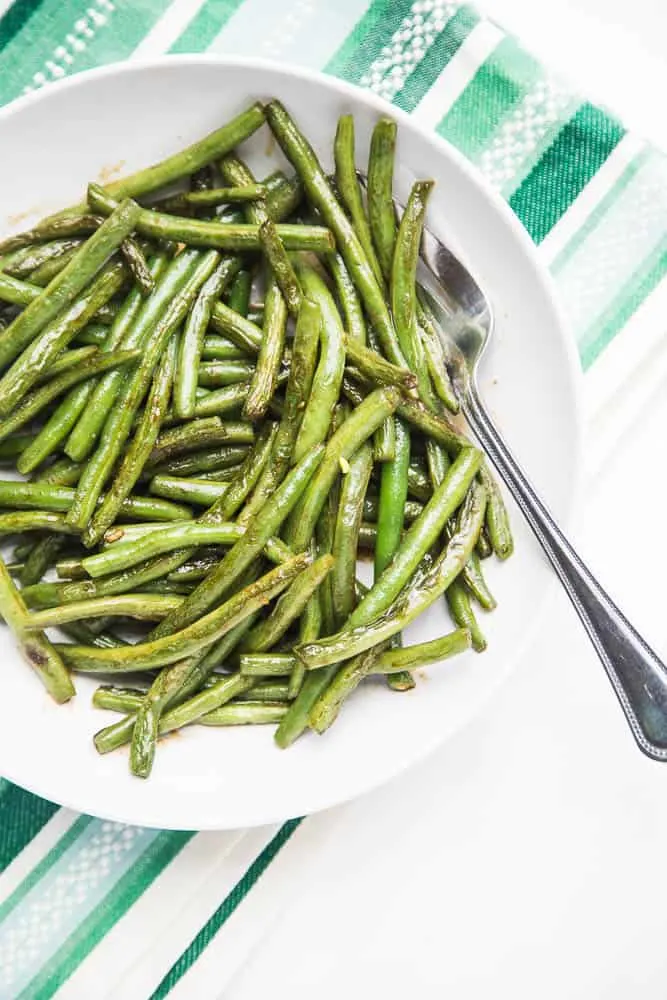 The Most Magical Sauteed Green Beans — This recipe only has a few ingredients, too, and my kids love these, too! (They're particular about green beans.)
I mean, it's hard to imagine green beans more magical than ones that have bacon. It might be a toss up. They're that good.
By the way, my Bacon Fried Green Beans would be a great Thanksgiving side dish because once you get the bacon cooked (which you can do ahead of time), it takes just a few minutes to fry up the green beans!SaveSaveSaveSaveSaveSave
---
If you make one of my recipes, be sure to post it on social media and tag me at @perrysplate or #perrysplate so I can send you some love!
Green Beans and Bacon Recipe
Yield:
Serves 5 as a side
Never heard of Bacon-Fried Green Beans? It's the ONLY way to eat green beans, really. Just TWO ingredients (I'll let you guess which two), a hot skillet and you're set!
Ingredients
6-7 slices thick-cut, nitrate-free bacon
1 pound fresh green beans, trimmed and halved
Instructions
Slice the bacon into 1/2-inch pieces. Cook in a large skillet over medium heat until the bacon reaches your desired crispness. Remove the bacon with a slotted spoon and set aside.
Drain all but 2-3 Tablespoons of the bacon drippings. Bring the remaining drippings up to medium heat again and add the green beans. Toss the green beans around occasionally as they cook, 12-15 minutes or until they're crisp tender and have golden brown spots.
Stir the bacon back into the green beans and transfer to a serving bowl and serve.
This post may contain affiliate links. Any purchases made by using these links won't cost you any extra and helps keep my content free. These links may be Amazon links as I am part of the Amazon Associate Program.