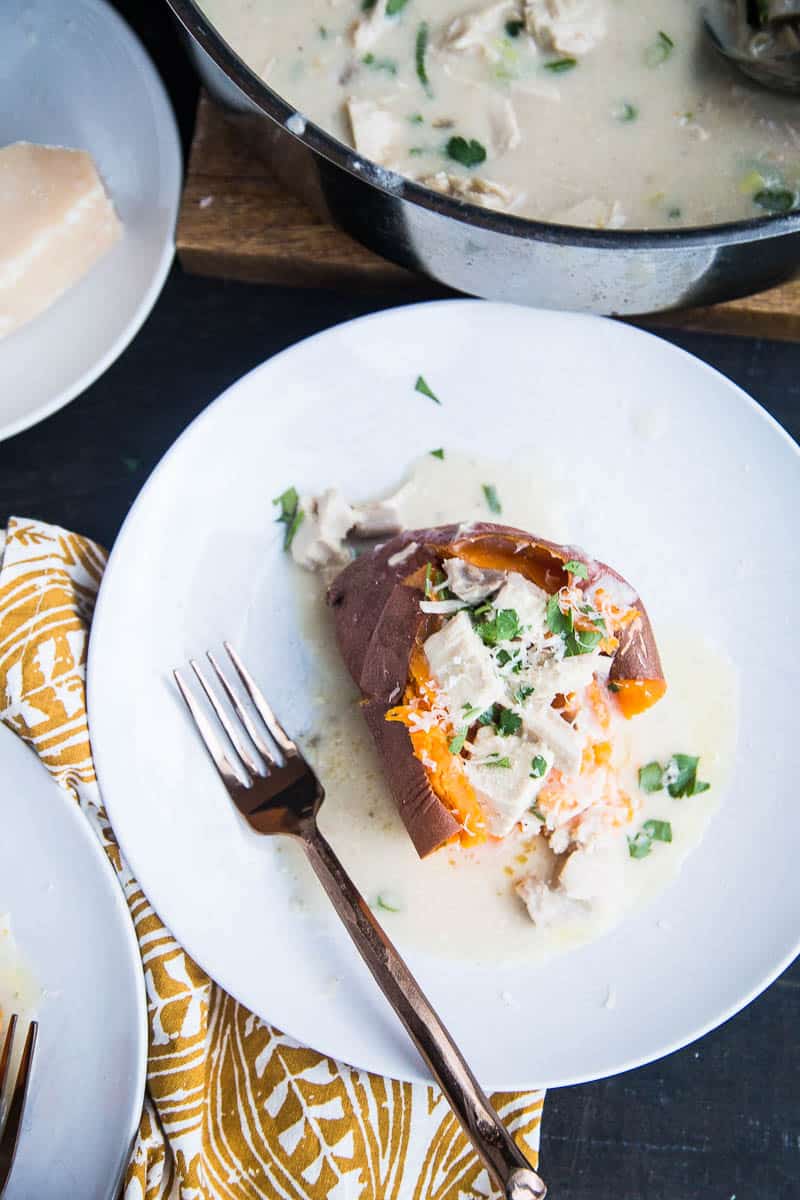 This post is in partnership with Parmesan.com who sent me product to use and compensated me for my time. As always, all opinions shared are my own.
---
Do you every plan your Thanksgiving leftovers before Thanksgiving? I TOTALLY do.
I love repurposing ALL the leftovers and stash some in the back of the fridge for specific purposes. Making stuffed sweet potatoes is a really good use for most of the leftovers we end up with, so I thought I'd share one of my favorite versions with you!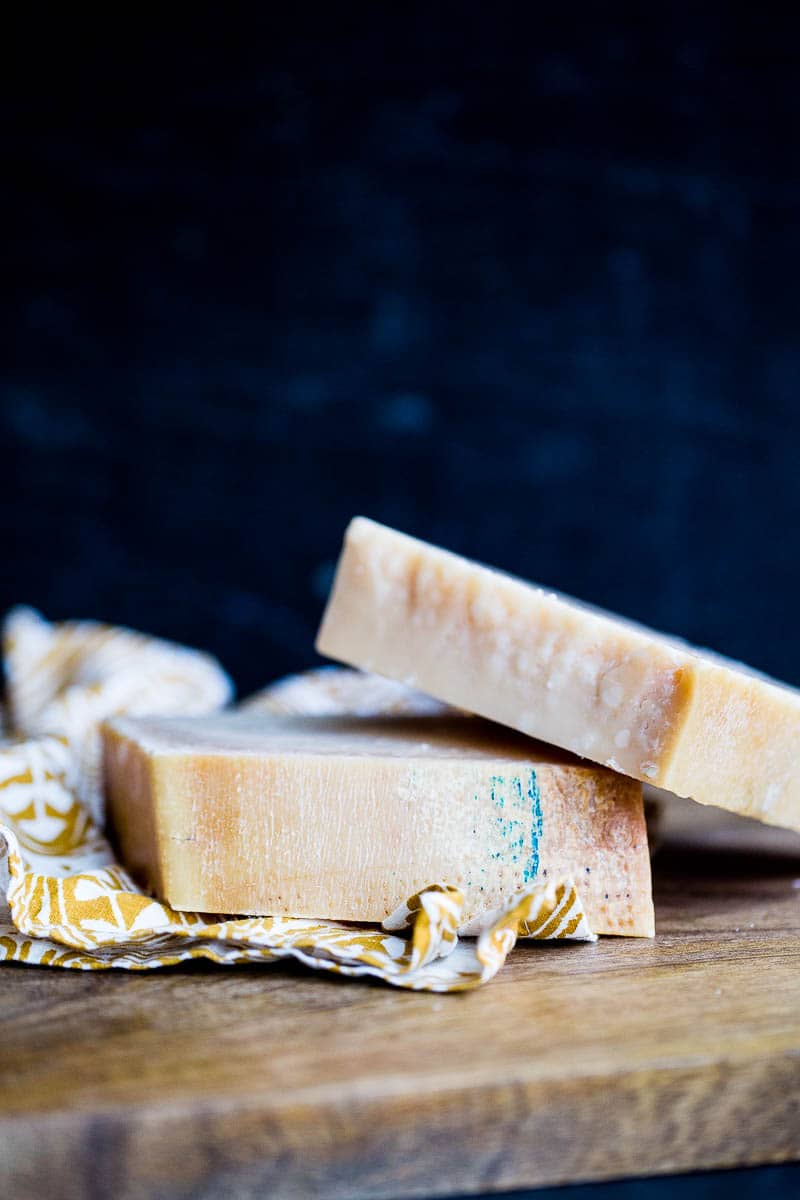 Can we talk cheese for a minute? It's no surprise that I'm a cheese fanatic. In fact, you could describe my diet as paleo sprinkled with cheese. I tolerate cheese and small amounts of dairy well, so I do eat them occasionally. When I choose cheese, I try to buy high-quality stuff. If I'm going to eat cheese, it's got to be good. And worth it.
Parmesan is one of my favorites. (Isn't it everyone's favorite?) Do you know how to spot authentic Parmesan — or Parmigiano-Reggiano? Parmesan means "from Parma" or the region in Italy where it originated. See those pin dots on the rind? That's how you can tell it's official Parmigiano-Reggiano.
And according to European courts, Parmigiano-Reggiano is the only cheese that can legally be called "Parmesan". Unfortunately those laws aren't as enforced in other areas of the world, so LOOK FOR THOSE PIN DOTS! Cheese is serious business, folks.
Anyway, Parmesan is the bomb, and if you're still eating that stuff in the green can, maybe by the end of this post I can convince you to toss it and spring for some good stuff. I've started buying it in large chunks (Costco has the real stuff!), cutting them into smaller pieces, wrapping them in plastic wrap and sticking them in a plastic bag. That way I can pull out a small chunk and use it without the entire thing becoming dried out.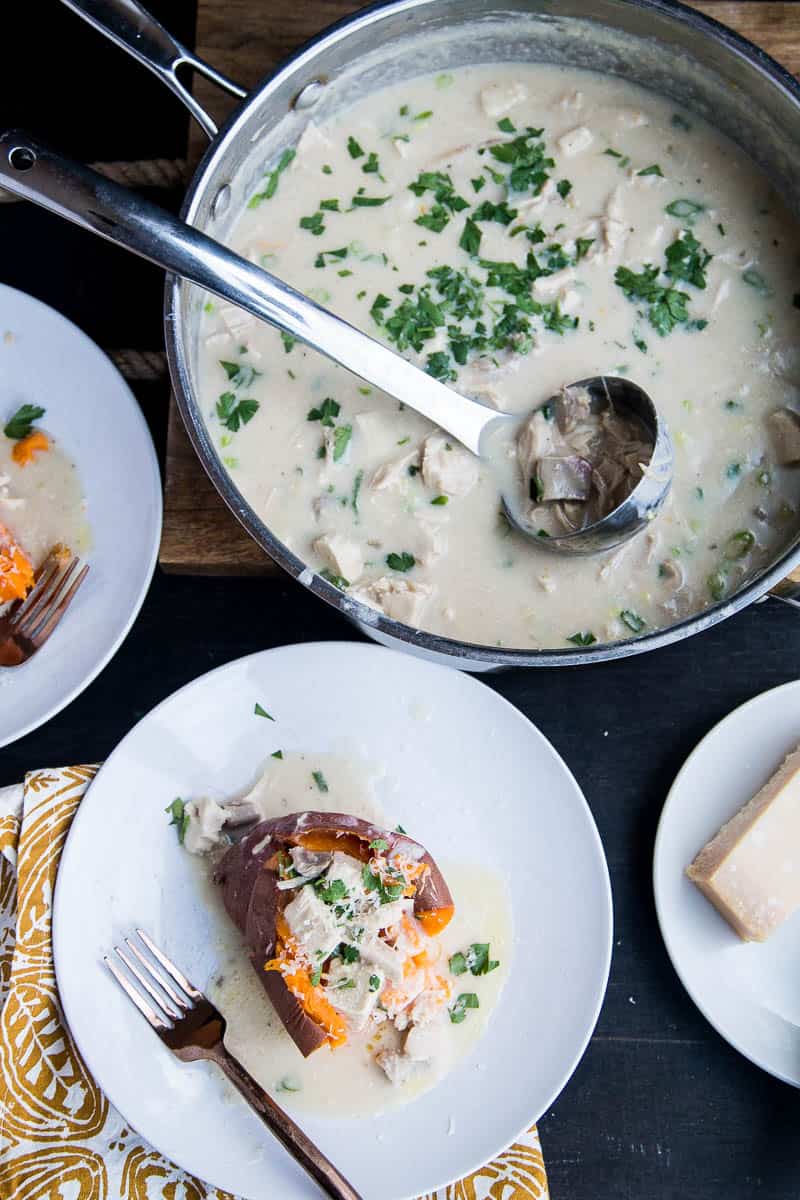 So this recipe — I took some leftover turkey from our Thanksgiving dinner and made a creamy Parmesan gravy to go with it.
Yep, Parmesan gravy. Sounds dreamy, no?
Since Parmesan is a hard cheese, sometimes it can be difficult to grate. If I just want to grate a little on top of what I'm eating, I'll use a sharp microplane grater. If I need more, I'll cut it into 1-2 inch chunks and give them a ride in my food processor. (It's a rather loud and rocky ride, but it gets the job done, and you end up with perfectly grated Parm!)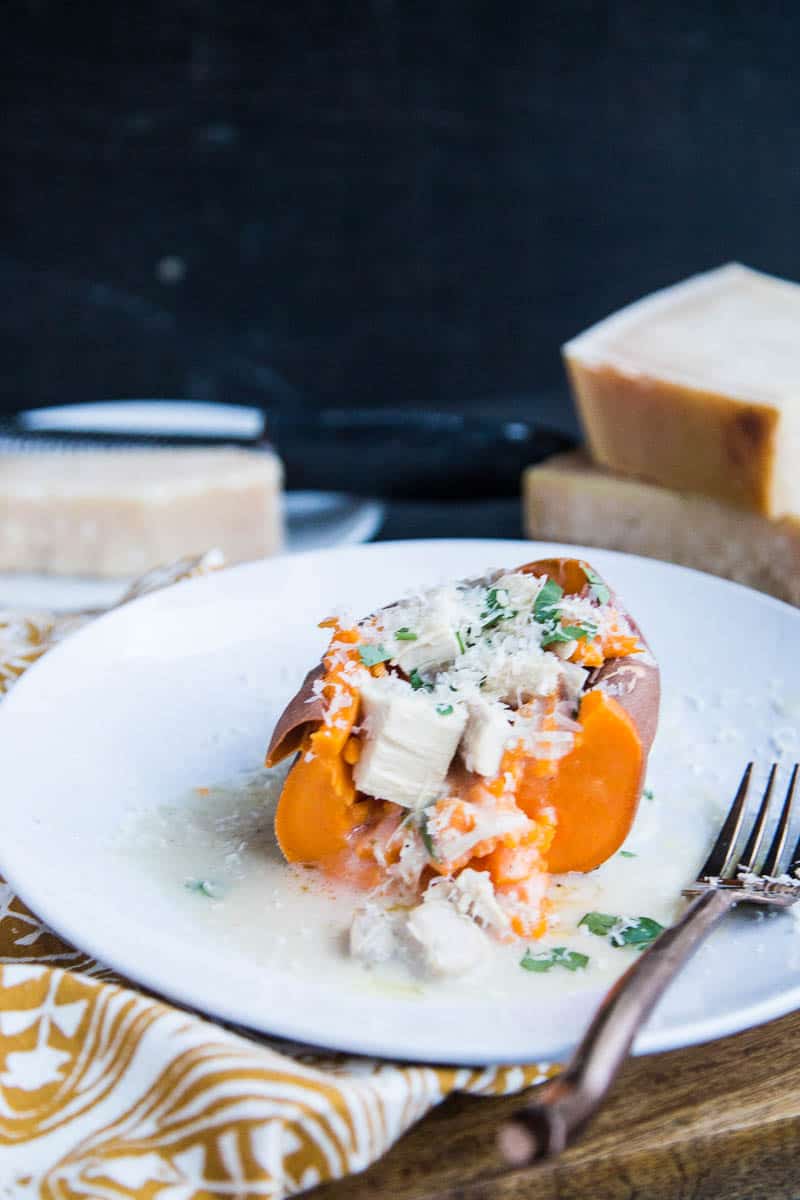 I stuck some extra large sweet potatoes in the oven before I ran out the door to pick up my kids from school. When I got home an hour later they were perfectly done, so I whipped up this turkey and parmesan gravy in about 20 minutes. Then BOOM, stuffed sweet potatoes were on the table and everyone inhaled them.
I showered my potato with an extra helping of Parmesan, too. Man, I could eat that stuff all day.
Oh, hey… do you want to win a Holiday Parmigiano-Reggiano Cheeese Feast? (If you say no, I don't even know how to deal.) Just click on that link up there and enter to win — it's super easy! Contest closes in a week.
And if you want to read up on the history of Parmigiano-Reggiano, click over and check it out. If you have nerdy food tendencies like me you may find it interesting.
---
Got even more leftovers? Try using them in some of these recipes!
Paleo Turkey Bacon Ranch Chowder
Dill Turkey Chowder with Sweet Potatoes
Paleo Chicken Pot Pie with Sweet Potato Biscuits
Homemade Turkey Stock (recipe for chicken stock — just use a bigger pot!)
SaveSave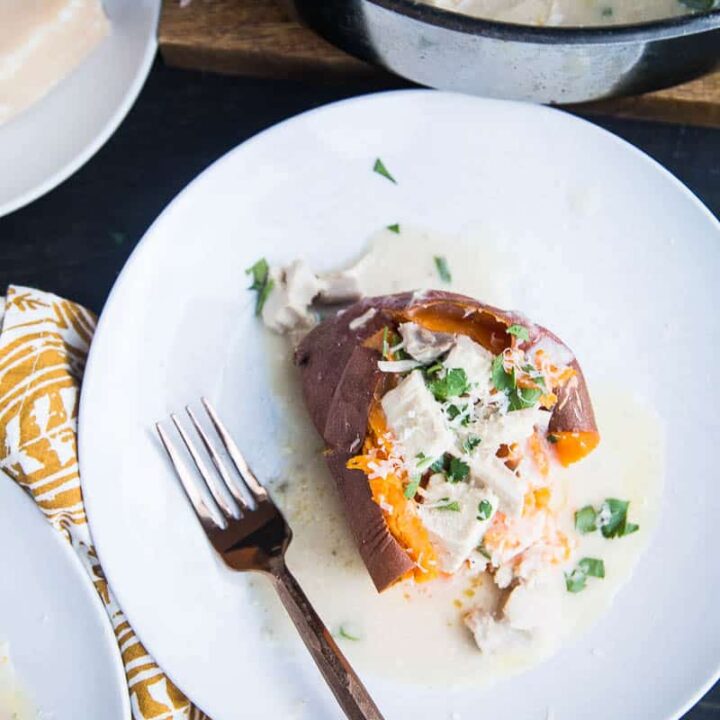 Turkey Parmesan Stuffed Sweet Potatoes
Additional Time:
20 minutes
Use those turkey leftovers from Thanksgiving and use it to make these stuffed sweet potatoes with creamy Parmesan gravy -- in 30 minutes!
Ingredients
Enough sweet potatoes for 6-8 servings
3 Tablespoons ghee or grass-fed butter
5-6 cups of cooked, cubed turkey (or chicken)
1 clove garlic, minced or grated
2 cups unsweetened almond milk
2 cups turkey or chicken broth
2 Tablespoons tapioca starch
1 Tablespoon Dijon mustard
1 teaspoon sea salt
1/4 teaspoon black pepper
1 cup shredded Parmesan cheese, plus extra for garnish
2 green onions, thinly sliced
1 Tablespoon white wine vinegar
Fresh chopped parsley, for garnish
Instructions
Preheat the oven to 350 degrees F. Place the sweet potatoes on a sheet pan and bake for 30-60 minutes until a knife pokes into them effortlessly. Cooking time depends on the size of the sweet potatoes.
Bring a large skillet to medium-high heat. Add the butter and the cubed turkey. Stir it around for 2-3 minutes until the meat is heated through. Stir in the garlic.
Whisk together the almond milk, broth, tapioca flour, Dijon mustard, salt, and pepper until no lumps remain from the tapioca. Pour the mixture into the pan with the turkey. Bring it to a boil, then reduce the heat and let it simmer for 5 minutes, stirring occasionally, until it's thickened somewhat.
Stir in the Parmesan cheese, green onions, & vinegar. Taste and add more salt, if necessary.
Split each sweet potato in half (I like to add more butter and a couple pinches of salt into the potato) and ladle some turkey and gravy mixture inside.
Sprinkle with a little parsley and serve.
Notes
Nat's Notes

1. You can absolutely use chicken and chicken broth instead of turkey.

2. If this recipe needs to be dairy free you can use avocado oil in place of the butter and 2/3 cup nutritional yeast in place of the Parmesan.