Green Chile and Black Bean Dip
I made this bean dip over three years ago out of fridge leftovers. It turned out tasty, so I jotted down the recipe and in my binder it sat. Until New Years Eve. I was supposed to take an appetizer to a little get-together, and I was in the mood for bean dip. I had also bought a Costco-sized bag of tortilla chips. I brushed off this recipe, tweaked it a little, and it turned out better than I remembered. As much as I love the stuff in the can, this sure beats the socks off of it. Um . . . that is, if canned bean dip wore socks.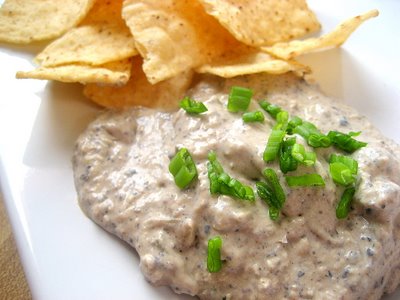 Green Chile and Black Bean Dip

Ingredients:

1 tsp oil
¼ c. chopped onion
1 clove garlic
1 can diced green chilies
1 can black beans, drained
8 oz cream cheese, softened
1 T. taco seasoning
2 T. ranch dressing
milk (if needed)
sliced green onions (for garnish)

Directions:

Heat oil in a small saucepan over medium-high heat. Add onion and garlic; saute until onions are golden brown. Add the remaining ingredients and simmer, stirring to further soften the cream cheese, about 5 minutes. Use an immersion blender and process until smooth. You could also transfer dip into a blender or food processor and do the same. Add a tablespoon or two of milk if the dip is a little thick for your taste. Transfer to a serving bowl and garnish with green onions. Serve warm or cold.

Nat's Notes:
1. If you wanted to make it spicy, add a pinch or two of cayenne, crushed red pepper, or a diced jalapeno.
2. The dip will thicken as it cools.