Garlic Bread with Bacon, Greens, and Provolone
Sometimes I like making appetizers for dinner. Does anyone else do that? Usually all you need to add is a salad, meat, rice or vegetables (depending on the appetizer) to round out the meal. We've done that with
chicken satay
,
bacon-wrapped chicken kabobs
,
this really great flatbread
,
meatball sliders
, and
potstickers
. Basically anything that's listed in the appetizers section of the index has been on our dinner table. For dinner.This recipe was intended to be for dinner one night, but ended up being an appetizer-type recipe. I made garlic bread out of a baguette and topped it with some caramelized onions & sauteed chard (hello again) mixed with bacon (oh you're here, too!), and a slice of Provolone cheese. After another stint in the oven they were fragrant and melty and the bacony-garlicky-balsamic juices from the vegetables soaked into the bread softening it a bit (those rustic loaves can get mighty crispy in the oven).There was a salad on the table that night, but I have no recollection of it.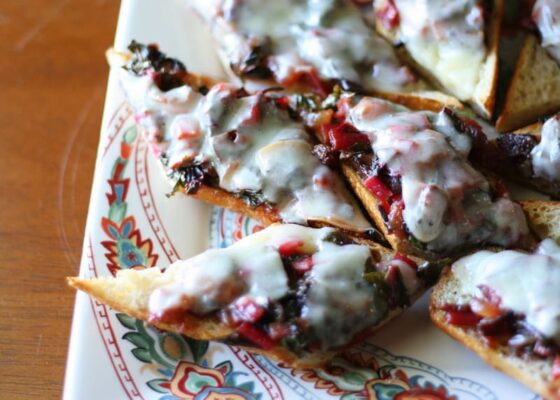 Garlic Bread with Bacon, Greens, and Provolone

Ingredients:

For the garlic bread:
1 rustic-style baguette (the really crispy-chewy ones are best)
Extra-virgin olive oil
1 clove garlic, peeled and sliced in half lengthwise

For the topping:
6 slices uncooked bacon
2 cups chopped onion
1 bunch of Swiss chard, washed, stems & leaves both chopped, but kept separated.
2 cloves garlic, sliced thinly
2 T balsamic vinegar
Salt and pepper to taste
3-4 slices of provolone cheese

Directions:

Preheat oven to 400 degrees F.

Cook the bacon (sliced or whole, your choice) in a large skillet over medium heat until crispy, 10-12 minutes. Meanwhile, start on the bread.

To prepare the bread, slice the entire baguette in half lengthwise and lay it on a large cookie sheet, cut-side up. Drizzle olive oil over the bread and bake for about 5 minutes until it just begins to crisp up on the edges and turn golden brown. (It'll go back in the oven later, so you don't want it too crispy right now.) Remove from the oven. While the bread is still hot, carefully rub the insides of the cut garlic clove halves over the toasty bread. It won't look like anything is happening, but the garlic is going in there, trust me. Set aside until the filling is ready.

When the bacon is finished, remove it from the pan with a slotted spoon and set aside. Remove all but about 2 T of the bacon fat from the pan and return the pan to medium heat, and add the onion. Cook for about 10 minutes, then add the chopped stems. Cook another 10-12 minutes or until the onions turn golden brown and caramelized. Reduce heat if the onions begin to get too dark too fast. Add sliced garlic to the pan and cook for another minute or so. Then add the chopped chard leaves. Cook for about 5 minutes or until wilted and tender. Stir in balsamic vinegar, reserved bacon, and add salt and pepper to taste. Remove from heat and let it cool off for a couple of minutes.

Spoon filling evenly onto "garlicked" baguette halves. Cut provolone slices in half and distribute evenly over the filling. Return the bread to the oven and bake for another 5 minutes or so until the bread has toasted and the cheese is melted. Remove from the oven and allow to cool before slicing into 3-4 inch pieces.

Makes about 12-15 appetizers or dinner for 4 with a green salad.

Nat's Notes:
1. You could substitute another type of greens, but discard the stems if you do.