Strawberry Buttermilk Ebelskivers with Almond-Honey Glaze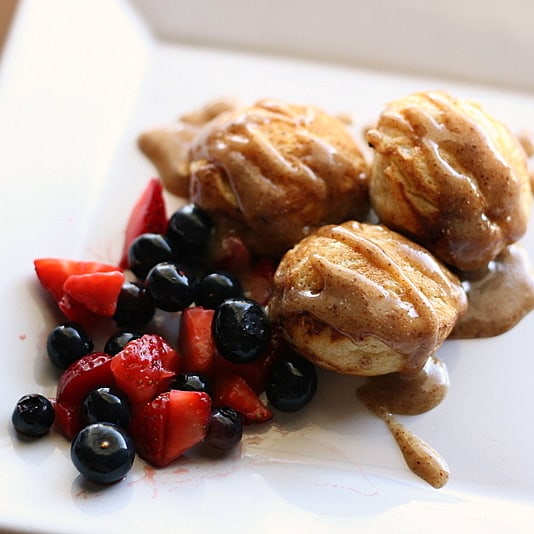 "Pancake balls" are a favorite around here. We even have them for dinner sometimes (if dad comes home late). I discovered them last summer when my mom and I made some apple-cinnamon ones together at her house. After getting an ebelskiver pan
and an awesome cookbook* to go with it for Christmas last year, (thanks mom!) it's taken some months to pull it out and really start playing with it.
This recipe is an adaptation of the basic ebelskiver recipe from Ebelskivers by Kevin Crafts. I bumped it up a few nutritional notches by upgrading to whole wheat pastry flour and adding fresh berries and an almond-honey glaze instead of syrup.
This recipe makes 21 ebelskivers. On the night two toddlers and I at them for dinner, I ate 5.
The girls ate the rest, including almost all I had reserved for my husband. They left him one.
If you have more than 3 hungry mouths, a double batch is recommended. :)
* The cookbook link is for the paperback edition that comes out in March 2011. I have the hardback version, which isn't readily available anymore.
Strawberry Buttermilk Ebelskivers with Almond-Honey Glaze

Special equipment needed: ebelskiver pan and wooden skewers or chopsticks

Ingredients:

for the batter:
1 cup whole wheat pastry flour or all-purpose flour
1 1/2 tsp sugar
1/2 tsp baking powder
1/4 tsp salt
2 large eggs, separated
1 1/4 cup buttermilk
2 T butter, melted and slightly cooled + a extra stick, partially unwrapped for coating the pan
1/2 tsp vanilla extract (optional)

for the filling:
1 pint of strawberries, coarsely chopped
1/2 tsp sugar

for the glaze:
1 cup almond butter (or peanut butter)
3 T honey
1/4 cup hot water (tap is fine)

Directions:

Combine the strawberries and 1/2 tsp sugar in a small bowl. Set aside until ready to use. In a separate small bowl combine almond butter, honey, and warm water. Whisk until smooth, adding more water to thin it out if you like, and set aside.

In a large bowl, whisk together flour, sugar, baking powder, and salt. In a separate, smaller bowl, whisk together egg yolks, then add the buttermilk, melted butter, and vanilla (if using). Add the wet mixture to the dry and stir until well-blended. The batter will be rather lumpy.

In a clean bowl, beat the egg whites with an electric mixer on high speed until stiff, but not dry peaks form. Using a spatula, carefully fold about 1/3 of the whites into the batter to lighten it, then fold the rest in until no white streaks remain. Use the batter right away.

Heat the ebelskiver pan over medium heat and rub some butter in each cavity. When the butter begins to bubble, quickly put about 1 T of batter in each spot, followed by 1 tsp of filling, then another 1 T or so of batter. When the sides begin to bubble and look a bit dry (like a pancake ready to flip), turn each ebelskiver over by manuvering it down and around with a pair of wooden skewers. (After a few flips, you'll be a pro.) Continue to cook until the other sides are golden brown. Transfer to a large plate or platter and repeat with remaining batter and filling.

Serve with a drizzle of almond-honey glaze and some fresh fruit, if desired.

Makes about 21 pancakes.

Nat's Notes:
1. If you're "making" your own buttermilk by adding lemon juice or vinegar to milk, reduce amount by 1/4 c. Commercial buttermilk is substantially thicker than milk, even after an acid has been added.
1. This version is also good with mashed banana as the filling. Or chocolate chips.