Whole Grain Oatmeal Pancake Mix + Blueberry Maple Syrup
I think I've mentioned our gradual transition from using (and loving) purchased pancake mix to using (and loving) homemade, whole grain pancake mixes. I was always very leery of whole grain pancakes because I do NOT enjoy eating hockey pucks for breakfast. I've discovered over the last few years that it IS possible to change your tastes and that not all whole grain pancakes taste like hockey pucks! If you're hooked on purchased pancake mix, try making a basic, homemade mix and gradually add whole wheat flour. Or try this Buckwheat Pancake Mix.
This Whole Grain Oatmeal Pancake Mix is lovely. It's my new favorite, actually. Kat, a fellow high school yearbook nerd and friend from back when I thought it was cool to wear sweatshirts inside out, sent this to me. I'm so glad she did!
The first time I made this, I mixed a batch in a large bowl and measured some out into a slightly smaller bowl to cook up. Then I accidentally added the eggs and water to the BIG bowl. We had a lot of pancakes that morning. (And in the freezer to pull out for the rest of the week. Making the entire batch wasn't a bad idea, actually.) Luckily we had a lot of syrup and fruit, too.
Did you know that blueberries have a lot of pectin? Seriously. Go make a smoothie with a lot of blueberries and let it sit in the fridge overnight. You'll have this weird, semi-solid thing that you will NOT want to drink.
Where was I? Oh yes, syrup. I snagged the idea for this syrup from another (real life) friend, Jessie from The Cavewoman's Kitchen. I never thought to pair blueberries with maple syrup before. And recently I read that blueberries and cinnamon was a good combination as well. So I used all three. D-lish.
Only… remember that stuff about pectin? (See? It was relevant!) I took these photos the day after I made the pancakes and syrup. The syrup had turned kind of… slimy. And slippery. Still tasted great, but it wouldn't spread itself evenly over the pancakes as I'd hoped.
It slipped over to one side, and I ended up with what my husband called, "two-faced" pancakes. Oh well. I threw some blackberries on top as a distraction.
Not only was this a great combination, we didn't eat hockey pucks for breakfast. Nope. They're hearty, yet soft and have a great flavor.
Even after they've cooled off and sat for an hour on the counter. And especially slathered with Nutella.
Thanks Kat & Jessie!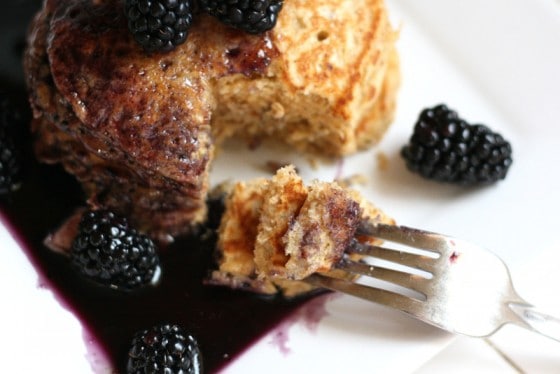 Whole Grain Oatmeal Pancake Mix + Blueberry Maple Syrup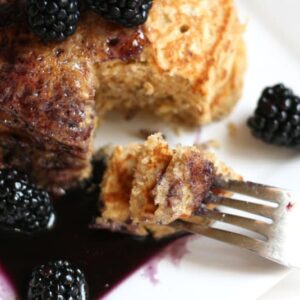 Ingredients:
For the mix:

3 cups dry milk

4 cup whole wheat flour

4 cups whole wheat pastry flour (or more regular whole wheat flour)

4 cup rolled oats

1/2 cup brown sugar

2 T + 2 tsp baking powder

2 tsp salt

1 1/2 cup milled flax (optional)
For the syrup:

1 cup 100% pure maple syrup

1 cup fresh or frozen blueberries

1 tsp cinnamon
Directions:
To prepare the mix:

Mix together thoroughly. (Shake it like crazy.) Store in an airtight container. Makes about 5 batches.
To use the mix:

Measure out 3 cups dry mix and add 2 beaten eggs, 2 cups water and 1 T oil or melted butter. Drop by 1/4 cupfuls on a med/high heated buttered skillet.
Makes about 14-16 pancakes per batch.
To prepare the syrup:

Combine all ingredients in a small saucepan and simmer for 10-15 minutes until blueberries have cooked down. Let it simmer longer if you want your syrup slightly thicker.
Pancake mix recipe adapted slightly from Kat Jensen, inspired by Great Harvest pancakes.

Syrup recipe adapted slightly from The Cavewoman's Kitchen