Meet Aggie! + Whole Wheat Spaghetti with Sauteed Chickpeas & Spinach
Still there? I've missed you! The morning sickness is getting better, I have a tad more energy, and we just moved our stuff over to our new house. Whew. There's still some work to do and loads of unpacking so I've got a few more guest posts lined up to ensure that you'll not only get fabulous recipes, but meet a few of my favorite bloggers!

Today I'm smiling from ear to ear that Aggie from Aggie's Kitchen is posting today. I've been following Aggie's blog for years now, and she never fails to disappoint. I love her healthful and delicious recipes, and with our high temps in the 40s this week, I'd love to hang out with her in Florida where she lives with her husband and two kids. Thanks so much, Aggie! — Natalie
How happy am I to be here? I've been reading Natalie's blog since the early days and am completely on the same page as her as far as eating, cooking, and filling up our kids with as many veggies as possible. I'm pretty much into all things whole and healthy so Natalie's recipes make me very happy and very hungry.
I'm Aggie, by the way, from Aggie's Kitchen and I'm here guest posting for Natalie while she's probably unpacking boxes in her lovely new home. As exciting as moving is, let's be honest here, the packing and unpacking part can be a real drag at times. And after a long day of packing or unpacking boxes, the last thing you want to do is cook a meal, I know this. If I were one of Natalie's new neighbors, I have decided that I would be bringing her and her family over a huge bowl of what I like to call my "Saturday Night Pasta".
Why "Saturday Night" you ask? Well because, in my world, Saturday nights seem to be my least favorite night of the week to cook. I'm not sure why but it just happens to be the night of the week that if nothing is planned I find that around 6pm everyone seems to be looking at mom (that's me) on the couch watching DVR or reading and wondering 'what's for dinner?'. And I am usually not budging. And not caring – is that bad?
Ok, so eventually I budge. And I usually make pasta for the sake of ease, time and well…ease and time. This pasta dish is one that I can put together very quickly and usually happen to have all the ingredients on hand. It cooks up in no time at all and before you know it you are happily enjoying a big bowl of total comfort food. It'll fill ya up, put a smile on your face, and bonus, it is so good for you.
Enjoy the pasta Natalie and friends! And thanks so much for having me over!
Whole Wheat Spaghetti with Sauteed Chickpeas & Spinach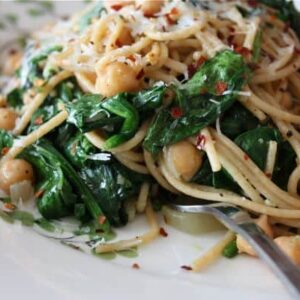 Ingredients:
1/2 box whole wheat spaghetti

2 tablespoons olive oil

2 garlic cloves, minced

1 onion, sliced thin

1 can garbanzo beans (chickpeas), rinsed and drained

2-3 bunches of fresh spinach

pinch of red pepper flakes

salt and fresh ground pepper, to taste

additional olive oil, to taste

freshly grated Parmesan cheese for serving
Directions:
Cook pasta according to directions.
While pasta is cooking, heat oil in a large saute pan. Add garlic and onions to pan and cook over medium heat for 5 minutes or until slightly soft, season with salt and pepper. Add chickpeas to onions and saute for another 5 minutes. Drain pasta, reserving about 1/4 cup of pasta water. Add fresh spinach to pan, add cooked pasta and pasta water over spinach and gently toss. Turn off heat.
Before serving add an additional drizzle of olive oil over pasta. Season to taste with salt and red pepper flakes. Serve with freshly grated Parmesan cheese.
Makes 2 big servings, and 2 little servings.
from Aggie at Aggie's Kitchen