School Lunch Ideas + Peaches & Cream Crumble Bars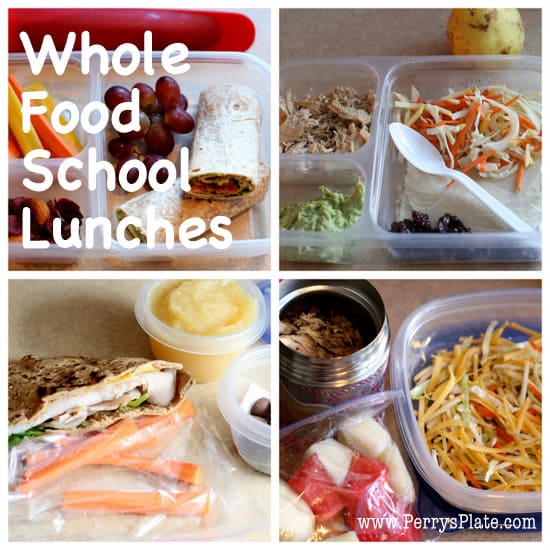 This year I sent my oldest child, Sophie, to Kindergarten. I had heard it was traumatizing and that my husband should get the day off of work in order to console my broken heart. My 3-year-old also started preschool the same day. I was supposed to be doomed.
Reality: I was teary-eyed as I watched my smart, fiercely independent first-born walk into her class.  A tear or two were shed on the walk home, then I dropped off my sweet, spunky 3-year-old off to preschool. I moped around the house with my baby for about a half hour, put her down for a nap, then realized…
I WAS ALL ALONE.
All feelings of abandonment left, and I took the longest shower I'd taken in weeks. I may or may not have been giddy.
Needless to say, school's working out nicely for everyone. :) Because Kindergarten is all-day I started packing lunches for the first time. It's been a learning experience, for sure. Some things have worked out, and some things leave a mess at the bottom of her bag. I've started keeping track of her lunches on Facebook instead of posting everything here.
The reaction I've been getting is great. I've gotten comments from a few of you saying you'd want to eat that lunch yourself! While I understand what you mean, I had this little voice in my head that asked, "Why would I give my kids things to eat that I didn't like myself?" The lunches my daughter takes to school are things she would eat if she was at home. We don't have kid food & adult food here. We just have food!
Another thing I wanted to show you was this loveliness…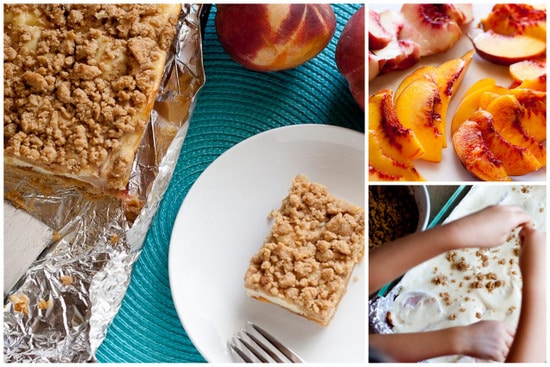 This may be the first time peaches have graced my blog. I hate peaches. They smell weird. The taste makes my glands jump around in my jaw, and the texture makes me shiver.
Get the recipe for these Peaches & Cream Crumble Bars over on the Tasty Kitchen Blog, and find out why I would even make such a thing.