Egg Curry
Oh, friends. We've had a rough time this past week. We all got the flu — Steve first, then me and the older girls, then the baby — within days of each other. We're in that foggy, "I'm feeling well enough to get dressed, but I have to blow my nose every 10 minutes" stage. Yesterday I got dressed for the first time in about 5 days.
Because I'm going to be digging us out of piles of unfolded laundry, empty tissue boxes, kid clutter, and trying to get food prepped and my house in order for our Easter dinner guests, this is my Easter round-up.
One recipe — Egg Curry.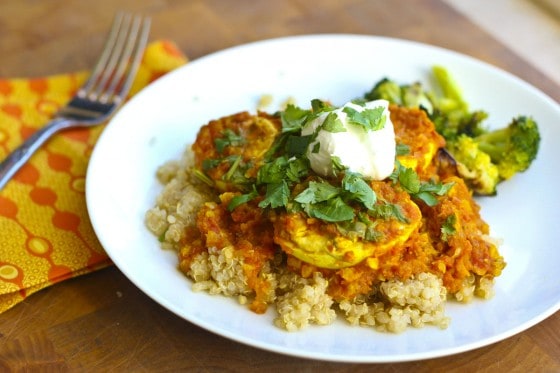 That's really all you need, though. It'll take care of a dozen hardboiled eggs in ONE fail swoop.
This recipe also happens to be featured today in the Nosh On It  Newsletter! Go subscribe if you don't already. It's a good way to get recipes and discover great food bloggers!
I'll be back on Monday with a new recipe for you!