When I was going to college in Utah, I fell in love with Cafe Rio salads and discovered the "layered salad" which can be any variation of rice, protein, vegetables, greens, tortillas, etc.
This particular salad is adapted from one of my current favorite cookbooks, The Roasted Vegetable
by Andrea Chesman, and I am officially in love with roasted vegetable salad.
You can use other vegetables, but I find this combination to work especially well together. (I also love them all, so that helps!)
I try to buy things that are in season, but I can't help but grab peppers and zucchini — they taste a lot better in the winter than tomatoes! Slice everything up, coat them with the chipotle-cumin oil and let them roast until they're nice and caramelized….
(mmm… I could eat roasted vegetable salad every day of my life)
I topped mine with some Paleo Ranch Dressing, but a simple drizzle of oil and vinegar would also be great. Also hot sauce.
I'm convinced that a few dashes of Chalula will make anything better. It's funny how far I've come. I never touched hot sauce until I was pregnant with one of my kids and craved spicy food all the time. (Consequently she's my most "spicy" child, if you know what I mean.)
Wanna know something cool? My kids love this. Of course I don't give it to them like the photo below. They'd pick all the vegetables out. Instead, I chop some of the roasted vegetables (and some greens), then mix it together with the rice, beans, and a little dressing.
My three-year-old inhales the whole bowl. My two-year-old picks around the peppers, but she does pretty well, too. When it comes to feeding kids, I'm finding presentation (and texture) is key!
If you're strict paleo, you could make extra roasted vegetables and omit the corn and beans.
SaveSave
SaveSave
SaveSave
---
If you make this recipe, be sure to post it to social media and tag me at @perrysplate or #perrysplate so I can send you some love!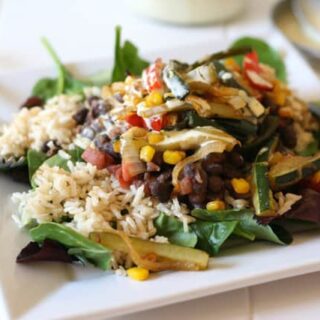 Chipotle Roasted Vegetable Layered Salad
Layered salads like these with lots of different textures and colors and flavors are some of my favorite things. This chipotle roasted vegetable mixture is also great in a breakfast scramble!
Ingredients
For the beans:
1 15-ounce can of black beans, drained and rinsed
1/2 teaspoon ground cumin
pinch of salt
1/2 cup salsa or pico de gallo
For the vegetables:
1 red bell pepper, cut into matchsticks
1 poblano pepper, cut into matchsticks (or substitute another bell pepper)
1 medium zucchini, cut into matchsticks
1 medium onion, halved and sliced very thinly
1 cup fresh or frozen corn
3 Tablespoons heat-safe oil (like avocado or coconut)
1-2 teaspoons minced or pureed chipotles in adobo sauce (see note)
1 teaspoon ground cumin
salt and pepper, to taste
For the salad:
Hot cooked white or brown rice
Salad greens
Garnishes: dressing, vinaigrette, sour cream, shredded cheese, lime wedges, cilantro, etc.
Instructions
If you're using brown rice, get that started first and it will be done when the vegetables are ready.
Preheat the oven to 425.
Place all sliced vegetables on a large rimmed baking sheet. In a small bowl whisk together the oil, chipotles, and cumin. Pour over the vegetables and sprinkle a pinch or two of salt and pepper, to taste. Using your hands, toss the vegetables in the oil mixture and ensure that everything is coated well. Spread evenly in the pan and roast for 35-40 minutes, stirring every 10 minutes or so and shaking the pan to redistribute the vegetables evenly.
To prepare the beans, place the drained and rinsed beans in a small saucepan with about 2-3 T of water. Stir in cumin, salsa, and season to taste. Let them simmer over medium heat until they're heated through.
To build the salads, start with a handful or two of salad greens, then a couple of spoonfuls of rice, then beans, then vegetables. Top with desired garnishes.
Notes
Nat's Notes:
1. You can find canned chipotles in adobo sauce in the latin or ethnic aisle of the grocery store. I like to remove the seeds and stems from the peppers and puree the peppers with the adobo sauce from the can. It keeps in a small container in the fridge for a few weeks. That's why it looks really smooth in the photo above. If you can't find it or don't want to use it, you can substitute 1/4 - 1/2 tsp of dried chipotle powder (in the spice section). Smoked paprika would also be a good substitute.