Grilled Chicken Salad with Chipotle-Lime Vinaigrette
I have a lot of things to say about this one. Since I'm too lazy to form cohesive paragraphs, I'm making a list.
1. After Lindsey (who comments as "Kurtis", and by the way, thank you for all the sweet things you say! I really appreciate you dropping by and telling me what you think about things. Since I couldn't follow your Blogger profile to tell you thanks, I'm doing it right here for everyone to see. You're fabulous. :)) requested that I post more salad recipes it got me thinking about them. I like it when I have requests like that because it gives me focus. This one's for you, Lindsey!
2. I've been trying to find any excuse to use chipotle peppers because I only use one at a time since they're so hot. And there's a lot in a can. I hate throwing the rest away, so consequently we end up eating a lot of Mexican food until they're gone.
3. Speaking of Mexican/Southwestish food, I realized yesterday that every meal recipe I've posted since November has fit into that category. And I've got two more after this. Hm. We love those types of flavors, so…. I hope you do, too. There will be other things on the way, hopefully.
3a. On those same lines, I was also thinking about how food is categorized by geography. What makes Mexican food Mexican, southwest food southwest, tex mex tex mex. . . ya-de-yah? Is there a rule we could make, like, "If you can garnish it with guacamole or pico, then it fits into one of those categories"?
4. So, the salad is really, really good. I can't believe this came out of my own head. But to fully enjoy it, you need to roast the corn and use either cotija or feta cheese on top. The sweetness from the caramelized corn and the saltiness from the cheese create a nice contrast in the salad. I just discovered cotija cheese, and I love it. (I think it's what they sprinkle on the Cafe Rio salads in Utah.) It has a strong, salty flavor like feta, but not so slap-in-the-face. More like provolone with hard, crumbly texture.

The corn should look like that. On the left. Not the right. That's the cheese. Mmm.
5. I think that's about all I have to say. I've made this three times already, and I will never get tired of it. I just have to convince my toddler that salad, in general, is good.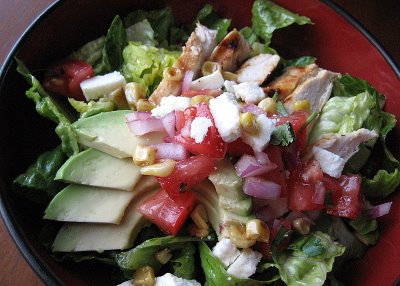 Grilled Chicken Salad with Chipotle-Lime Vinaigrette

Ingredients:

For the dressing/marinade:
1 chipotle pepper, minced (from a jar of chipotles in adobo sauce) or 1/2 tsp ground chipotle pepper
Juice from 1 lime
1/4 c chopped cilantro
1/2 c olive oil
1/2 tsp House seasoning (or dashes of salt, pepper, and garlic powder)
1/2 tsp cumin
1 tsp sugar

For the chicken & salad:
2 chicken breasts, butterflied
1 bunch Romaine lettuce, chopped
1 c matchstick carrots
2 c frozen corn
1 c purchased or homemade pico de gallo
1 avocado, sliced
1 c crumbled cotija or feta cheese

Directions:

For the dressing/marinade, combine chipotle pepper, lime juice, cilantro, House seasoning, and cumin in a small bowl. Whisk in olive oil until dressing comes together and thickens slightly. Pour half of dressing into a ziptop bag and add chicken breasts. Marinate for an hour or up to overnight. Refrigerate remaining marinade until ready to use.

Preheat grill to medium-high heat. Grill chicken for 4-5 minutes on each side or until cooked through. Set aside and allow to rest while you put the rest of the salad together.

Roast the frozen corn by either broiling it on the top rack of your oven for 8-10 minutes or use a skillet and pan-fry it in a little olive oil. The corn should have brown spots.

In a large bowl combine lettuce and carrots. Whisk dressing to combine if it has separated. Add dressing to bowl and toss to combine. Slice chicken into thin pieces. Top salad with chicken, roasted corn, and avocado slices. Garnish with fresh pico de gallo and crumbled cotija cheese.

Nat's Notes:
1. I also used lemon in both the salad and the pico de gallo and both lemon and lime are equally tasty.
2. I used a grill pan on my stovetop to grill the chicken. It's a reversible cast-iron grill pan by Emerilware. Love it.