Grilled Garlic Shrimp + Quinoa with Garlic, Nuts, & Raisins
Before I dive into this recipe, I want to give a shout out to my first born. Not the usual shout out of, "Leave your sister alone!" or "Get your tongue off the shopping cart!", but. . .
I love you, and I'm so proud of how you've grown this past year! (And thank you for being potty trained. That was thoughtful of you.)
*sniff*
Anyway . . .
We discovered quinoa last year, and since then I've played around with it, but haven't loved it. It can be very bland unless you blast it with a lot of flavor.
Like a big ol' blast of garlic.
I loved the technique of sauteing the garlic in oil, then adding both the garlic and the garlic-inflused oil into the quinoa. Double whammy. The nuts and raisins added some nice texture and flavor, too. I think I can safely say we love quinoa again. Especially with this yummy grilled (I really like grilling stuff, if you hadn't noticed by now) garlic shrimp I whipped up to go with it.
Oh yeah, I learned something new about quinoa . . . did you know that it's low in carbs and one of the best sources of protein in the vegetable kingdom? Didja?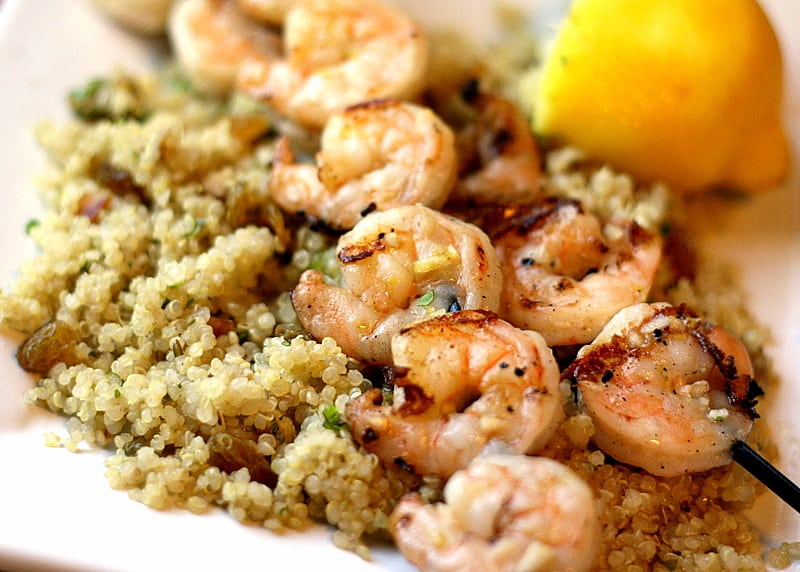 Quinoa with Garlic, Nuts, & Raisins + Grilled Garlic Shrimp

Ingredients:

For the quinoa:
1 cup uncooked quinoa, rinsed
1 3/4 cups low-sodium chicken broth or water
1/4 cup nuts (pinenuts or chopped walnuts/pecans recommended)
2 T preferred cooking oil (grapeseed or coconut)
2 cloves garlic, thinly sliced
1/3 cup fresh parsley or cilantro
1/4 cup raisins or dried cranberries
1 T fresh lemon juice
pinch of salt and pepper (to taste)

For the shrimp:
1 lb large, uncooked shrimp, shelled and deveined
4 T butter, melted
2 cloves garlic, minced
pinch Kosher salt
metal or wooden skewers

Directions:

To make the quinoa:
Place the quinoa in a medium saucepan and cook over medium heat until toasted, about 2 minutes. Add chicken broth (or water) and bring to a boil. Reduce the heat to medium-low and simmer, covered, until the liquid is absorbed, 10 to 15 minutes. Remove from the heat and let sit, covered, about 2 minutes.

Meanwhile, toast the nuts in a skillet over medium-high heat, stirring, until golden, about 3 minutes; transfer to a plate. Add the oil and garlic to the skillet and cook over medium heat, stirring, until golden, about 2 minutes. Transfer the garlic to the plate, reserving the oil.

Fluff the quinoa with a fork. Add the pine nuts, garlic, reserved oil, parsley, raisins and lemon juice. Season with salt and pepper and toss.

To make the shrimp:
Combine melted butter and garlic in a small bowl. Let it sit while you prepare the shrimp.

Preheat BBQ grill or stove-top grill pan to medium-high heat.

Rinse shrimp, pat dry, and place on skewers, piercing each shrimp in two places to keep them from moving around too much. Sprinkle shrimp with a pinch or so of salt, then brush the garlic-butter on one side. Place skewers on the grill, butter-side-down. Brush the other sides with remaining garlic-butter. Cook for about 2-3 minutes or until the shrimp are mostly pink. Flip and cook another 2-3 minutes until fully cooked and pink. Don't overcook them or they'll turn rubbery.

Serves 3-4.

Serves 3-4.

Quinoa recipe adapted from Food Network Magazine Apr 2010 (Ellie Krieger)
Shrimp recipe from Perry's Plate