Meet Lauren! + Chocolate Chip Cookie Dough Filled Oreo Cheesecakes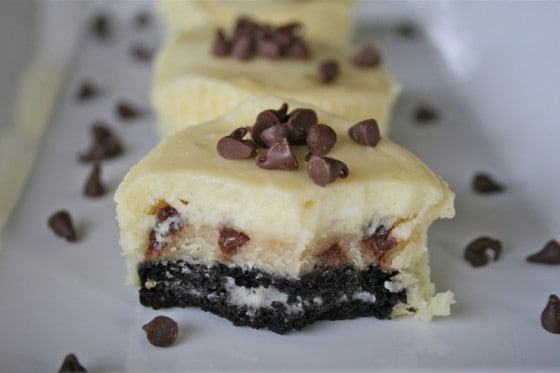 Whenever I see posts like this from Lauren (which happens to be the most popular recipe on her blog), I really wished we lived closer together. Not only would I get to taste things like this, but our girls would be friends and we could hang out during the day. (Like we did yesterday! It was so great to meet her in person!) Lauren is a mom of one gorgeous little girl, lives in Oregon, and is the author of
Lauren's Latest
. She has several recipe contest wins under her belt and even won the opportunity to be on Good Morning America! Lauren is also trooper, let me tell you. Her husband is away from home serving in the military and Lauren's running the whole show on her own. Not an easy task. Thank you and your family for your sacrifice!
*****
Hello, friends! I'm Lauren from Lauren's Latest and I'm here to fill in for Natalie while she's traveling. Natalie and I met initially on Tasty Kitchen and have known each other for a year or two. We became instant friends because as it turns out, we went to the same college, go to the same church and love the same sorts of recipes. We both try to eat and cook healthy meals for our families but indulge from time to time.
THIS little gem of a recipe is a favorite indulgence and really easy to make. (I'd recommend popping in those workout DVD's now cause this is a doozie!) Brace yourselves. These are straight up ridiculous. And, I clearly have lost my mind….and my waistline. Get ready for the concoction I call Chocolate Chip Cookie Dough Filled Oreo Cheesecakes.
This little treat is cheesecake on top of chocolate chip cookie dough on top of an oreo. Crazy, right?! (See? Lost my mind.) I came up with this idea when I was thinking about my chocolate covered cookie dough bites and how I wanted to make them. Then, I was thinking about the little oreo cheesecakes I like to make. That's where things got fuzzy and next thing I knew I was pulling a batch of these babies out of the oven.
Anyways, these are super simple to make and kids love squishing the cookie dough onto the oreos. And, good news! The cookie dough is egg free, so snack away! Happy baking!
Chocolate Chip Cookie Dough Filled Oreo Cheesecakes

Ingredients:

For the cookie dough:
1/4 cup butter, softened
1/4 cup granulated sugar
1 tablespoon brown sugar
1 tablespoon powdered sugar
pinch salt
3/4 teaspoon vanilla extract
1/2 cup all purpose flour
2 tablespoons mini chocolate chips

For the cheesecakes:
12 Oreo cookies
8 oz. cream cheese, softened
1/2 cup granulated sugar
1 tablespoon all purpose flour
1/2 teaspoon vanilla
1 egg

Mini chocolate chips (for garnish)

Directions:

1. Preheat oven to 325 degrees. Line 12 muffin tins with paper liners and set aside. Start out by making the cookie dough. Place softened butter into a medium sized bowl.
2. Stir in sugars until well incorporated.
3. Stir in vanilla, salt and flour. It may seem to dry at first, but it should all mix in.
4. Once flour is no longer visible, mix the dough with your hands.
5. The heat of your hands should help keep things sticking together. Mix in chocolate chips and form dough into a log with the same diameter as the oreo cookies.
6. Score the top of the dough to get even pieces and then slice. The dough will loose a little of its shape after cutting, so press the edges together and smooth out as best as you can to look more round.
7. Place dough rounds on top of oreo cookie and press down lightly to help it stick. If the dough circles were a little too big {like mine were}, just press the overlapping dough up to be flush with the side of the cookie, and then smooth the top.
8. Place these into the prepared muffin tins and set aside.
9. To make the cheesecake filling, whip cream cheese in large bowl. Slowly pour in sugar and flour. Scrape down sides and mix again briefly.
10. Whip in vanilla extract and egg until incorporated.
11. Scrape sides and whip again.
12. Spoon 1 heaping tablespoon of cheesecake mix over each cookie stack and spread on top and around cookie. The cheesecake mixture is thick, so this can be a little finicky. (This recipe makes just enough cheesecake to cover these, so be sure to start with smaller amounts covering the tops and adding extra spoonfuls from there.)

Bake for 20 minutes or until cheesecake is set completely. Cool to room temperature and then refrigerate until completely chilled. Once ready to serve, remove paper liners and top with mini chocolate chips.

Makes 12.

from Lauren at Lauren's Latest