Sweet Corn Ice Cream + Eight More Ways to Use Corn on the Cob
We've eaten a lot of corn on the cob lately. There are few things that make my mouth more happy than farm-fresh grilled corn slathered in butter and salt.
While we rarely have leftover corn on the cob after dinner, I might just start grilling an extra ear to make ice cream. (I never thought I would say that.)
Yes, this ice cream has corn in it. And corn on it.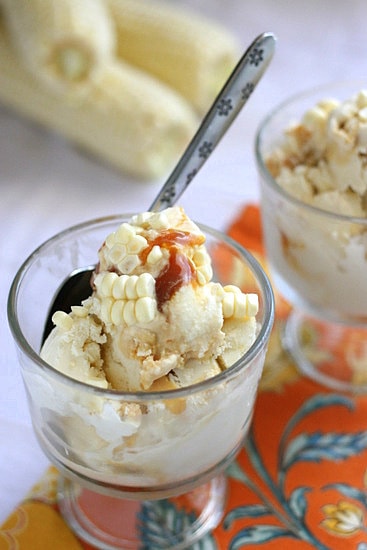 No, I'm not pregnant. I gave birth 8 weeks ago, and while I love my squishy little newborn, I don't want to think about going through that 9-month mess all over again. That ice cream also has a nice swirl of salted caramel sauce running through it. (See? I'm not completely crazy.) Who would have thought a humble ear of leftover corn could produce such results?
Here's what you do: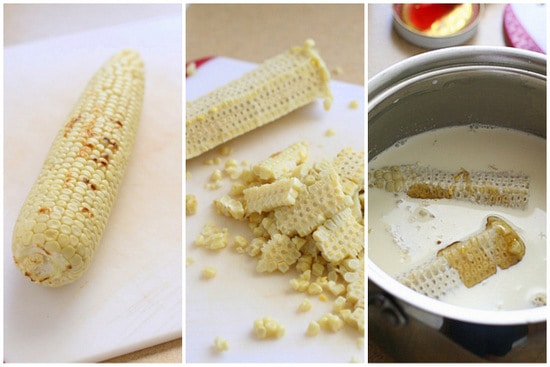 Take the kernels off the cob and cut the cob itself in half. Throw everything into a pot with some cream, milk, and whatever sweetener you choose. I used honey this time, playing off the honey-cornbread idea. Let it steep for an hour or two, then toss the cob. Blend up the rest and strain it. After it's been through your ice cream maker, drizzle some salted caramel sauce into the ice cream when you transfer it to your freezing container.
Mercy. It makes me salivate just thinking about this again.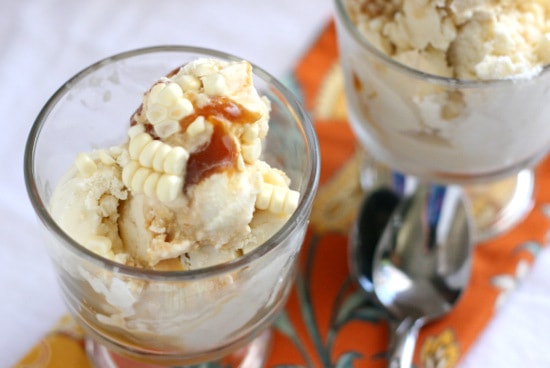 I topped mine with some fresh, raw corn kernels. Don't try this with mediocre corn. It's got to be the sweet farm-fresh kind that tastes good completely raw and plain. I must say this is one of the best ice creams I've ever made, and I've made lots of ice cream. The detailed recipe is below if you'd like to have your mind blown.
If corn ice cream isn't your thing, here are some other homes for those leftover cobs of corn.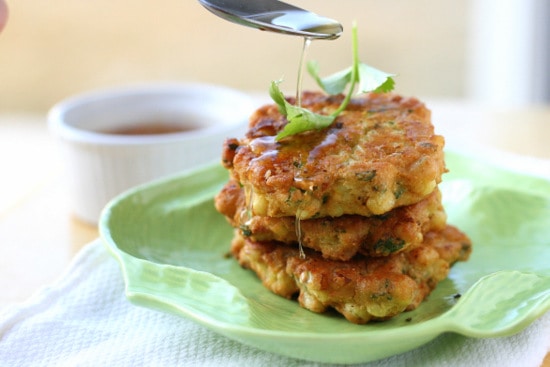 Spicy Corn Fritters are one of our favorite side dishes. They're great with light Indian dishes, like fish.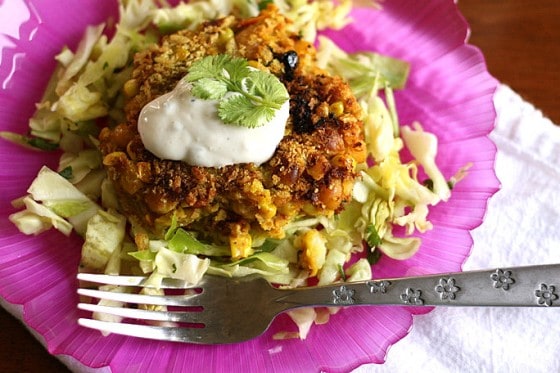 Speaking of ethnic dishes, these Curried Potato, Chickpea, and Corn Burgers are surprisingly good for a vegetarian burger. (I'm a carnivore, can you tell?)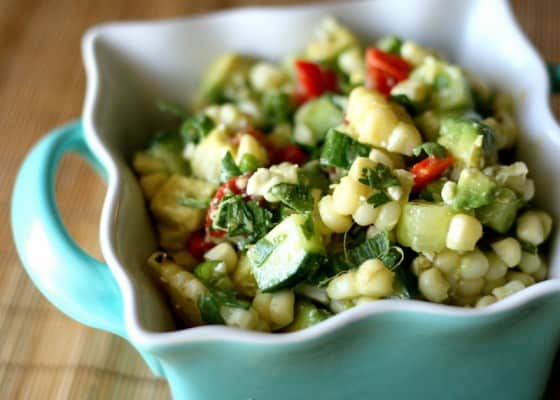 This has got to be one of my favorite salads to make in the summer: Grilled Corn Salad with Cucumber, Avocado, Feta
You can leave the recipe as-is or play around with the vegetables. I love adding grilled squash, peppers, and cherry tomatoes. Every time I make this I just want to put my face in the bowl.
More uses for leftover corn from some of my favorite blogs:
Creamed Corn Popsicles – Family Fresh Cooking
Corn and Mango Salad – Fat Girl Trapped in a Skinny Body
Hot Corn Dip – Closet Cooking
Roasted Summertime Chickpea Salad – How Sweet It Is
Smoky Corn Chowder with Shrimp – Bev Cooks
Sweet Corn and Salted Caramel Ice Cream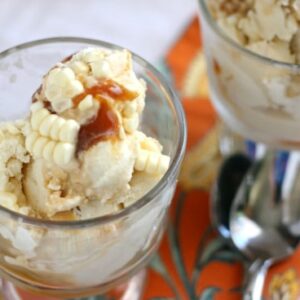 Ingredients:
1 ear of corn (cooked)

2 cups heavy cream

1 1/2 cups whole milk

1/2 cup honey

generous pinch of salt

about 1/3 cup salted caramel sauce (or your favorite caramel sauce)
Directions:
Remove the kernels of corn from the cob with a sharp knife. Cut the cob in half and place the cob halves and corn kernels into a medium saucepan.
Add 1 cup of cream, 1 cup of milk, and the honey to the pot. Heat over medium heat until very warm and the honey has dissolved. (Don't let it boil.) Remove from heat, cover the pot, and let it steep for an hour or two.
Remove the cobs from the pot and discard them. Blend up the mixture using an immersion blender, then strain out the bits of corn. Add the remaining cup of cream and 1/2 cup of milk. Chill thoroughly, then freeze in your ice cream maker according to the manufacturer's directions.
As you transfer the ice cream to the freezing container of your choice, drizzle in the caramel sauce. Cover and freeze until solid before serving. (If you can stand it.)
This post is part of the BlogHer Leftover Makeovers editorial series. Our advertisers do not produce or review editorial content. This post is made possible by Bank of America and BlogHer.