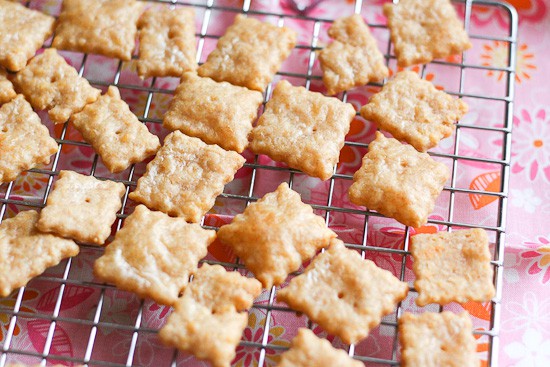 I think I'm one of the few that wasn't completely crushed to hear the possibility of Hostess disappearing forever.
Luckily I received this book: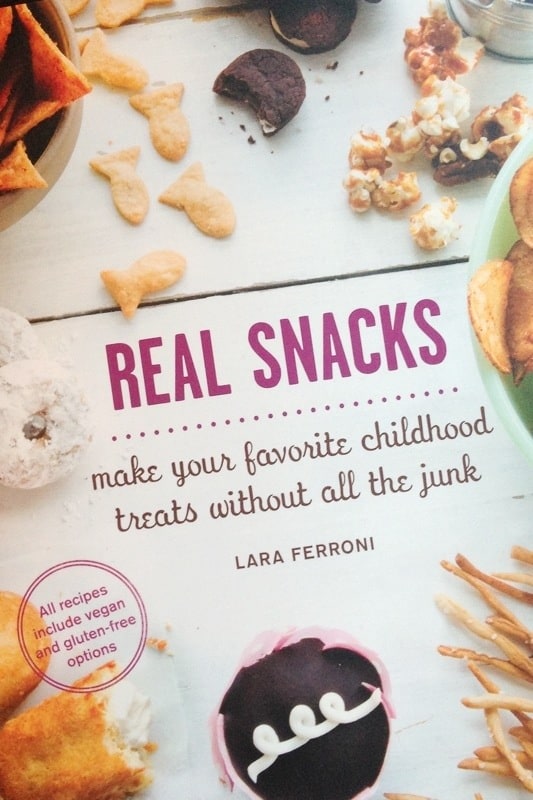 Real Snacks by Lara Ferroni is a whole book of recipes for snacks that usually come in boxes and bags. Only these recipes use ingredients you can pronounce and most of which are probably in your pantry. The author also uses many whole grain flours and natural sweeteners.
Sound too good to be true?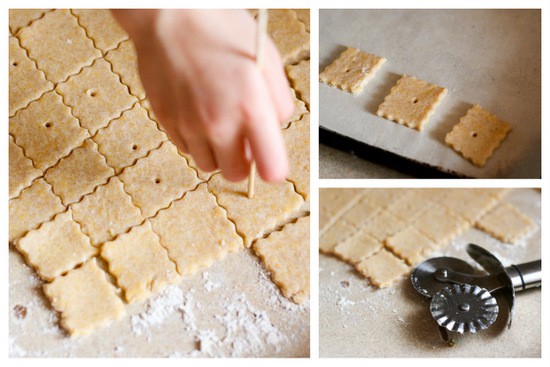 Well, the Cheese Crackers (Cheez-It copycat) were a hit with us. The whole batch was gone in one afternoon. They had that crispy, fried cheese taste like those browned bits on the outside of a grilled cheese.
I have to admit, I liked them better than the artificial-tasting store-bought version. And the fact that I was able to use spelt flour and real cheese (instead of cheese powder) was a bonus.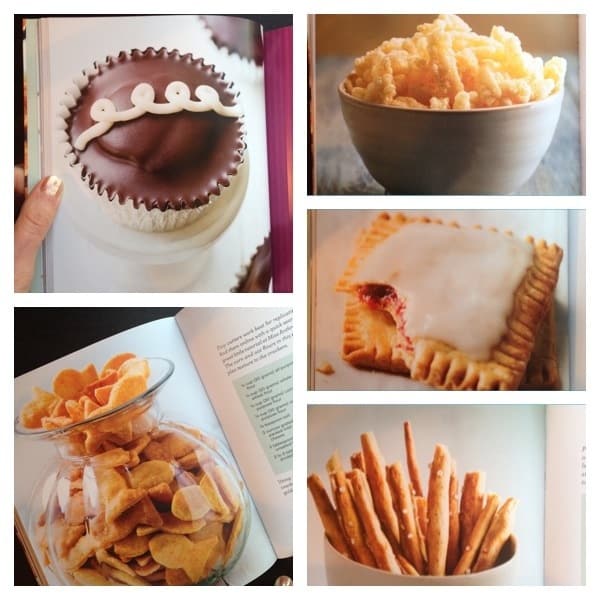 This book is full of recipes for classic store-bought snacks, including the iconic Hostess chocolate cupcake. It would be a stretch to call these "healthy", but making snacks from scratch is a big step in the right direction!
Review copy provided by Sasquatch Books. All comments and opinions are 100% my own.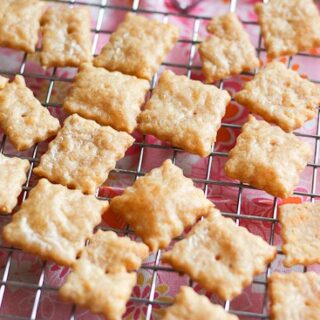 Homemade Cheese Crackers
Making homemade cheese crackers is such a fun thing to do with my kids! It's easy enough that they can help. You may want to make a double or triple batch, because they go fast! And they're so much better (and better for you!) than store bought crackers.
Ingredients
4 ounces grated sharp cheddar cheese
2 Tablespoons unsalted butter
1/2 cup whole-grain spelt flour or white whole wheat flour
1/4 cup all-purpose or white spelt flour
1/8 teaspoon onion powder
1/4 teaspoon salt
2 Tablespoons milk, plus more for brushing
Instructions
Preheat the oven to 350 degrees F. Line two baking sheets with parchment and set aside.
Combine the cheese, butter, flours, onion powder, salt, and 2 Tablespoons of milk into the bowl of a food processor fitted with the dough blade. Pulse to form a ball, 1 to 2 minutes.
If the dough appears oily from the cheese, wrap it in plastic wrap and chill for 30 minutes.
Turn the dough out onto a well-floured surface. Roll out the dough until it is 1/8 to 1/16 inch thick. Brush the dough with the milk.
Using a pastry wheel or knife, cut the dough into 1-by-1 squares. Prick the center of each cracker with the blunt end of a skewer.
Place the crackers on the prepared baking sheets, leaving at least 1/2 inch between crackers.
Bake until crackers are just slightly brown on the edges, about 15 minutes, rotating the baking sheets halfway through baking. (If you want more of that "fried cheese" taste, leave them in another 5 minutes or so.)
The crackers will crisp up as they cool. Let them cool completely on a wire rack.
Notes
Nat's Notes:
I used 1/2 cup spelt flour and 1/4 cup whole wheat pastry flour.
I used buttermilk because we don't usually have regular milk.
I used regular, salted butter and then reduced the salt to a pinch.
The original baking time was 10 minutes. I thought they needed at least 15, if not 20.