Nutty Lemon-Herb Brown Rice with Avocado
Are you tired of sun-dried tomatoes? I'm not. :) But I'll relieve you of thinking about them for a while.This little side dish was the result of a "tidbits in the fridge clean-out", and I wasn't expecting great things. To my surprise, it turned out to be really good! Not only that, I paired it with some
foil-packet grilled salmon
and it unintentionally became the most omega 3-packed meal we've ever had.
And I discovered my 17-month-old likes salmon. I hope that lasts.
To get the most omega-3′s out of this meal, be sure to use wild-caught salmon (farmed doesn't have the right omega 3/6 ratios a person needs) and walnuts, which have the most omega 3′s out of the nuts I listed in the recipe.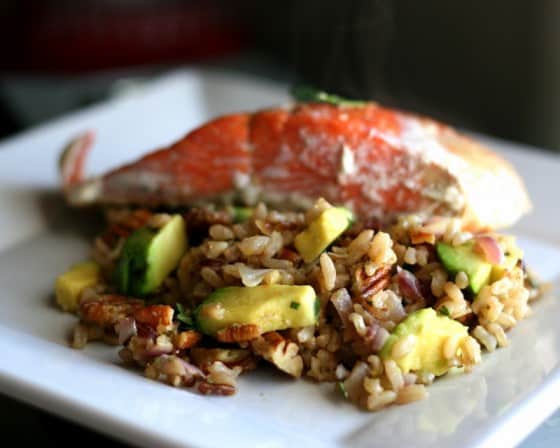 Nutty Lemon-Herb Brown Rice with Avocado

Ingredients:

1 T preferred cooking oil (grapeseed or coconut is best)
1 cup chopped onion
2 cups cold, cooked brown rice
1/2 cup chicken broth
2 tsp fresh rosemary (or 1 tsp dried)
2 tsp fresh thyme (or 1 tsp dried)
1 cup chopped pecans, walnuts, or almonds
Zest from 1 lemon (about 2 tsp)
2 tsp white wine vinegar
1 avocado, peeled, pitted, and diced

Directions:

In a large skillet, saute onion over medium-high heat until onion begins to turn golden brown, about 8-10 minutes. Reduce heat if onion scorches.

Add remaining ingredients (except the avocado). Stir well and cook over medium heat until everything is heated through and rice has absorbed all of the chicken broth.

Remove from heat and stir in diced avocado.

Makes about 4 servings. Great alongside grilled fish or chicken.