Sweet Potato and Pepperoni Ragu over Orzo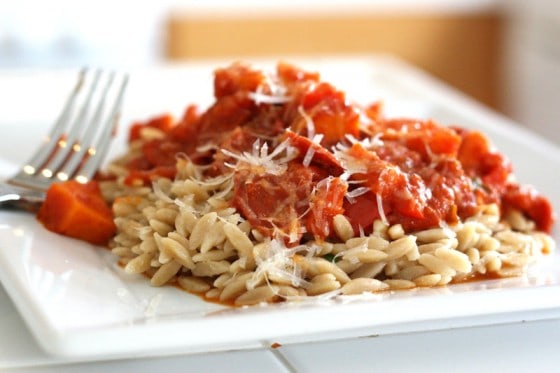 More sweet potatoes! I'm getting a little tired of the "orange fries" my kids adore, so I'm trying to be a little more creative with this vibrant orange vegetable. I threw this pasta dish together out of bits and pieces of stuff from the fridge and it ended up being really good. . .
despite the expression on my daughter's face. She did NOT like the fact that mom was taking a photo, but she did clean her bowl. Both girls did.
Because this is something that kids would probably like, I wanted a picture of her enthusiastically shoveling it into her little mouth.
Nope. Not today.
Sweet Potato and Pepperoni Ragu over Orzo

Yield: 4 adult servings or 6 kid servings

Ingredients:

1 T butter or oil
1 medium sweet potato, cut into 1/2-inch cubes (about 2 cups)
1 red bell pepper, diced
1/2 cup sliced pepperoni, quartered (I used turkey)
1 green onion, sliced thinly
2 1/2-3 cups marinara sauce (20-24 ounces, whatever your jar happens to be)
2 cups uncooked whole wheat orzo or other small pasta such as elbow or small shells
freshly grated Parmesan or Pecorino-Romano cheese

Directions:

Melt the butter in a large skillet over medium heat. Add sweet potato and cook for about 5 minutes or until it starts to soften. Add the bell pepper, pepperoni, and green onion. Cook, stirring occasionally, until bell peppers is tender, about 3-4 minutes. Add marinara sauce and simmer, covered, for 10-12 minutes or until sweet potatoes are fork tender.

Meanwhile, prepare the orzo according to package directions, cooking until "al dente".

Serve sauce over orzo and top with cheese.