Meet Krista! + Bean & Butternut Squash Chili
Did everyone have a fabulous Thanksgiving? Are you one of the crazies who woke up at 4 AM to hit the sales this morning?

After all of those Thanksgiving leftovers are finished off, Krista from Budget Gourmet Mom has a wonderful SLOW COOKER chili for you! Krista lives in Utah with her husband and four young boys. How she finds time to blog is beyond me.

I was lucky to meet Krista in person at the meeting with LDS Philanthropies about the Single-Parent Scholarship Fund (Remember? There's still a few days left to donate!) Krista is like sunshine personified. I kid you not. I could chat with her all day! She was nice enough to guest post while I'm on morning sickness/moving leave for a few more weeks. Thanks so much Krista! – Natalie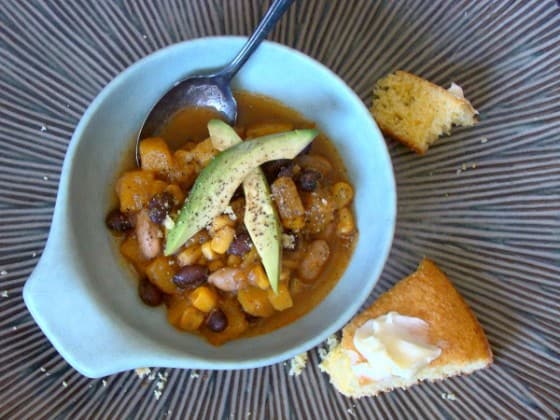 I have discovered I have a problem.
Okay.  A few problems.
1.  I'm pretty sure my 1 yr old has figured out how to make himself burp.  He's in good company.  His older brothers have already discovered the joys of making bodily noises.
2.  I eat breathe and sleep food.  Okay.  Not so much a problem but when you toss and turn over some nightmare about how you totally missed a deadline or your new recipe for toffee was a disaster and you'll never be able to cook again.  Problem.
3.  My now 3 yr. old refuses to use the potty.  Totally refuses.  I'll catch him at an opportune moment, stick him on it, and wait.  Nothing.  I even gave him a book once to keep him there as long as possible.  As soon as I get him dressed again…something.
4.  This is vegetarian chili. It is SO good.  My family raises beef. You see my dilemma.
Despite my "problems" my family will be seeing this chili at our dinner table often.  With the holiday rush here and all the extra shopping, baking, and wrapping to be done a make ahead meal like this is just what I need.  Whether you prep the ingredients ahead of time and freeze it or stick it in the slow cooker fresh I promise you'll be happy when you come home and dinner is ready!
(Slow Cooker) Bean and Butternut Squash Chili

Ingredients:

1 medium butternut squash, peeled and cubed
1 medium onion, diced
1 jalapeño, finely chopped
1-2 tsp extra virgin olive oil
1 – 15 oz can black beans, drained and rinsed
1 – 15 oz can white beans, drained and rinsed
1 – 14.5 oz can vegetable or chicken stock
1 – 16 oz bag frozen corn
2 T chili powder
1 T cumin
Salt and pepper

Directions:

Heat the oil in a large skillet over medium heat. Sauté the onion and jalapeño for a few minutes. Add the butternut squash and sauté until slightly tender.

Pour the sautéed vegetables into the slow cooker. Add the rest of the ingredients and stir until well mixed. Make sure to season well with salt and pepper. Cook on low for 6-8 hours.

Serves 6-8.

from Krista at Budget Gourmet Mom