Avocado & Orange Salad with Hazelnuts
After our CSA drop off last week, we were swimming in gorgeous, crisp salad greens and fresh baby spinach.
Did I ever tell you that my husband loves salads? He not only loves salads, but he's perfectly satisfied having one for dinner.
I love him. A lot.
I whipped this up in about 20 minutes to go with some foil-packet salmon and roasted asparagus.
(I don't want to talk about the crostini. Burned pine nuts are NOT a good thing.)
I adored the combination of avocados and oranges and the crunch from the hazelnuts. The dressing is perfectly sweet from the orange juice and isn't as oily as vinaigrettes tend to be. The citrus also complimented the salmon. Perfect match!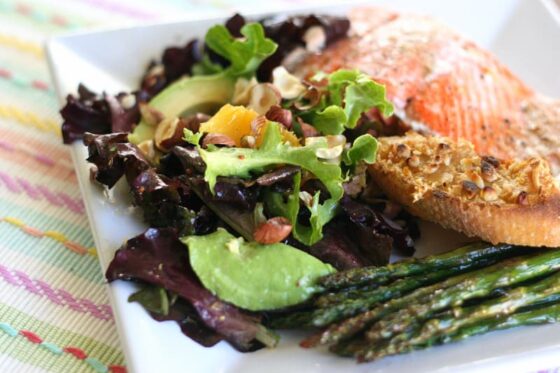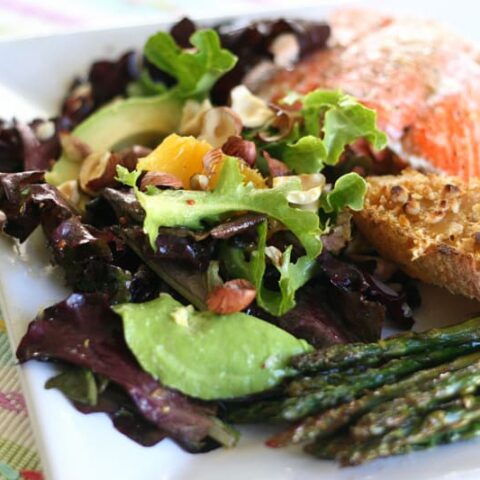 Avocado & Orange Spring Salad with Hazelnuts
Additional Time: 20 minutes
Total Time: 20 minutes
This avocado & orange salad is creamy meets crunchy meets sweet meets tangy. It's a magical combination and a snap to throw together!
Ingredients
1/4 of a small red onion, sliced very thinly
3 oranges, divided
juice from 1 lime
1 T honey
2 tsp dijon mustard
1/2 tsp salt
pepper, to taste
3 T extra-virgin olive oil
10-12 ounces of baby salad greens
2 avocados, peeled, pitted, and sliced
1/2 cup hazelnuts, toasted and chopped
Instructions
Soak the sliced onion in cold water for about 10 minutes while you prep the rest of the salad.
Supreme 2 of the oranges. Set segments aside.
Juice the remaining orange into a small bowl (about 1/4 cup of juice will do). Add the juice from 1 lime, honey, dijon, salt, and pepper to the orange juice. Whisk to combine. While whisking, add the olive oil in a small stream and continue to whisk until the mixture is thickened and emulsified.
Drain the water off the onion. Toss with the salad greens and dressing.
Arrange the avocado slices and orange segments on top. Sprinkle with hazelnuts.
Notes
Nat's Notes:
1. The original recipe called for 2 bunches of watercress instead of salad greens. The only watercress I saw during my shopping trip was sad-looking and very expensive. The salad greens worked great instead.
2. To toast hazelnuts, place them on a sheet pan and bake them at 350 degrees F for about 5-7 minutes or until fragrant. Do NOT forget about them - they burn very quickly. And smell very bad when they do.
3. To supreme an orange, slice the peel and pith off with a sharp knife, then cut out the segments from between the membranes. The result is a "naked" segment, which is nice in salads like this.
Save
Save