After our CSA drop off last week, we were swimming in gorgeous, crisp salad greens and fresh baby spinach.
Did I ever tell you that my husband loves salads? He not only loves salads, but he's perfectly satisfied having one for dinner.
I love him. A lot.
I whipped this up in about 20 minutes to go with some foil-packet grilled salmon and roasted asparagus.
(I don't want to talk about the crostini. Burned pine nuts are NOT a good thing.)
I adored the combination of avocados and oranges and the crunch from the hazelnuts. The dressing is perfectly sweet from the orange juice and isn't as oily as vinaigrettes tend to be. The citrus also complimented the salmon. Perfect match!
---
If you make this recipe and enjoy it, let me know! Share it on social media and tag me so I can send you some love –> @perrysplate or #perrysplate.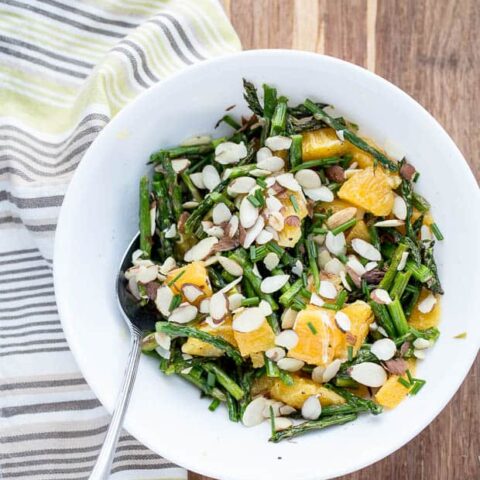 Grilled Asparagus and Orange Salad
Yield:
Serves 4 as a side
This side goes great with any grilled meat. It would also be a sweet contrast to something spicy. You could make a giant batch of it and take it to a potluck! It's perfectly sun-safe.
Ingredients
1 pound of asparagus
2 Tablespoons avocado oil, divided
2 large navel oranges
2 Tablespoons white wine vinegar or white balsamic vinegar
Generous pinches of sea salt and black pepper
1/4 cup sliced almonds
1 Tablespoon chopped fresh chives
Instructions
Preheat a BBQ grill to medium heat.
Trim asparagus. I like to grab each stalk in the center with one hand and the fat end with my other hand, then bend it. It should snap at the place where it starts to get tough. Repeat with remaining stalks.
Lay the asparagus on a pan and drizzle lightly with 1 Tablespoon of the avocado oil. Place the asparagus on the hot grill and cook for 8-10 minutes or until tender and golden brown in spots. If they start to char, turn the grill down or move them away from the heat.
Meanwhile, supreme the oranges by removing the skin with a knife and slicing out the segments out of the membranes. (If you don't know what I'm talking about, Google it. It's all over the Internets.) Slice the segments in half and place in a medium-sized bowl.
When the asparagus is done, transfer to a cutting board and cut into 1-inch pieces. Add asparagus pieces to the bowl with the oranges. Add the remaining ingredients (vinegar, 2 Tablespoons avocado oil, salt, pepper, almonds, and chives) and stir well.
Notes
Nat's Notes:

You can also roast the asparagus by putting the pan with the asparagus under an oven broiler for 4-8 minutes, depending on the thickness of your asparagus. Shake them around and turn the pan a couple of times during roasting.