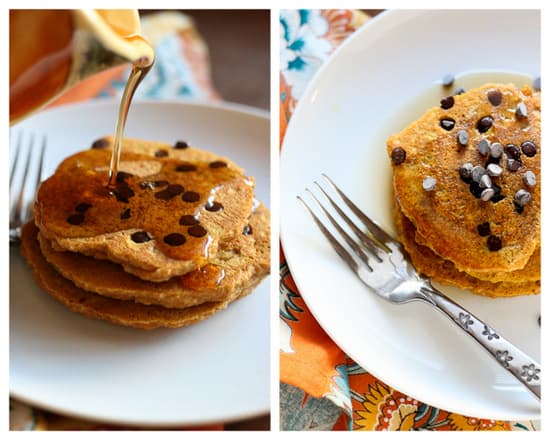 My kids ask for pancakes all the time. They're pretty good eaters, but I think they'd be thrilled if all I ever made was pancakes. And pizza. And tacos.
And "chicken bones".
(That last one is code for a whole, roasted chicken. They're drumstick kids.)
If I made pancakes like these, I think I'd be OK with that, too. They taste like pumpkin chocolate chip cookies. Honest.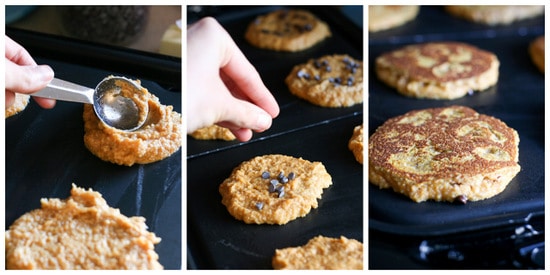 Nutritionally speaking, we hover (loosely) toward the paleo/primal end of the spectrum (like I mentioned during the Staying Whole Series), so I like using almond flour as much as I can when I bake.
I really like Elana Amsterdam's Silver Dollar Pancake recipe, so I adapted it and made a pumpkin chocolate chip version. I made almond flour banana pancakes all the time until my oldest decided she didn't like them anymore.
I've made a version of this using almond meal, and it works fine as well (just slightly grittier).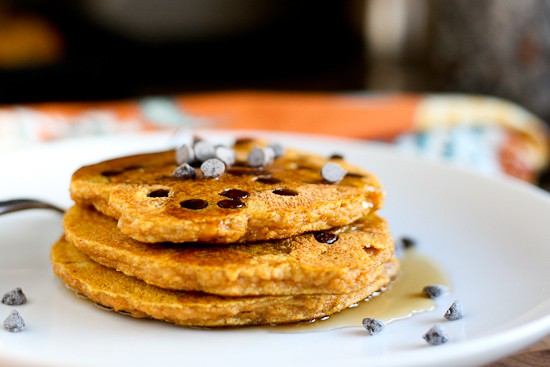 October's almost over and this is the first pumpkin recipe I've posted this season.
For shame!
Here's the round-up I did last year of my favorite Perry's Plate pumpkin recipes. I promise this won't be the last one!
These Gluten-Free Pumpkin Donuts would also be a tasty holiday breakfast treat! Grab the recipe over at Gluten-Free Palate.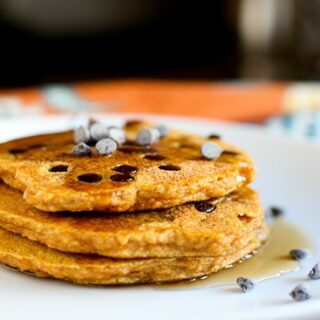 Gluten-Free Pumpkin Chocolate Chip Pancakes
Additional Time:
30 minutes
These gluten-free pumpkin chocolate chip pancakes are light and soft and a perfect for a chilly fall morning. Or an easy summer brinner. We eat pumpkin all year round over here.
Ingredients
3 eggs
1 Tablespoon water
2 teaspoons vanilla extract
2 Tablespoons pure maple syrup, plus more for serving
1 1/2 cups blanched almond flour (or almond meal)
1/2 teaspoon pumpkin pie spice
1/4 teaspoon + 2 big pinches of sea salt
1/4 teaspoon baking soda
1/2 cup pumpkin puree (canned is fine)
mini chocolate chips
butter or coconut oil for coating the griddle
Instructions
In a medium bowl, whisk together the eggs, water, vanilla, and maple syrup.
Add the almond flour, pumpkin pie spice, salt, and baking soda. Mix well.
Stir in the pumpkin puree. (Don't be afraid of overmixing. There isn't any gluten to toughen the batter. Mix away!)
Heat a griddle over medium-low heat. Smear a small amount of butter or coconut oil to coat the surface.
Scoop batter by heaping tablespoonfuls onto the hot griddle, gently spreading the batter around to form a circle. Sprinkle a few chocolate chips over the wet batter.
Cook for 3-4 minutes, then flip, cooking the other side another 3-4 minutes until the pancake no longer feels squishy to the touch.
Repeat with remaining batter and chocolate chips. Serve with warm maple syrup, jam, or fresh fruit.
Notes
Nat's Notes:
1. For these pancakes to be successful, remember to cook them over medium-low to low heat. Spread the batter thin. And when it's time to flip them, there's not any indication on the surface like regular pancakes (no bubbles break the surface). You just have to slide a spatula underneath and peek. Flip them quickly too. If you're slow and wiggle them around too much, they'll fall apart. Be brave.
2. It also helps to cover them while they cook, if you're able. If you are unable, you may want to turn down the heat a smidgen so they don't burn before the center is cooked through. Alternately, you could preheat the oven to about 200 degrees and store the cooked pancakes in there while you finish the batch. That will ensure they're cooked through (if you have doubts) plus it will keep them warm until it's time to eat.
3. If you don't plan on putting something sweet on top of these you might want to add another tablespoon of maple syrup to the batter.
Save
Save