I really like January.
I was talking to a friend today about how January usually bums everyone out. What bums me out is having cold temps without any snow to show for it. It's just ugly, brown, and cold. Blech.
Besides that, I actually like January. As much as I enjoy Christmas, I like getting my house (and kitchen) cleaned up and starting fresh.
And yes, I do make goals. Here are a few that I made this year. Some will make me a better person. Some may ruin my life. We'll see.
1. Spend less frivolous time on the Internet/Social Media.
I had to throw "frivolous" in there because a lot of what I do for work is based online. To help out with this I… um…
deleted the Facebook app on my phone.
It hurt, and it was super annoying for the first day. But my life isn't over, and I've learned the fewer things you post, the less time you spend on there checking for updates. Interesting how that works. I'm pretty sure Facebook sucks some of the life out of your soul anyway.
Since then I've been on Pinterest more. (Oops.) BUT, I've been searching for a little inspiration for my next goal which is to…
2. Sew a quilt.
Have I ever made a quilt? Nope. I over-romanticize things that I'm excited to try, so I've already planned out the next five quilts.
I haven't sewed much in the last several years, but I remember enjoying it a lot as a kid. And my awesome mama gave me a new sewing machine for Christmas. So I'll have one that actually works when I go to use it.
I may end up with a giant mangled wad of fabric and batting, but it WILL keep someone warm. And if I'm lucky it might even be cute.
3. Paint my kitchen cabinets.
Along with a half dozen other pieces of furniture in our house. (See comment above about over-romanticizing.) I hope this one doesn't destroy my kitchen. Or my marriage.
4. Eat less dairy.
For someone who claims to eat mostly paleo, this might sound weird, but it's one area in which I really struggle. I quit drinking milk a long time ago, but I REALLY, REALLY, REALLY love cheese. And sour cream. And butter. Basically anything creamy and white is my best friend — especially if it's frozen and has Nutella drizzled all over it.
Yep. It's a tough one for me.
I'm determined to keep almond milk stocked in the fridge, use more coconut oil, and experiment with dairy-free frozen desserts and soy-free dairy substitutes. I hear cashew sour cream is fun. Or tasty. Or something like that.
This may be my most difficult goal.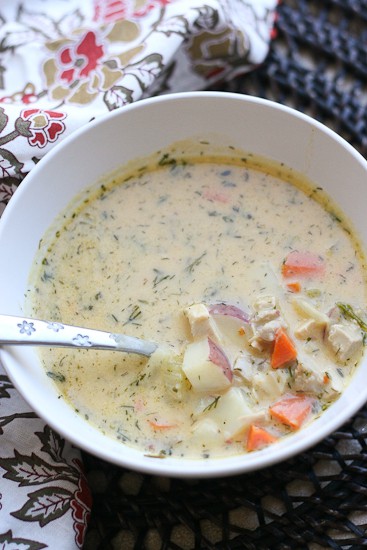 Speaking of cream and cheese…. I made a chowder for you!
If you were resourceful and made homemade turkey broth from your leftover Thanksgiving turkey, then pull it out of the freezer and make this! You can use chicken stock and leftover cooked chicken if you like, too.
It's flexible, and easily made paleo by using all sweet potatoes, subbing almond milk for cream, and leaving out the Parmesan.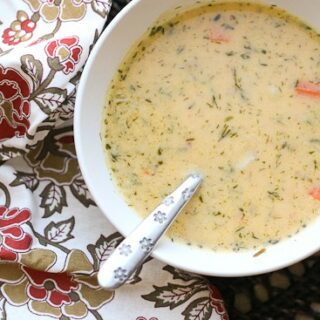 Dill Turkey Chowder with Sweet Potatoes
This is a perfect home for any leftover Thanksgiving turkey you may have in the fridge. I love the addition of sweet potato and fresh dill in this creamy soup!
Ingredients
2 Tablespoons coconut oil or other heat-safe oil
1 cup diced onion (about 1 medium)
2 cups diced carrots (about 2 large)
3 stalks celery, trimmed and diced
3 cloves garlic, peeled and minced (about 1 Tablespoon)
3 Tablespoons minced fresh dill (or 2 1/2 teaspoons dried), divided
1 teaspoon sea salt
1/2 teaspoon black pepper
4 sprigs fresh thyme (or 1/2 teaspoon dried)
2-3 medium red potatoes, peeled and chopped into 1-inch cubes
1 large sweet potato, peeled and chopped into 1-inch cubes
1 1/2 quarts turkey or chicken stock
3 cups chopped cooked turkey or chicken
1 cup cream (or coconut milk)
1/3 cup freshly grated Parmesan cheese, optional
Instructions
Heat oil in a large, heavy pot over medium heat. Add onion, carrots, and celery. Cook, stirring occasionally, until onions are translucent. Add garlic, 2 Tablespoons fresh dill (or 2 teaspoons dried), salt, pepper, and thyme. Cook for a minute until fragrant. Add both types of potatoes and all of the turkey/chicken stock. Bring to a simmer, reduce heat, and let it simmer for 15-20 minutes until the potatoes are cooked through.
When the potatoes are fork-tender, scoop out 1/3-1/2 of the soup and blend. Return blended soup back to the pot. You can also transfer some soup to a large bowl and use an immersion blender to blend thoroughly.
Return the soup to medium-low heat. Stir in the cooked turkey, cream, and cheese (if using). Cook for 3-4 minutes until everything is heated through. Taste and adjust salt/pepper according to your taste. If the soup tastes "flat", try adding a tablespoon of vinegar. White wine, red wine, or apple cider vinegar would be good.
Notes
Nat's Notes:
1. You can use all sweet potatoes for this if you like. I found it made the soup too sweet, though. You could also substitute the red potatoes for another root vegetable like turnips or parsnips.
2. I used regular organic heavy cream because I had some. And I made this in December when I tend to throw around cream with reckless abandon. You can leave it out or use almond milk if you like.