Roasted Vegetable and White Bean Dip
This dip was born out the need to put vegetables in the body of my 10-month-old. She's a picky one. Unlike her sister, who happily inhaled everything we placed in front of her, Ivy eats about 1/3 of what I offer her. On a good day. She doesn't like straight vegetable puree, but prefers her food seasoned. I have better luck feeding her mushed up version of things that we eat (no teeth yet), so I threw together this dip/hummus-type stuff. And I made sure that all of us would like it in case the picky one didn't.
Thankfully she did. She
loved
it. She ate it warm, then cold out of the fridge the next day. I preferred it warm, though. We dipped corn chips and carrot sticks in it, but toasty bread would also be great.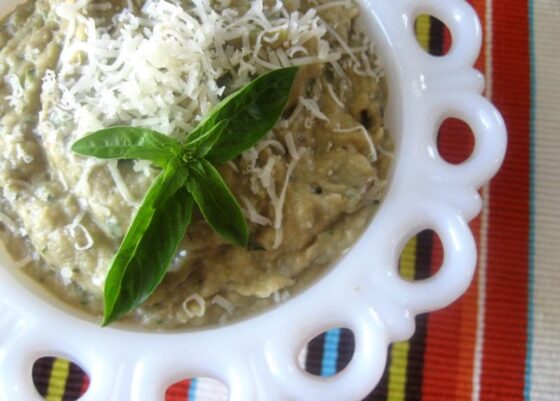 Roasted Vegetable and White Bean Dip

Ingredients:

1 eggplant
3 small zucchini
6 cloves of garlic, peeled
1 can of white beans with juice
1/4 c olive oil
juice from 1 lemon
1/4 c chopped fresh basil or 1 T dried
1 tsp white wine vinegar
1/2 tsp salt
coarsely ground black pepper
shredded Parmesan cheese, for garnish

Directions:

Preheat oven to 425 degrees F.

Chop eggplant and zucchini in roughly 1/2-inch squares, and toss, with garlic in olive oil. Spread evenly, in one layer, on a heavy rimmed cookie sheet. Sprinkle with a little salt and pepper. Roast on the upper-third rack in the oven for 25-30 minutes or until vegetables are tender and beginning to brown.

Remove from oven and transfer to a blender or food processor. Add entire can of beans with juice, lemon juice, basil, vinegar, salt, and pepper. Blend until smooth, adding more water by tablespoons if it's too thick. Transfer to a bowl, sprinkle with a little Parmesan, and serve with vegetables, chips, or toasted bread.

Makes 3-4 cups (I think. I didn't measure. Don't quote me on that.)