Creamy Chicken and Sun-Dried Tomato Fettucine
I'm starting out with a dish that you'd typically think of when you hear the word "pesto". Throwing pesto (sun-dried tomato, basil, or otherwise) over a batch of steaming hot pasta is an easy, quick dish you can do in a pinch. Add a few vegetables and some meat, if you like, and you've got a whole meal done in under 30 minutes!
I must add, though, that sun-dried tomatoes and goat cheese are very good friends. When I made the sun-dried tomato pesto, I happened to have a large package of goat cheese in the fridge (Planned? I don't remember.) Consequently, many of this week's sun-dried tomato recipes also have goat cheese. Don't like goat cheese? In many cases you can leave it out or substitute cream cheese, like you can in this dish. (Although in this recipe, it doesn't taste too "goat cheesy". The goat cheese adds a little zip, but it's mostly there to make the dish creamy and add some richness to the sauce.)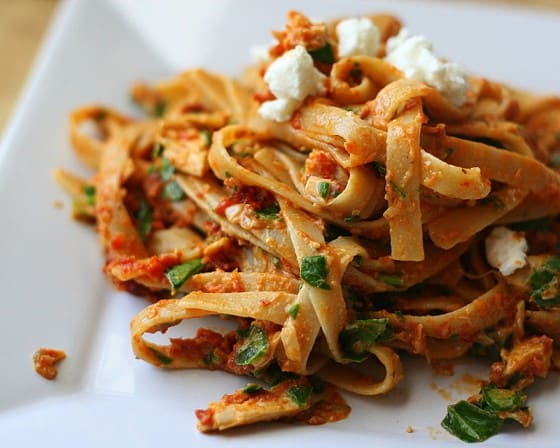 Creamy Chicken and Sun-Dried Tomato Fettucine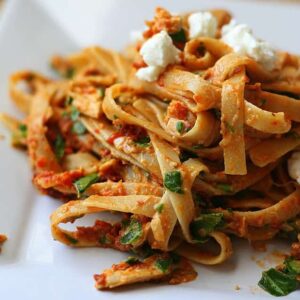 Ingredients:
8 ounces whole wheat fettucine (spaghetti or linguine would also work)
1 1/2 cups cooked shredded chicken
1 cup jarred marinated artichoke hearts, chopped
2 cups chopped fresh baby spinach (about 3 big handfuls)
1/3 cup Homemade Sun-Dried Tomato Pesto (or minced oil-pack sun-dried tomatoes)
1 green onion, sliced thinly
2 ounces goat cheese
salt and pepper to taste
Directions:
Bring a large pot of water to boil. Add 2 T salt to the water, then add pasta. Cook according to package directions, until al dente. Meanwhile, prepare other ingredients.
When pasta is finished cooking, remove a cup of the pasta water from the pot and set aside. Drain remaining water and place cooked pasta in a large bowl. Add remaining ingredients and stir until the pesto and goat cheese have coated everything and the spinach has wilted. If it gets too thick and cumbersome, add reserved pasta water a few Tablespoonfuls at a time to loosen things up. The pasta should be lightly coated with a sauce, but not watery.
Makes about 4 servings.