CSA Wednesdays: Zucchini & Summer Squash + Spicy Zucchini with Anchovies
Regular zucchini, striped Italian summer squash,  and a pretty yellow pattypan.
As a reformed squash hater, it still amazes me how excited I get about zucchini and other kinds of summer squash. I've been so antsy for them to show up in our CSA box and last week they finally arrived!
They're so versatile. And I'll show you gobs of ideas for using them.
Like making this Thai Shrimp Curry I posted last week. It's a great home for about 4 cups of squash!
I'm still reeling at how great that recipe was. Know what I did with the leftover curry paste? I sauteed a dab with a giant handful of spinach. Then put it over a fried egg. For breakfast. *swoon*
If you're garden is being taken over by this plentiful plant, here are a few options for you. Most of these are zucchini recipes, but any summer squash can be substituted…

Side Dishes/Salads:
Grilled Zucchini Salad with Tomatoes and Purslane
Chipotle-Roasted Vegetable Layered Salad
Marinated Zucchini
Festive Grilled Zucchini and Sweet Potato Salad
Roasted Vegetable and White Bean Dip
Zucchini Cakes
Main Dishes:
Grilled Zucchini and Ham Pita Panini with Basil Hummus
Hidden Veggie Chipotle Taco Meat
Grilled Whole Wheat Calzones
Grilled Vegetable Pizza
Grilled Veggie Quesadillas
Grilled Zucchini Lasagna
Stuffed Zucchini with Ground Turkey
Pesto Zucchini "Spaghetti"
…and for dessert:
I actually have two new fantastic zucchini recipes to share with you, but I decided that the other one deserved its own post. It's that cool.
Don't worry, this one is good as well. I love it because it's pure zucchini, and I get to use my anchovy paste. You don't have to use anchovies or anchovy paste, but it gives the dish a deep, salty flavor. Without a fishy taste. (Despite how it smells. It's magical — kind of like fish sauce.)
The trick to making this is getting as much water out of the zucchini as possible. Lots of water = mushy zucchini. You'll never get the caramelized bits if you don't get the water out. Oh, and make sure to wash your kitchen towel soon after you do this. I've got a white one with a giant green stain in the middle.
Completely worth it, though.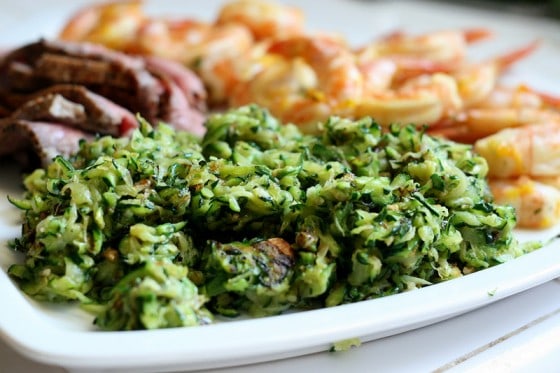 Spicy Sauteed Shredded Zucchini with Anchovies

Ingredients:

1 1/2 lbs zucchini (about 3 medium), trimmed
Salt
3 T heat-safe oil, like coconut or grapeseed
3 medium garlic cloves, minced or pressed (about 1 T)
2 medium anchovy fillets, rinsed and minced (or 1/2 tsp anchovy paste)
1/4 tsp crushed red pepper flakes
Ground black pepper

Directions:

Shred the zucchini with the large holes of a box grater or in a food processor with the shredding disk. Toss the zucchini with 1 tsp salt and let it drain in a fine-mesh strainer in the sink (or over another bowl) for 10 minutes. Transfer the zucchini to a clean kitchen towel and squeeze out the extra liquid. Seriously, squeeze until your hands hurt. Try to get as much water out of the zucchini as possible. It helps to squeeze it in smaller batches.

Heat the oil in a large nonstick skillet over medium-high heat. Add the garlic, anchovy, and red pepper flakes and cook, mashing the anchovies into the oil, about 30 seconds. Add the zucchini and cook, stirring occasionally until tender. It should take about 7 minutes. Add a few pinches of black pepper, taste, and adjust the seasonings according to your tastes.

Serve immediately.

Makes 4 side-dish servings.

Nat's Notes:
1. Because I cook for little eaters, I only added a pinch of red pepper flakes.

adapted slightly from The Best Skillet Recipes from America's Test Kitchen