Yes, this is the last seafood post for a while. But there's STRAWBERRY-CUCUMBER SALSA involved.
And yes, I realize that strawberries (and cucumbers?) may be going out of season for many of you, but if you can snatch some good ones before you're left with tart, imported, expensive ones, you really should try this salsa.
This strawberry-cucumber salsa is unlike anything I've ever tried before. Yes, it's sweet (but only good as your strawberries, so get some sweet ones!), but the cucumbers tone it down and give it a nice coolness. Goes smashing with fish. And my Southwest Cabbage Slaw.
It's quick, too. Like under 30 minutes quick (after the fish has marinated for a bit).
You can even serve these in bowls instead of in tortillas. Like these Chile-Lime Fish Taco Bowls!
Next time I've got something a bit more indulgent. Ok a LOT more indulgent. It makes me excited just thinking about it.
Have a great weekend!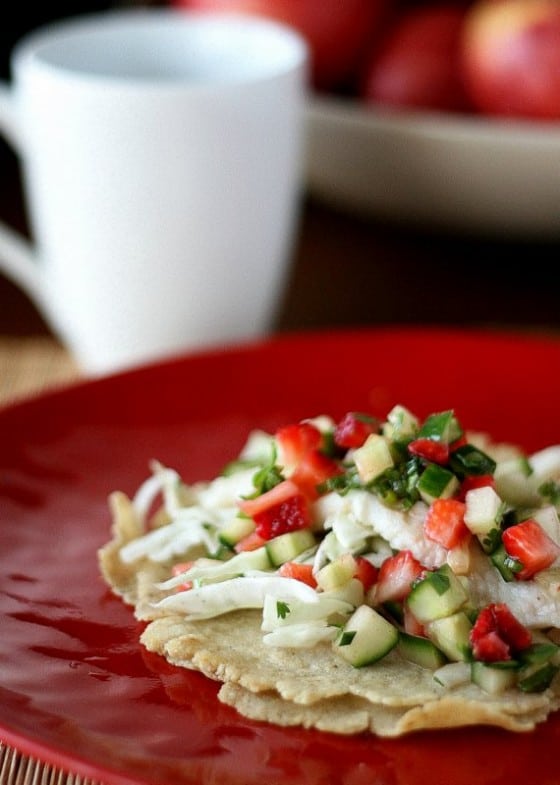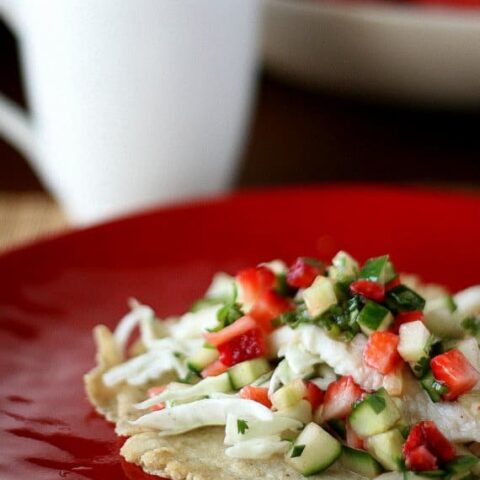 Fish Tacos with Strawberry-Cucumber Salsa
Yield:
Makes about 4 servings (2 tacos each)
Strawberries are a surprising addition to these fresh, light fish tacos!
Ingredients
For the tacos:
1/4 cup fresh lemon or lime juice (about 2 limes)
4 Tablespoons avocado oil, divided
3 cloves garlic, minced
1/2 teaspoon salt
1/2 teaspoon black pepper
1 pound white fish fillets such as tilapia, cod, halibut, sole
8 corn tortillas (homemade ones are great!)
2 cups shredded cabbage
For the salsa:
1 pint fresh strawberries, hulled and diced (about 2 cups)
1 English cucumber (or two regular cucumbers, peeled and seeded), diced (about 2 cups)
2/3 cup chopped red onion, shallot, or green onion
2 Tablespoons chopped fresh cilantro
2 Tablespoons fresh lime or lemon juice
1/2 teaspoon salt
1 small jalapeno pepper, seeded and minced (optional)
Instructions
To prepare the tacos: Combine citrus juice, 2 Tablespoons oil, garlic, salt and pepper in a shallow baking dish or zip-top bag. Add fish, skin side up (if it has skin).
Marinate, chilled, for at least 30 minutes but no longer than 2 hours.
Discard marinade and grill or saute fish in a skillet, using the remaining 2 T oil as needed. Cooking time depends on the thickness of the fish, but it should take around 6-10 minutes. Fish should flake easily with a fork but not be too dry.
To prepare the salsa: Combine all salsa ingredients in a bowl and toss to combine. Store in an airtight container, chilled, until ready to use. Use this within 24 hours as it gets mushy if you store it longer. Makes almost 3 cups of salsa.
Slice fish into large pieces. Place a bit of cabbage on a tortilla, a couple slices of fish, then a spoonful or two of salsa. Garnish with lime wedges and chopped cilantro, if desired.
Save
Save
SaveSave