Crispy Black Bean Tacos with Feta and Cabbage Slaw
This recipe has been on my list since I received my February Bon Appetit mag, and I've noticed a lot of other food bloggers blogged about it. I guess it was a popular recipe. As it should be. These simple, vegetarian tacos are quick, delicious, and because you pan-fry the corn tortillas, they have that authentic "taco shack" taste to them.
I added pico de gallo for some added flavor and color, but the slaw was one of my favorite parts. I used the leftovers later in the week on some fish tacos.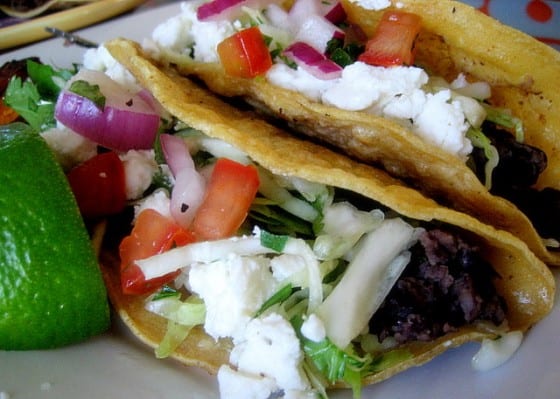 Crispy Black Bean Tacos with Feta and Cabbage Slaw

Ingredients:

1 15-ounce can black beans, drained
1/2 tsp ground cumin
5 tsp olive oil, divided
1 T fresh lime juice
2 c coleslaw mix or thinly sliced cabbage
2 green onions, chopped
1/3 c chopped fresh cilantro
6 white or yellow corn tortillas
1/3 c crumbled feta cheese
Bottled chipotle hot sauce or other hot sauce

Directions:

Partially mash beans and cumin together in a small bowl. In a medium bowl combine 2 tsp olive oil and lime juice; add coleslaw, green onions, and cilantro and toss to coat. Season to taste with some salt and pepper.

Heat remaining 3 teaspoons of olive oil in a large nonstick skillet over medium-high heat. Add tortillas in a single layer (doing batches if necessary). Spoon 2 or 3 heaping tablespoons of bean mixture onto half of each tortilla. Cook for one minute, then fold the tacos in half. Cook until golden brown and tortilla begins to stiffen, about 1-2 minutes per side. Fill tacos with feta and slaw. Add hot sauce if desired.

These would be great served with some mexican rice or some grilled corn on the cob.

Makes about 6 tacos.

Nat's Notes:
1. The original recipe made only four tacos. I'm not sure if they used larger tortillas because there wasn't a measurement. I used the standard-sized ones found at the grocery store. I guess you could fill them with more beans, but I didn't want mine to spill out all over in the pan.

from Bon Appetit February 2009