Grilled Flatbread with Sausage, Caramelized Onion, and Manchego Cheese
This recipe here was my first introduction to Manchego cheese. Ever heard of it? I'd seen it used a lot in magazines and on the Food Network (Rachael Ray talks about it a lot), so I decided to give it a whirl.
My two-year-old is obsessed with cheese. I should have known better than to toss this expensive hunk of Manchego cheese into the shopping cart where she was sitting. The plastic wrap was no match for her sharp little teeth.
This cheese is SO good. Probably in my top 5. Manchego has a smoky flavor, comparable to Provolone, but with a salty bite like Parmesan. Expensive? Yes. Comparable to a hunk of fresh Parmesan at $12 per pound, I wouldn't go using this for just anything. The good thing about expensive cheeses, though, is that they usually have a strong flavor, which means you can use less and still get the taste you want.This flatbread was really, really good. The cheese complimented the caramelized onions and Italian sausages nicely, and I think grilling the flatbread enhanced the smokiness of everything even more. The leftover topping was AMAZING in a quesadilla (surprise!). You could make this as an appetizer or just eat it for dinner like we did.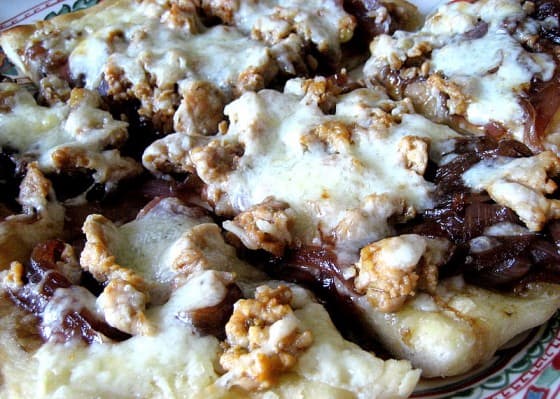 Grilled Flatbreads with Caramelized Onions, Sausage, and Manchego Cheese

Ingredients:

2 T vegetable oil
2 T butter
2 large red onions, halved and thinly sliced
2 T balsamic vinegar
3/4 lb sweet Italian sausages, casings removed
1 lb fresh pizza dough
nonstick spray
2 cups (packed) shredded Manchego cheese, divided

Directions:

In a large pot or saute pan, heat the oil and butter to medium-high heat. Add onions and saute until they soften, stirring often, about 8 minutes. Bring the heat down to medium-low, cover, and allow to cook for 10-15 minutes until the onions are deep golden brown and extremely soft. Stir in vinegar and continue to cook for 3-4 minutes, stirring often. Season with a little salt and pepper and transfer to a small bowl to cool.

Meanwhile, heat a medium skillet over medium heat. Crumble sausage in the pan and saute until cooked through and browned, about 5-6 minutes. Transfer to a small bowl to cool.

TIP: onions and sausage can be done a day ahead. Chill and bring to room temperature before using.

Preheat BBQ grill to medium-high heat (or preheat oven to 450, if using). Lightly flour or grease 2 baking sheets, rimless if possible. Divide pizza dough in half. Working with one piece of dough at a time, stretch each dough out on the pan to form a 12x8-inch oval. Spray the top of each piece of dough with nonstick spray.

Place flatbreads, sprayed side down, onto grill. Cook until grill marks appear and sides of the bread are dry, 3-5 minutes. Return to same baking sheets, grilled side down. Spray uncooked side with nonstick spray and flip over, grilled side up. (If you're using your oven, skip the steps above and proceed to add toppings.)

Sprinkle 3/4 c cheese over each flatbread. Sprinkle onions, then sausage over flatbreads, then the remaining cheese, dividing equally. Return the flatbreads, topping side up, to grill. Cover and cook until crusts are crisp and the cheese melts, 3-5 minutes. (Or place in the preheated oven and bake for 12-15 minutes or until crust is golden brown and cheese is melted.) Transfer to a work surface and cut into rectangles to serve.

Makes 12 appetizer or 4 main-dish servings.

Nat's Notes:
1. Manchego cheese is a Spanish cheese made from sheep's milk. You may find it in the imported or "fancy" cheese section of the grocery store, usually by the deli. If you can't find it, substitute a blend of provolone and Parmesan cheeses.

adapted from Bon Appetit June 2009