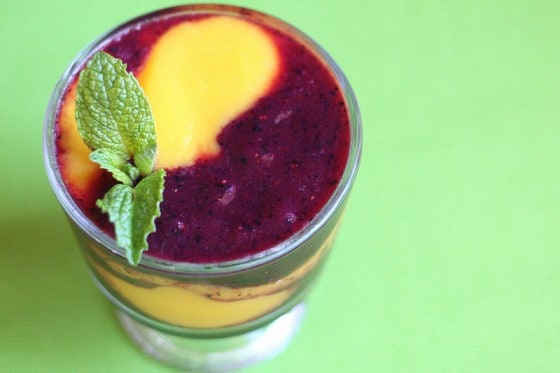 I love these colors together. Gosh, this smoothie was pretty. Yes, was. The whole batch lasted about 15 minutes, five of which were spent taking photos while my kids anxiously waited to start slurping. They're good sports.
If you haven't heard me proclaim my love for my immersion blender
, you must be pretty new around here. Or you just look at the photos and ignore what I talk about. That's OK, too. Having that handy little blender made these smoothies lots easier.
And I was almost giddy when I realized my blade would fit in a wide-mouth quart-sized mason jar. I have a crush on mason jars. Plus, I wanted something clear to buzz these up in so I could show you easily and wouldn't get my shirt splattered. Enter: mason jars. Sigh.
I got the idea for these from a little kids cookbook that was given to me by a friend. The photo in the recipe was just as vividly colored as our smoothies, but the recipe called for a lot of yogurt and milk. I tried them out and ended up with very pale smoothies. Like melted ice cream. Not so pretty.
So I started from scratch, keeping only the orange juice in the original recipe and created a much more vibrant version, without milk or yogurt. 100% fruit and juice. The super-sweet mangos went nicely with the slightly tart berry blend.
I think this technique will be a staple this summer. I'm already thinking of swirled smoothie combinations with melon and my favorite Strawberry Watermelon Smoothie with Ginger and Pineapple Smoothie with Basil.
---
If you make this recipe and enjoy it, let me know! Share it on social media and tag me so I can send you some love –> @perrysplate or #perrysplate.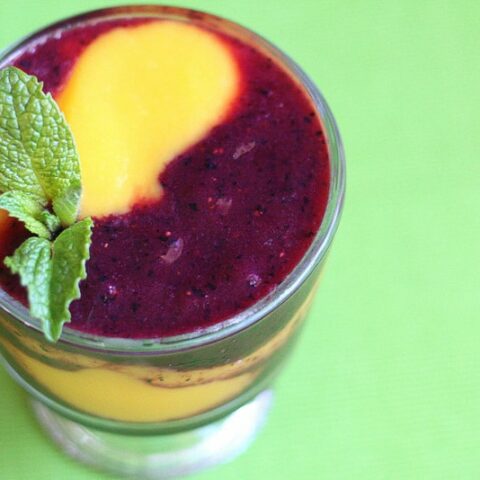 Mango-Berry Swirled Smoothies
Yield:
Makes 4-5 servings
Two fruity smoothies carefully swirled to make a beautiful berry-mango treat!
Ingredients
Smoothie #1:
1 cup fresh or frozen blueberries
1 cup fresh or frozen strawberries (4 or 5 large ones)
1 cup 100% pomegranate juice, plus more if necessary
Smoothie #2:
2 mangoes, peeled and pitted
juice from 1 orange (about 1/2 cup)
Instructions
If you have an immersion blender, place the ingredients for each smoothie into its own quart-sized mason jar or a really large cup.
Blend one smoothie, rinse off the blender, then blend the other. If you're using a blender, blend smoothies one at a time, rinsing the blender between uses.
Pour the smoothies together into serving cups, creating a swirled effect.
Notes
Nat's Notes:
1. Depending on how ripe your fruit is, you may need to add some sweetener. I used frozen blueberries and strawberries and they were very sweet.
2. Again, this depends on your fruit, but if it tastes a little flat, try adding a squirt of lemon or lime juice to brighten it up.