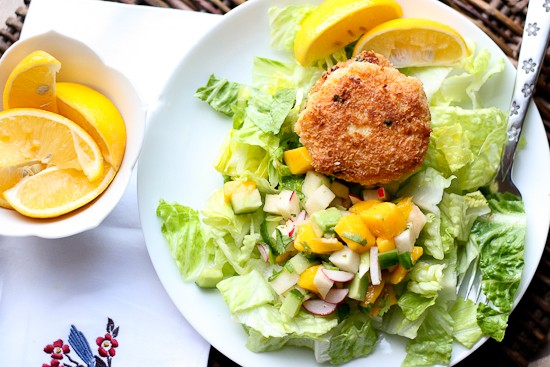 I really, really love coconut shrimp, but deep frying is not my favorite thing. It's messy and requires a LOT of oil. And when you cook with high-quality oil, like coconut oil, it can get expensive.
I saw some precooked wild-caught shrimp at the store recently and my kids went nuts and wanted to get some. (They really like "shrimps".) Because they were already cooked and really small, I didn't think coconut shrimp would be an option.
Enter: fritters. I love fritters. You can put just about anything in them and you get a little bit of "fried" action without a ton of oil. So I made an attempt at a coconut shrimp fritter. They turned out so flavorful, and the addition of Meyer lemon zest gave it a boost of sweet citrus flavor. If you can't find Meyer lemons, just use half lemon and half orange zest.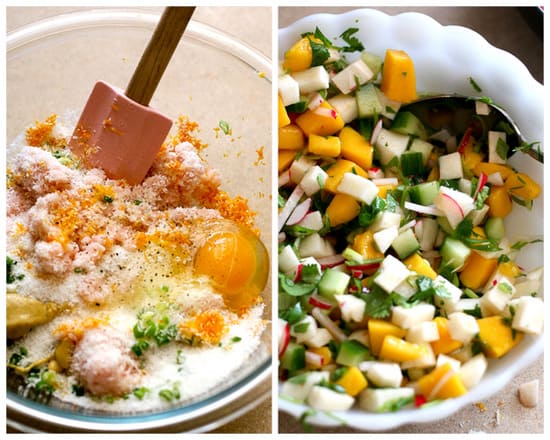 Doesn't this look like spring? I love the colors. It's the perfect recipe for today because it's SNOWING here as I type this. S.N.O.W.I.N.G. I have an appointment to go to this morning, and I'm still wearing flip flops. Maybe I'm in denial that it's actually snowing, but I don't care. It's April.
Since mangoes remind me of flip flops and spring time and are abundant and less expensive lately, I topped the fritters with some fresh mango salsa. (Speaking of mangoes, The Whole Story, the official Whole Foods blog, featured one of my photos in a post about how to slice a mango. Fun!)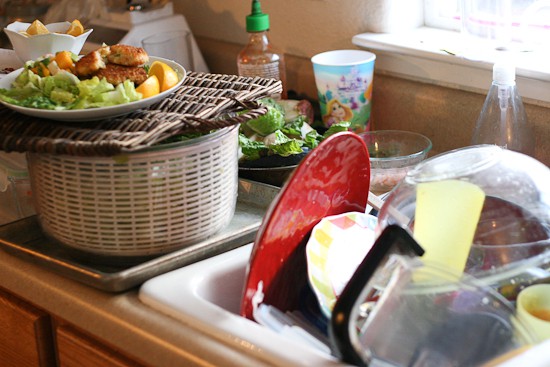 Oh, and by the way, this is my life right now. Two things about this photo:
1. I tried (unsuccessfully) to get a few shots on the floor of my kitchen. Yes, I put my food on the floor. It gets really good light there. And I don't always feel like dragging my kitchen table five feet. Little One makes a beeline for the plate as soon as she sees me crouched on the floor with my camera. I had to resort to using the very small amount of space on my countertop with good lighting. Which brings me to…
2. That is how my sink and counter look most of the day. Why?
Because an open dishwasher is a chair. I do a lot of dishes at night now.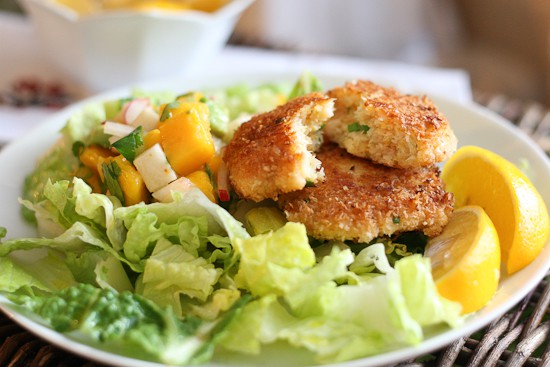 Anyway.
I made a tweaked version of the Cilantro-Lime Vinaigrette from Our Best Bites to drizzle over the salad. I substituted Meyer lemon juice for half of the lime juice, avocado oil for the canola oil, and a reduced amount of honey for the sugar. After making this salad with and without the dressing, I have to say, the dressing really makes it!
I included a bunch of links to fritter recipes at the end of the post!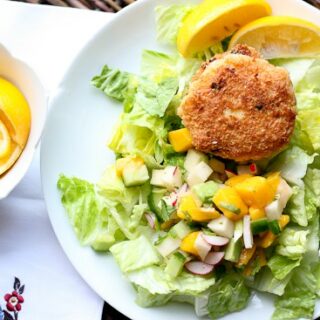 Coconut Shrimp Cakes with Mango Salsa
Coconut-crusted shrimp fritters are super tasty with a sweet mango salsa. Drizzle with your favorite lime vinaigrette for a light dinner!
Ingredients
For the shrimp cakes
1 pound cooked shrimp (shelled, cleaned, tails cut off)
1 cup dried, unsweetened coconut, divided
2 green onions, cut into 1-inch pieces
Zest from 1 lemon (Meyer lemon, if possible)
1 teaspoon Dijon mustard
1 egg
Squirt of hot sauce
a few generous pinches of salt and pepper
coconut oil, for frying
For the salsa
For the salsa:
1 cup diced mango
1 cup diced jicama
1/2 cup diced English cucumber
1/2 of an avocado, peeled and diced
2 radishes, sliced thinly and julienned (matchsticks)
2 green onions, sliced thinly
Juice from 1 lemon (Meyer lemon, if possible)
1/4 cup chopped, fresh cilantro
Hot sauce, to taste
Salt, to taste
For the salad
Salad greens
Citrus vinaigrette (see link within post for recipe and adaptations)
Instructions
To make the shrimp cakes:
Pulse shrimp in a food processor until finely chopped and almost paste-like. Transfer to a medium-sized mixing bowl. Add 2/3 cup of the coconut and the remainder of the shrimp cake ingredients (except for the coconut oil). Mix thoroughly.
Place the remaining 1/3 cup of coconut in a shallow dish. Form patties from the shrimp mixture (about 2-inches across) and press both sides of the patties into the coconut.
Put enough coconut oil into a medium-sized pan to coat the bottom well. (About 1/4-inch will do.) Heat over medium-high heat until the oil begins to "shimmer" and it splatters when you flick water into the pan. Working in batches, fry a few of the patties at a time, flipping once, until they're golden brown on both sides. Transfer to a stack of paper towels to drain and keep warm.
To make the salsa:
Combine all salsa ingredients into a medium bowl. Cover and refrigerate until ready to serve.
Serve shrimp cakes over salad greens. Top with mango salsa and a drizzle of vinaigrette.
Notes
Nat's Notes:
1. If you don't have or can't find Meyer lemons, use half regular lemon and half orange zest/juice.
2. You can form the patties up to a day in advance and the mango salsa a couple of hours in advance. Just cover and refrigerate both until you're ready to fry the cakes.
Here are a few more fritter recipes around the Interwebs that caught my eye!
Leek & Brussels Sprout Fritters – Perry's Plate
Broccoli Parmesan Fritters – Smitten Kitchen
Eggplant Fritters in Chickpea Flour – Food Wanderings
Spicy Corn Fritters – Perry's Plate
Root Vegetable Fritters – Spoon Fork Bacon
Bacon Cheddar Cauliflower Fritters – Cinnamon Spice and Everything Nice
Buffalo Chicken Quinoa Fritters – Closet Cooking
Apple Fritters – Buns in My Oven