Spaghetti Squash with Walnut-Carrot Sauce (Paleo)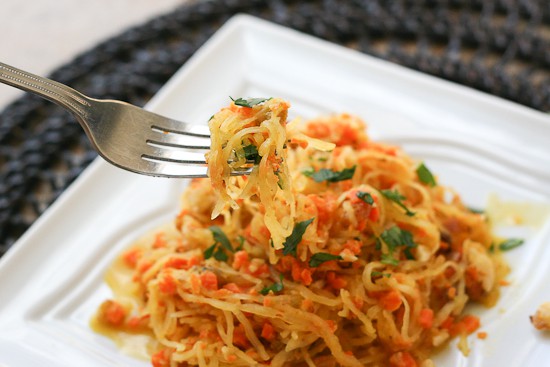 Hi friends! I've got a new recipe up over at Food Fanatic this week!
I found an interesting pasta recipe in the March issue of Food Network Magazine so I swapped out the pasta for spaghetti squash. That little swap doesn't always work, but I thought it worked really well in this recipe. The walnut-carrot sauce was so light. You can eat a giant bowl of this and not slip into a carb coma (that's always a good thing, right?)
Go grab this Paleo Spaghetti Squash Recipe and come say hi over at the blog post!
Also, a big congrats to last week's giveaway winners…
Janna B. who won the Nambe cookware giveaway
Alison S. who won the Fair Trade USA giveaway
Kirsten T. and Stephie S. who won $50 vouchers in the Noonday Collection giveaway
Speaking of Noonday Collection, I'm having so much fun with this, and I haven't even done any trunk shows yet! Right now I'm playing dress up in my samples and getting my display figured out for my launch party at the end of the month. Check out my Noonday Facebook Page if you want to follow along!
AND…
I'll have a recipe for you in a couple of days. A real recipe. HERE. Unbelievable, right?