Pecan-Crusted Chicken with PB & Maple Drizzled Apple Salad
I just realized that out of the 400+ recipes I've posted, (Wow, can you believe it's been that many?) this is only the 4th recipe to contain peanut butter. And none of the recipes that do contain peanut butter are desserts. I'm not a peanut butter person. (I don't like Oreos or "fry sauce" either. Yes, I
am
American.)I don't mind PB in savory dishes, but I don't think this recipe is entirely savory. At least the dressing isn't. I've only recently warmed up to the idea of mixing meat with fruit or other sweet things (i.e.
Mango Chicken Curry
), but I'm totally in love with this salad. The PB & maple dressing is so sweet, you could use it as a fruit dip or pour it over your pancakes. Alone on the salad, it was a bit much for me, but pairing it with the pecan-crusted, cinnamon-nutmeg-spiced chicken that
wasn't
sweet was genius. They balanced each other out perfectly.
I found this recipe (as well as the last one I posted) on Tasty Kitchen. I'm so glad that I jumped on that site. I've met so many wonderfully talented people and discovered a goldmine of amazing recipes.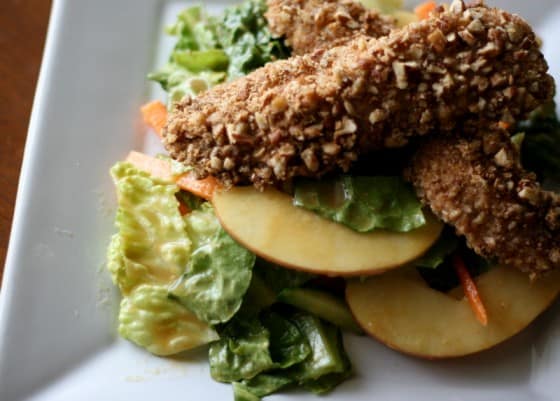 Pecan-Crusted Chicken with PB & Maple Drizzled Apple Salad

Ingredients:

7 whole chicken tenderloins (or a couple of large chicken breasts sliced into strips)
salt and pepper, to taste
1 cup pecans, chopped
½ cup plain bread crumbs
1 teaspoon cinnamon
½ teaspoons nutmeg
1 whole egg
4 cups salad greens
1 1/2 cups matchstick carrots
1 whole apple, sliced
½ cucumber, sliced
¼ cup raisins (optional)
½ cup maple syrup (the real stuff, not pancake syrup)
4 T peanut butter
2 T apple cider vinegar
2 T vegetable oil (or some other mild-tasting oil like grapeseed or canola)
2 teaspoons lemon juice

Directions:

Pre-heat oven to 375 degrees and prepare a baking sheet with either nonstick spray or a foil lining. Blot the chicken with a paper towel to remove any excess moisture and season chicken tenders liberally with salt & pepper.

In one shallow dish, combine bread crumbs, chopped pecans, cinnamon & nutmeg. Crack the egg into another shallow dish and beat with a fork. Dredge each chicken tender in the egg, then in the pecan mixture. Place them on the prepared baking sheet and bake for about 15 minutes or until cooked through.

Meanwhile, prepare the salad. Combine vegetables and sliced apple into a large bowl.

Whisk together maple syrup, peanut butter, apple cider vinegar, oil and lemon juice in bowl, then drizzle over the salad. (I didn't put it all on there as I thought there was too much dressing for the amount of salad. It's good to dip apples in later. :)) Toss salad to coat evenly.

Serve chicken over salad.

Makes about 4 servings.

from The Noshery via Tasty Kitchen