Roasted Garlic and Balsamic Dipping Oil + Other Ways to Use Roasted Garlic
One day I roasted some garlic.
Later that same day I noticed Joy the Baker wrote a post about roasting garlic. I was going to do a short little tutorial about it, but since she does it the same way I do (with more oil and salt), you can just check hers out. Plus, her photos are nicer than mine.
Anyway, go roast some garlic.
If you happen to have some of this hanging around it would be a good thing. Would you believe me if I told you I made this crusty bread from scratch?
As part of Foodbuzz's Tastemakers program I received some olive oil from Crisco. Yes, Crisco makes olive oil now.
There are a couple of things I look for when I buy extra-virgin olive oil. 1) "First cold press" on the label and 2) organic (this one I don't hold too strictly to, but I like to buy it when I'm able.) Why first cold press? When olive oil is made, the olives are pressed. The oil that comes from the first pressing is typically extra-virgin. After that, heat and chemicals are used to extract more oil from the olives and "pure" olive oil and "light" olive oil are the results. You can heat these two types at higher temperatures when cooking, but for making vinaigrettes, dipping oils, or using it as a garnish isn't a good idea. The flavor isn't as good, but it's fine for roasting, frying or sautéing.
Crisco extra-virgin olive oil says neither of these things, so my expectations weren't too high. That being said, I thought the extra-virgin olive oil I received was decent. It wasn't as fruity tasting as the kind I usually buy, but it would do in a pinch. Or if you don't have a lot of money to spend on olive oil.
(Like I always tell you, the opinions I share on here are honest.)
Now on to the good stuff . . .
Smear some of that roasted garlic goodness on to a small shallow plate. Drizzle with extra-virgin olive oil. (Yes that's the Crisco kind I received. I poured it into my oil carafe because I it's prettier than the bottle. Or any olive oil container for that matter.)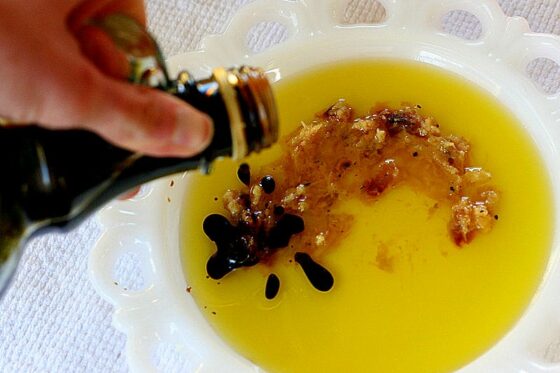 Splash on some balsamic vinegar, to taste, and add a dash or two of salt and pepper.
My husband used to hate balsamic vinegar. I ignored him and used it anyway. Now he likes it. (Most of the time. Either that or he decided complaining was futile.)
Dip some crusty bread into the oil, making sure to get some garlic and vinegar on the bread as well. I might have eaten a half of a loaf of bread during the photographing of this post. The kids were asleep and my husband was gone. I couldn't stay out of that oil.
You'll make a lot of friends with this, trust me. I have another dipping oil posted that uses a lot of fresh herbs. It's great for summer.
If you decide to roast several heads of garlic at once, here are a few more ways to use it:
Roasted Garlic Pasta Sauce This is my go-to all-purpose pasta-pizza-marinara sauce. I make a double batch and freeze it in 2-cup servings.
Roasted Garlic and Balsamic Dipping Oil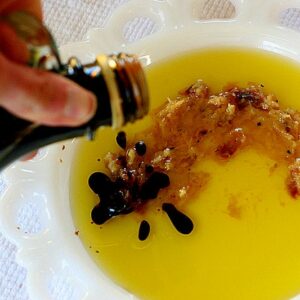 Ingredients:
4 heads of garlic, roasted with the pulp removed from the bulbs (see notes)
1 cup good quality extra-virgin olive oil
1/4 – 1/3 cup balsamic vinegar (to taste)
salt and pepper, to taste
1 medium-sized loaf of crusty bread
Directions:
Smear about 2-3 T of roasted garlic on a shallow dish. Drizzle about 1/2 cup of olive oil and about 2 T of vinegar over top. The quantities of the garlic, oil, and vinegar will vary according to your taste. Add more of any, if necessary. Throw a pinch or two of salt over top and have at it.
Nat's Notes:
1. To roast garlic, cut the top 1/2 inch or so off each head, drizzle some oil over top and add a pinch or two of salt and pepper. Wrap it in aluminum foil and bake it for 400 degrees for about 45 minutes.