This is a really, really good salad, but only if you're hopelessly in love with goat cheese like I am.
This salad is like a cross between a green salad and a potato salad with some fresh green beans thrown in. It's quite a strange-sounding combination, but the goat cheese dressing is what brings it all together. I LOVED the dressing. It would be great on either type of salad, too.
If you don't like goat cheese. . . hmm. . . maybe try cream cheese or sour cream?
This is also one of the rare occasions you'll see green beans on my blog. I'm not a huge fan of them — maybe from WAY too many servings of canned green beans growing up?
*shudder*
Lightly blanched fresh green beans are tolerable, and, dare I say, GOOD with that goat cheese dressing. It's some kind of witchcraft, I tell you.
More Salads for Spring
This salad reminds me of spring! I have a few other springy salads if you're looking for something new…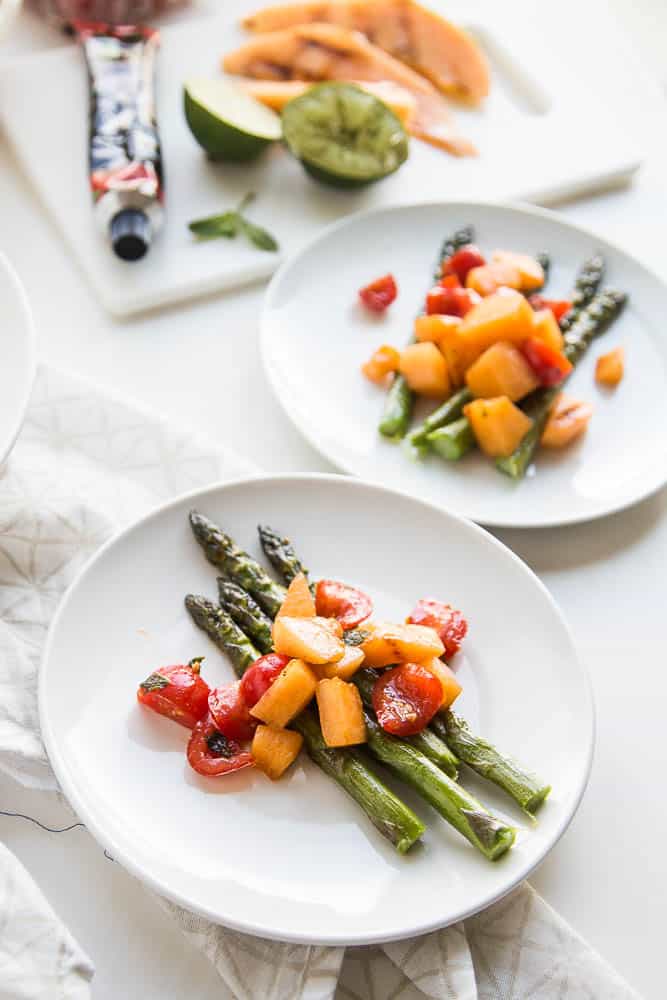 Asparagus & Grilled Melon Salad — Ok, this one screams summer, too. I love that the melon is grilled, too!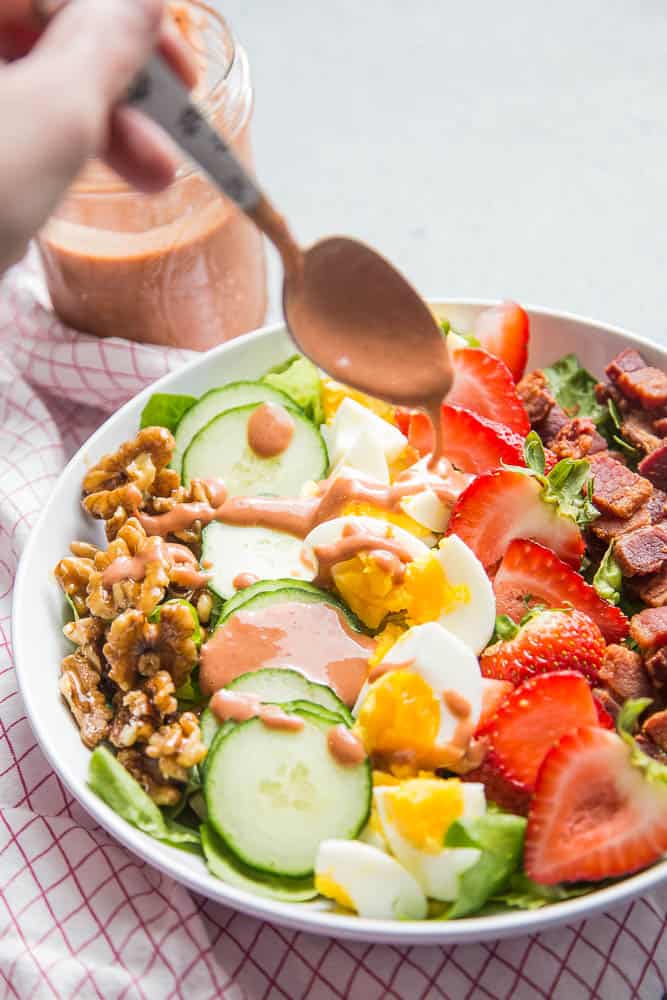 Balsamic Strawberry Cobb Salad — I love seeing strawberries pop up in the spring! And strawberries + balsamic is a steller combo.
Toasted Brussels Salad with Strawberry-Basil Vinaigrette — Another strawberry dressing. I just love this with the sweet grapes and blueberries and crunchy nuts here!
---
If you make this recipe, be sure to post it to social media and tag me at @perrysplate or #perrysplate so I can send you some love!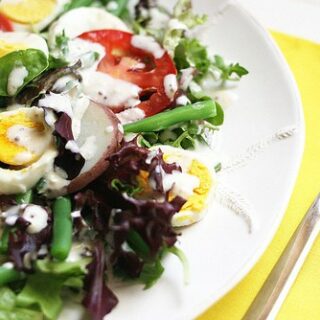 Green Bean and Egg Salad with Goat Cheese Dressing
The goat cheese dressing in this salad is absolute GOLD. This salad can be a meal in itself with the hard cooked eggs and soft potatoes. It's a perfect home for spring vegetables, too!
Ingredients
1 Tablespoon minced red onion
4 ounces soft goat cheese
1/4 cup buttermilk
2 Tablespoons cider vinegar
1 Tablespoon extra-virgin olive oil
2 teaspoons whole-grain mustard
1 pound small red-skinned potatoes, sliced
4 large eggs
8 ounces green beans, trimmed
8 cups mixed salad greens, torn
1 large ripe tomato, halved and thinly sliced
Instructions
In a blender or food processor, combine minced onion, goat cheese, buttermilk, vinegar, olive oil, mustard 3/4 tsp salt and pepper to taste. Blend until smooth. Add a tablespoon of water if it's too thick.
Put potatoes in a pot of salted water; bring to a simmer and cook until tender, about 18 minutes. Drain and pat dry.
Meanwhile, put eggs in another, smaller, pot and cover with water. Bring to a boil; remove from heat and cover. Let eggs sit for about 10 minutes, then remove from pot (without draining the water) into a bowl of cold water.
Add green beans to the same boiling pot of water the eggs came from. Cook until crisp-tender, about 5 minutes. Drain, run under cold water and pat dry.
Peel and slice eggs. In a large salad bowl toss together salad greens, green beans and half of dressing. Top with potatoes, tomato and hard-boiled egg slices. Drizzle with remaining dressing.