Festive Grilled Zucchini and Sweet Potato Salad
I used to think that when people "wrote" recipes, they did just that. I imagined someone sitting down at a table with a piece of paper and a pen and jotting down ingredients. I suppose that's a way to start if you've got ideas in your head, but I think more happens on the fly than premeditated. Or recipes are born out of the need to use up ingredients in the fridge. At least that's the way it is for me.
A couple of weeks ago we had some friends over for dinner, and I had a bunch of vegetables I needed to use. So I started chopping, throwing things on the grill, throwing things in a pan and added bacon (because I needed some insurance . . . we were having company, afterall). After dressing my modgepodge "salad" with a simple vinaigrette using leftover herbs from the main dish, I stepped back and looked at my little creation. It was colorful, fragrant, and (in my opinion) delicious. Not all of my Frankenstein recipes turn out like that. It went wonderful alongside the Roast Chipotle Chicken Tacos we ate.
During dinner, one of our guests told me that it was probably the most "festive" salad he'd ever eaten. I took that as a compliment. And decided to throw his description into the name . . . Thanks, James!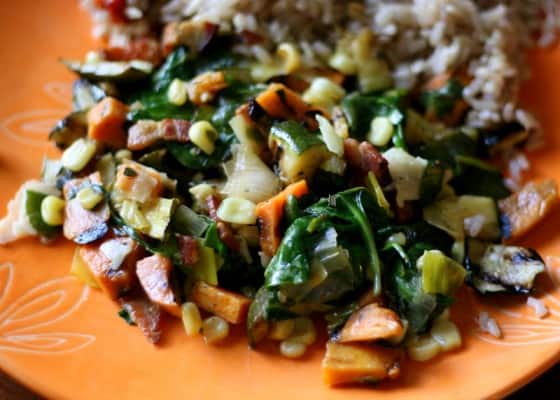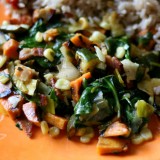 Festive Grilled Zucchini and Sweet Potato Salad
Ingredients:
Cooking oil (I use either grapeseed or coconut)
2 small sweet potatoes, peeled and sliced into 1/4-inch rounds
3 small zucchini, sliced lengthwise into 1/4-inch strips
3 slices uncooked bacon
1 small leek, trimmed, scrubbed and chopped (about 1/2 cup)
1 cup frozen corn
3 ounces fresh baby spinach (a couple of handfuls)
3 T red wine or balsamic vinegar
6 T extra-virgin olive oil
1 T fresh chopped rosemary (or 1 tsp dried)
1 T chopped fresh oregano (or 1 tsp dried)
salt and pepper to taste
1/4 cup fresh Parmesan cheese (shavings or shredded)
Directions:
Preheat BBQ grill or stove-top grill pan to medium-high heat. Brush oil over grates and on both sides of the sliced sweet potato and zucchini. Place on hot grill and cook until tender, flipping once halfway through, about 10-15 minutes. The sweet potato may take a bit longer than the zucchini, but be sure to remove it from the grill before it gets too soft to pick up in one piece. Set aside to cool, then chop into 1/2-inch pieces.
Meanwhile, cook bacon (whole or chopped, whatever you prefer) in a medium skillet over medium heat until crisp. Remove bacon from the pan and leave about a Tablespoon or so of the bacon fat in the pan. Add chopped leeks to the skillet and saute over medium heat for about 5 minutes or until they soften. Add frozen corn to the skillet and continue to cook, stirring occasionally, 4-5 minutes until corn is thawed and golden brown spots begin to appear. Remove from heat and allow to cool slightly.
In a large salad bowl combine all of the warm cooked vegetables (grilled and sauteed), the bacon, vinegar, olive oil, rosemary, oregano, and Parmesan shavings. Mix until everything is coated in the oil and vinegar and let it sit for about 10 minutes to allow the spinach to wilt. Add salt and pepper to taste.
Makes about 6 servings.
Nat's Notes:
1. Leeks are notorious for being gritty between layers. The best way to prep them is to first trim them, then chop them, then throw the chopped leek into a bowl full of cool water. Swish the leeks around and let it sit for a couple minutes to allow the sand to sink to the bottom of the bowl. Remove washed leeks with a skimmer/spider or slotted spoon.
2. Make sure the sweet potatoes are about 1/4-inch thick. If they're too thick, they won't cook through before the outsides get too black, and if they're too thin, they won't stay in one piece when you take them off the grill. They may have a slight bite to them, but they're still good that way.