Spicy Butternut & Black Bean Egg Rolls with Citrus Avocado Cream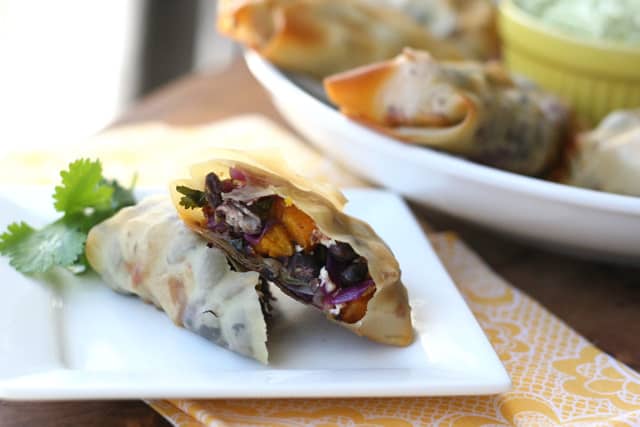 I've been saving this recipe for a while because I have some fun news to share with you!
A few months ago I started doing photography for Clean Eating Magazine, and I was waiting to show you until I saw a good-sized photo appear in the magazine. It's kind of surreal to see my photos in print.
Wanna see?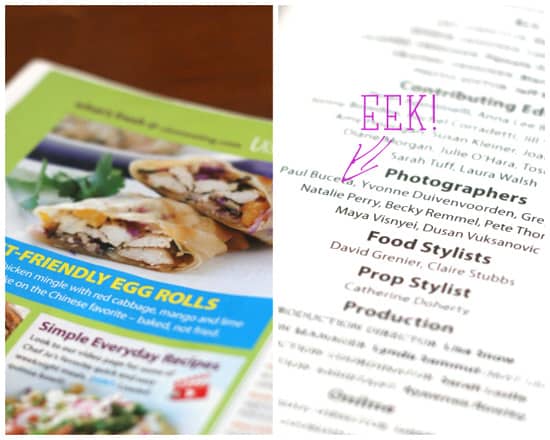 *Squeal*
Yes, I feel like a giddy 14-year-old when I see this.
One of my assignments was to make and shoot these Asian-flavored Chicken Eggrolls with Red Cabbage, Mango, and Lime. (Delicious, by the way!) I had some leftover wrappers and cabbage, so I made another batch and took them in a Mexican-ish direction.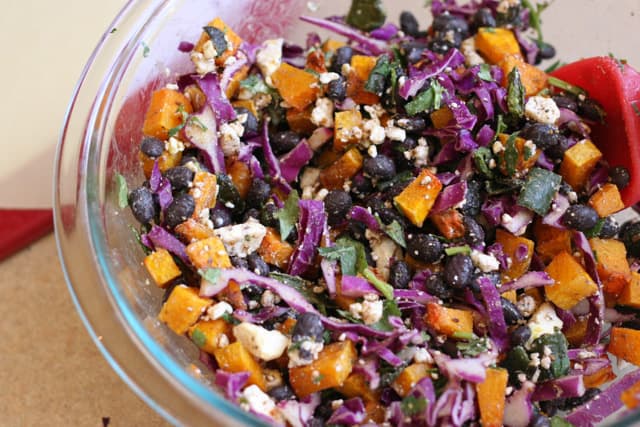 How long have I been holding out on you? Well, long enough that butternut squash is no longer in season. Oops. If you can't find frozen butternut squash chunks, you can also use sweet potatoes.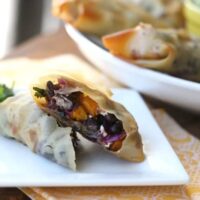 Spicy Butternut & Black Bean Egg Rolls with Citrus Avocado Cream
Instructions
Preheat oven to 425 degrees F.
Place diced squash and peppers on a rimmed baking sheet. Drizzle oil and sprinkle 1/2 tsp cumin, garlic powder and a few generous pinches of salt and black pepper over the top. Toss to combine. Roast for 15-20 minutes or until squash is tender and vegetables have dark, caramelized spots on their edges. Remove from oven and allow to cool for about 15 minutes. Reduce oven temperature to 375 degrees F.
In a large bowl combine roasted vegetables, black beans, cabbage, lemon juice, hot sauce, cumin, feta, and cilantro. Mix well.
Put some water in a small bowl near your work surface and prepare a baking sheet with nonstick spray (or a brush of heat-safe oil). Lay an egg roll wrapper on a flat surface and rotate it so it looks like a diamond (instead of a square). Place a couple spoonfuls of the filling into the center of the wrapper. Fold in the side corners, then starting from the bottom corner, roll the whole thing up, away from you.
Dip your finger in the bowl of water and wet the edges of the top corner of the wrapper. Press to seal, and place egg roll on prepared baking sheet. Repeat with remaining filling and wrappers. Brush egg rolls lightly with heat-safe oil and bake for 12-15 minutes, until they're golden brown.
Meanwhile, combine avocado cream ingredients in a small bowl and set aside. Serve egg rolls with cream.