Ginger-Garlic Salmon & Asian Cabbage Salad + A gift for all of you!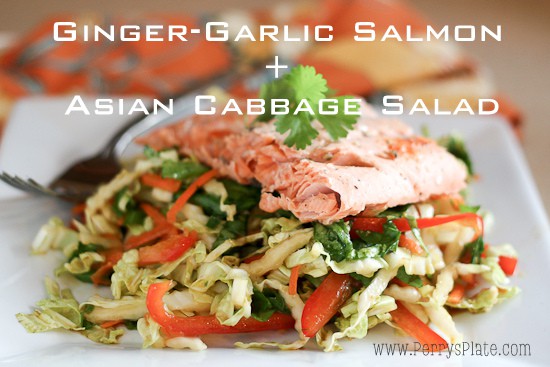 ***Have you entered to win a copy of the new Weelicious cookbook? If not, leave a comment on the giveaway post! The contest closes tonight!***
Guys, yesterday I went from having a 7-year-old, not-so-smart cell phone to… a new iPhone.
Mind = blown.
It seems that having a smart phone is one of those luxuries that you're perfectly OK without having… until you have it. After that, you can't imagine giving it up.
Like DVR. And French macarons.
Speaking of things we "can't" live without, raise your hand if you have an iPad.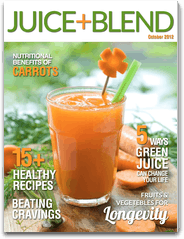 If you do, go on over to the iTunes store and pick up a three month subscription to Juice + Blend magazine! FOR FREE!
You'll find my Mango-Berry Swirled Smoothies along with a whole bunch of other recipes — and even stuff you can stick on your face.
(I love facial masks made of food.)
All you need to do is follow this link. You'll need to use the code: gohealthy3. Here are the instructions on how to get the subscription and use the code. The offer expires on October 23rd, but the subscription is for three months, so don't wait too long!
Now, about this salad-thing.
I tweaked my most favorite way to prepare salmon and gave it an Asian flair. Then I adapted Ree Drummond's Asian Noodle Salad to serve with it. I was sort of cooking from the hip that night, and it ended up being one of our favorite meals of the week! My kids kept telling me to make it again.
And this is coming from two kids who are very fickle when it comes to fish.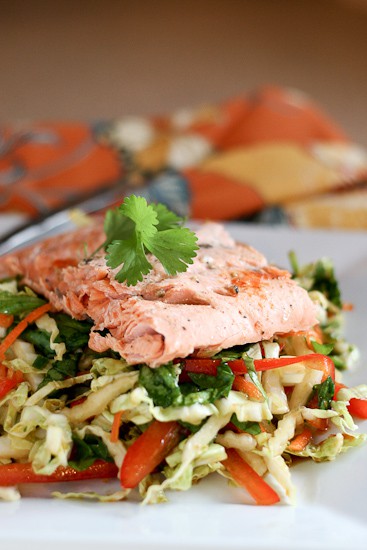 Ginger-Garlic Salmon + Asian Cabbage Salad

Ingredients:

For the salmon:
1 1/2 pounds of boneless wild-caught salmon fillets (I used one big long one)
Sea salt and black pepper
Juice from 1/2 a lime
2 Tablespoons soy sauce
2 cloves of garlic, peeled and sliced thinly
A 2-inch knob of ginger cut into rounds (peeling isn't necessary)
A few shakes of sriracha or other Asian-style hot sauce

For the salad:
1/2 a head of Napa cabbage, cored and sliced thinly
3 green onions, sliced thinly
1 red bell pepper, sliced thinly
2 handfuls baby spinach
1 carrot, grated

For the dressing:
Juice of (the other) 1/2 lime
1/4 cup olive oil
1 tablespoon sesame oil
3 tablespoons soy sauce
2 Tablespoons brown sugar or honey
2 tablespoons fresh ginger, chopped
1 clove chopped garlic
1 hot pepper or jalapeños, seeded and chopped
1/3 cup fresh cilantro, chopped

Directions:

Preheat your BBQ grill to medium-high heat (or your oven to 450 degrees).

Lay the salmon fillets on enough aluminum foil so you'll be able to wrap the whole thing tightly. Before you wrap it, sprinkle the fillets with a generous pinch or two of salt and pepper, lime juice, and soy sauce. Arrange the garlic cloves and ginger rounds evenly on top. Shake some sriracha over the fish, to your liking.

Wrap the foil over the fish until it's sealed. It doesn't have to be air-tight, but avoid having gaps in the foil where the steam will escape. Lay the foil packet on the grill (or in the oven) and cook for about 8-12 minutes, depending on the thickness of your fillet. You'll want it just barely cooked through as it will continue to cook after you take it off the heat. I like to leave a few dark pink spots on top just to be sure.

To make the salad, place all salad ingredients into a large bowl. Whisk together the dressing ingredients and pour about 2/3 of the dressing over top. Toss the salad, then add more dressing if necessary.

Serve the salmon over the cabbage salad.

Salmon by Perry's Plate, Salad adapted from ThePioneerWoman.com