Spiced Sweet Potato and Pecan Pancakes (or Waffles)
This recipe has been updated and made paleo-friendly! Click over to grab the updated version:
---
I rarely repeat recipes several times, so the fact that I've made these multiple times says a lot about how much we've enjoyed these. Up until last week I had only used this recipe for waffles. I decided to try them as pancakes because we had company coming for breakfast — I doubled the recipe and wanted them to be done quicker.
These pancakes (as well as the waffles) are slightly denser than regular pancakes, but not as much as you'd think. Whipping and then folding in the egg whites separately definitely lightens the texture, despite the use of whole wheat flour. (No one even noticed they were whole wheat! That's why I love whole wheat pastry flour.) The batter is also laced with cardamom, which is a spice commonly used in Indian cooking and comparable to the cinnamon/clove/nutmeg flavor profile. But much more exotic tasting. If you don't have (or like) cardamom, simply substitute cinnamon.
These would be great as pumpkin pancakes, too. Just swap the sweet potato for pumpkin puree.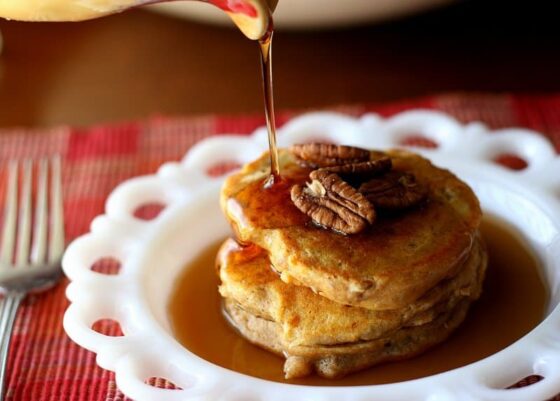 Why yes, I like my pancakes to float in maple syrup. Actually, I don't have a tripod and kept getting blurry photos, so I kept pouring syrup over these trying to get a more focused shot. I got my shot and my pancakes were soaked. Both missions accomplished.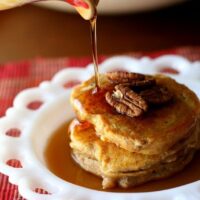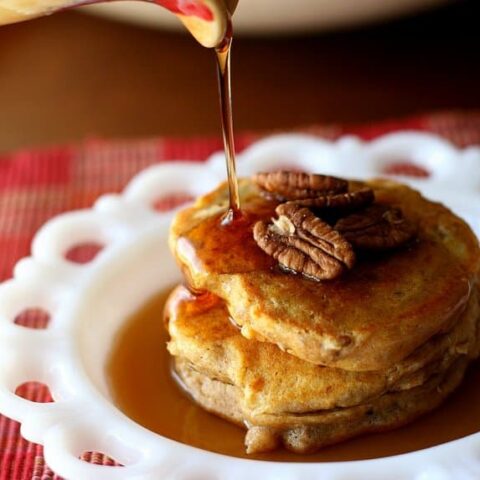 Spiced Sweet Potato and Pecan Pancakes (or Waffles)
These hearty, yet soft pancakes are filled with all things fall -- roasted sweet potatoes, baking spices, toasty pecans, and maple syrup.
Ingredients
1 cup whole wheat pastry or all-purpose flour
1/2 cup whole wheat flour
1 tablespoon sugar
1-½ teaspoons baking powder
1 teaspoon ground cardamom or cinnamon
½ teaspoon salt
3 eggs, separated
1 cup (8 ounces) sour cream
1 cup cold mashed sweet potatoes
½ cup milk
¼ cup butter, melted
¾ cup chopped pecans, optional
Maple syrup, optional
Instructions
In a large bowl, combine the flour, sugar, baking powder, cardamom and salt.
In another bowl, whisk the egg yolks, sour cream, sweet potatoes, milk and butter; stir into dry ingredients just until moistened. Fold in pecans, if using.
In a small bowl, beat egg whites until stiff peaks form; fold gently into batter.
For pancakes, drop 1/4 cup-fulls of batter onto a greased skillet preheated to medium heat. Cook until bubbles begin to break the surface and the edges of the pancakes appear dry. Flip and cook until the other side is golden brown as well. Serve with syrup. Yields about 14 pancakes.
For waffles, bake in a preheated waffle iron according to manufacturer's directions until golden brown. Serve with syrup. Yields 10 waffles or about 5 Belgian-style waffles. Nat's
Notes
Notes: If you don't have (or like) cardamom, simply substitute cinnamon. 2. Pumpkin puree would also work well in place of the sweet potato.

SaveSave