Remember this piece of deliciousness?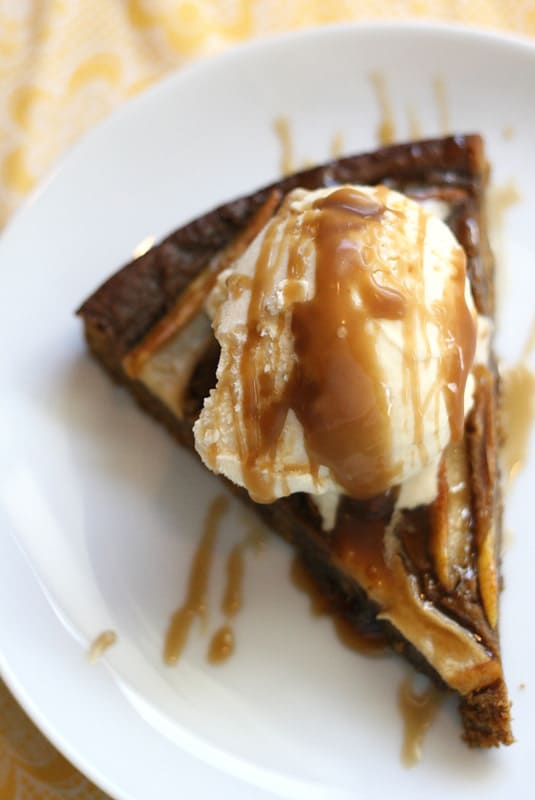 That was kind of mean. I apologize.
No need to wait any longer. The Ginger-Pear Skillet Cake recipe is at the bottom of the post. But before you go running down there I want you to see this other piece of deliciousness…
What is this, you say?
This is a Meyer Lemon-Goat Cheese Soufflé Cake. I made these for our 8th wedding anniversary dinner back in September. (Yes, I've been holding out on you again. I'm 0 for 2 now.)
Kind of fancy. Fairly easy. Tastes a lot like a lemony-orangy cheesecake-type thing. If you can't find Meyer lemons, use half lemon, half clementine zest/juice in the recipe. And if you can't find fresh berries this time of year, try pomegranate seeds.
Or pomegranate arils? I always feel "too big for my britches" when I use that word.
Not only do I have two splendidly delicious dessert recipes for you, but two of you will have a chance to win a copy of the cookbook these recipes came from! (Details below.)
I picked up a copy of Farmers' Market Desserts by Jennie Shacht when Borders bookstore was nearing its last days on earth. I don't typically gravitate toward dessert-only cookbooks, but the fact that it was focused on fresh fruit and had a variety of recipes for all seasons make me curious.
Plus I was hungry.
After trying out a couple of recipes and falling in love with this book, I contacted the publisher and they generously agreed to send out copies of the book to two of my readers! Thanks Chronicle!
There are so many other things I want to try from this book, including Apple Dumplings with Cinnamon Caramel, Cranberry Orange Oat Bars, and Pineapple-Macadamia Upside Down Cake. I appreciate that, although this is a dessert cookbook, the author has a light hand with the refined sugar and relies more on the sweetness from the fruit. She also incorporates honey.
Want to know another cool thing about this book? It has its own Facebook page, which I found by accident. Go say hi to the book and tell it that I sent you!
Meyer Lemon-Goat Cheese Soufflé Cakes
from Farmers' Market Desserts by Jennie Schacht
1 cup (8 ounces) soft fresh goat cheese
1/3 cup crème fraîche or sour cream
4 large eggs, separated
1/4 cup mild-flavored honey, such as acacia, alfalfa, or clover
3 T all-purpose flour
Finely grated zest of 2 small Meyer lemons
1 T fresh Meyer lemon juice
1/2 tsp pure vanilla extract
1/4 tsp kosher salt
3 T granulated sugar
Lightly sweetened whipped cream, for serving
Berries of choice, for garnish
Preheat the oven to 350 degrees F, with a rack in the lower third. Butter eight 6-ounce ramekins. Sprinkle with sugar to coat, tapping out any excess. Select a baking pan at least 2 inches deep and large enough to hold the ramekins without crowding. Line the pan with a folded kitchen towel, to prevent the ramekins from sliding, and place the ramekins in the pan, spacing them evenly. Bring a kettle of water to boil and remove from heat.
Whisk together the goat cheese and crème fraîche in a bowl until smooth. Add the egg yolks, honey, flour, lemon zest and juice, vanilla, and salt and mix until the mixture is uniform and free of lumps.
In the bowl of a standing mixer fitted with the whisk attachment (or with a handheld mixer), beat the egg whites on medium speed until they hold sot peaks. Add the sugar in a slow, steady stream, then increase the speed to medium-high and continue to beat until the whites hold firm peaks. Using a large spatula, gently fold the whites into the cheese mixture until only a few small, white streaks remain.
Divide the batter evenly among the prepared ramekins, smoothing the tops. Put the pan on the oven rack, and pour the hot water from the kettle into the pan until it reaches about halfway up the sides of the ramekins, taking care not to splash water into the ramekins.
Bake until the cakes are puffed and appear firm around the edges but still jiggle slightly when you shake the ramekin gently, 20-25 minutes. Carefully remove the ramekins from the water bath to a wire rack to let cool. (They will fall as they cool.)
Serve barely warm or at room temperature, or refrigerate for up to 3 days and serve chilled. To avoid condensation, cover tightly with plastic wrap only after completely cold. Just before serving, top each ramekin with a dollop of whipped cream and a few berries.
Nat's Notes:
1. If you can't find Meyer lemons, use 1 lemon and 1 clementine in place of the 2 Meyer lemons called for in the recipe.
2 1/3 cups all-purpose flour
1 1/2 tsp ground ginger
1 tsp kosher salt
1 tsp ground cinnamon
1/2 tsp ground allspice
1/4 tsp ground cloves (optional)
3/4 cup neutral vegetable oil, like canola or grapeseed
1/2 cup gently packed light brown sugar
1/2 cup unsulfured dark molasses
1/2 cup plain whole-milk yogurt or sour cream
1 T finely grated fresh ginger
1 large egg
1 tsp baking soda
1/ 2 cup hot, freshly brewed strong coffee or boiling waterTopping:
4 firm-ripe pears (about 2 pounds), peeled and cored
1 T unsalted butter, cut into small pieces
1/4 cup gently packed light brown sugar
1/4 tsp Kosher saltPreheat oven to 325 degrees F, with a rack in the lower third. Oil a 10- or 11-inch cast-iron skillet.To make the cake, stir together the four, ground ginger, salt, cinnamon, allspice, and cloves (if using) in a bowl. Set aside.Whisk together the oil, brown sugar, molasses, yogurt, fresh ginger, and egg in a large bowl until well blended and smooth. Using a wooden spoon or spatula, stir in half of the flour mixture. Stir the baking soda into the hot coffee (or water) until dissolved, then add to the batter and stir until combined. Stir in the remaining flour. Transfer the batter to the prepared skillet and spread evenly.To make the topping, cut the pears lengthwise into 1/2-inch thick slices. Arrange the longer slices on the batter in a circle at the edge of the pan, overlapping them slightly and with the narrow ends pointing toward the center. Arrange the shortest slices in a second circle in the center to cover the batter completely. Dot the pear slices with the butter along the outer circle only. Mix together the brown sugar and salt and sprinkle evenly over the top.Bake until the top springs back when you press it lightly in the center and a toothpick inserted in the center tests clean, about 1 hour. Transfer the skillet to the stove top to cool for at least 20 minutes.
Serve warm or at room temperature, cut into wedges and topped with whipped cream. Refrigerate leftover cake, tightly covered, for up to 4 days, or freeze, tightly wrapped, for up to 2 months. Bring to room temperature before serving.
Nat's Notes:
1. When I made this I forgot the baking soda step. (I had kids helping. It happens.) That's why it doesn't look very cakey in the photo.
2. This is a skillet cake, but you could bake it in a similar-sized baking pan. I used a stainless steel skillet because my cast iron pan was too small.


Print Recipe Text Only
***COMMENTS HAVE CLOSED! ***