Spicy Turkey Chile Verde with Hominy and Squash
I tried this recipe out last summer, and we loved it. Why didn't I post it then? Well, um. . . it falls in the category of "how in the world do I get this homely dish to look appetizing in a photo?" It was a serious problem.I thought I'd give it another crack since I upgraded my camera. There was a mild improvement, but still — only a face a mother would love.
This recipe is a sped-up version of Chile Verde, a classic Mexican slow-cooked pork dish. Only it's not pork. It's turkey. And I've never had authentic chile verde (not a pork fan), so I'm not sure how it compares. All I know is that it made me love these two ingredients even more:
Hominy: kind of like blown-up pieces of chewy corn. I think they're what Corn-Nuts were in a previous life. They add texture and meatiness to soups, stews, and skillet meals.
And salsa verde: a pureed salsa made mostly from tomatillos. This stuff is delicious on scrambled eggs.
Choose your sausage wisely as much of the flavor in the dish comes from this. The first time I made it I found a mango-jalapeno turkey sausage that was awesome. I think it was Aidell's, but I'm not sure. I tried to find the same kind this last time, but could only find Aidell's Mango turkey sausage. I thought the sweetness in the sausage played well with the sweetness of the butternut squash, and contrasted beautifully with the spiciness of the salsa & peppers.
This dish is sorta like a stew. It can stand well on its own, but it goes nicely with rice, warm tortillas or cornbread. We liked it a lot with cornbread. This meal is also great for weeknights (if you cube the squash beforehand – wrestling a squash can get a bit hairy.)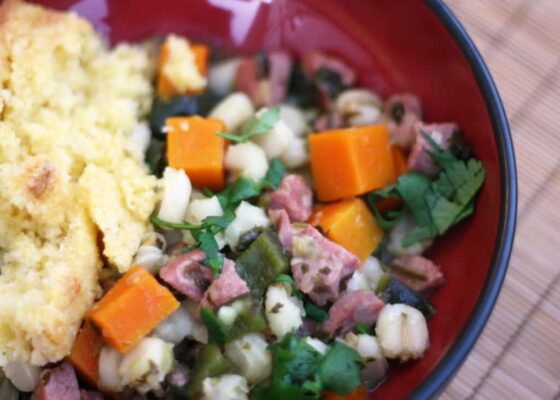 Spicy Turkey Chile Verde with Hominy and Squash

Ingredients:

2 T olive oil
1 pound spicy fully cooked turkey sausages (such as habanero and green chile or andouille), diced
1 large fresh poblano chile stemmed, seeded, cut into 1/2-inch pieces (1 heaping cup)
1 1/2 teaspoons dried oregano
4 large garlic cloves
1 15-ounce can hominy in juice
1 cup bottled salsa verde (medium heat)
1/2 cup plus 2 T chopped fresh cilantro, divided
2 cups 3/4-inch cubes peeled butternut squash (8 ounces)

Directions:

Heat oil in heavy large pot over medium heat and add sausage. Sauté to heat through, about 4 minutes, then add poblano chile and oregano. Press in garlic. Stir 2 minutes. Add hominy with juice, salsa verde, 1/2 cup cilantro, and squash. Bring to simmer. Cover, reduce heat to medium-low, and simmer until squash is tender, stirring occasionally, 12 to 15 minutes. Uncover and let it cook for a few more minutes to thicken, if desired. Transfer chile verde to bowls. Sprinkle with remaining 2 tablespoons cilantro and serve.

Serves 4-5.

Nat's Notes:
1. Poblano chile look like green bell peppers, but thinner and darker green. They're sometimes called "pasillas". They're spicier than bell peppers, but not too spicy.
2. You can find canned hominy and salsa verde in the ethnic/latino section of your supermarket.
3. You can also use frozen squash chunks if you like. I cut up a big butternut squash and froze the rest of the chunks that I didn't use.

from Bon Appetit May 2009