Portobello and Black Bean Enchiladas with Roasted Poblano Sauce
Whew. Last week was one of the busiest weeks I've had in a while. My brother and his wife came to visit us over the weekend so I was busy cleaning up our home and finally getting all the de-cluttering done I'd been wanting to get done for months. AND I had to prepare lunch for 40 people at my husband's Wellness Practice Club at school on Friday. Oh yeah, as well as the regular "mom" duties of cooking, cleaning, and taking care of the kids. Not a lot of time for blogging. Or much else. But last weekend was a blast.
So, enchiladas . . .  I think these were the first vegetarian enchiladas I've ever made. I've never been too fond of mushrooms, but I've been trying to get over their weird texture because they add such a nice flavor to dishes. Portobellos smell heavenly when they're roasting. And they're quite "meaty" so we didn't even miss having meat in our enchiladas. The sauce that goes on these is AWESOME. Spicy and flavorful, and a nice change from the typical stuff that comes from a can.
Remember that post I did about time management while cooking? This recipe is another wonderful example preparing components of the recipe ahead of time so you don't spend forever in the kitchen right before meal time. I added tips in the recipe for ya.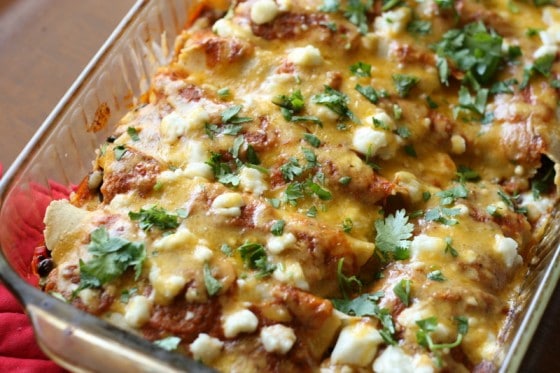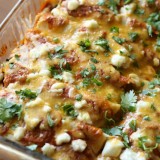 Portobello and Black Bean Enchiladas with Roasted Poblano Sauce
Ingredients:
Roasted Poblano Sauce:
1 poblano pepper
2 tsp. extra virgin olive oil
1 medium yellow onion, chopped
1 large clove garlic, chopped
1/2 tsp. salt
1/2 tsp. ground cumin
1/2 tsp. chili powder
1/4 tsp. paprika
1/8 tsp. ground chipotle pepper (optional)
2 cups crushed tomatoes
about 1/4 cup water (to thin out the sauce)
1/2 cup fresh cilantro, chopped + extra for garnish
Filling:
2 roasted red peppers, diced (jarred or fresh)
12 oz. portobellos (about 4-5 large), stemmed, gills scraped out, and diced
1/2 red onion, diced
extra virgin olive oil
salt and freshly ground black pepper
1 can black beans, drained and rinsed
Other ingredients:
12 corn or whole wheat flour tortillas
4 oz. queso fresco
fresh tomatoes or pico de gallo, for serving
Directions:
Preheat oven to 425 F.
To prepare the sauce: Roast the poblano pepper (and red peppers if using fresh) directly over the flame of a gas burner, turning frequently with tongs, until evenly charred. (Alternatively, char under the broiler, turning once or twice, for 5 to 7 minutes total.) Transfer to a deep bowl, cover with plastic wrap, and set aside to steam for 10 minutes.
Meanwhile, heat 2 tsp. olive oil in a medium saucepan over medium heat. Add the onion, garlic, salt, cumin, chili powder, paprika and ground chipotle (optional) and cook, stirring, until the vegetables have softened, about 5 minutes. Remove from the heat.
Peel the pepper, discard the stem and seeds, and chop. Add to the saucepan along with the tomatoes, water, and chopped cilantro. Return to medium heat and cook, uncovered, at a steady simmer, until the liquid has reduced slightly, 10 to 15 minutes. Puree using an immersion or stick blender (or very carefully transfer to a blender or food processor) until smooth. TIP: Can be done a day or two in advance.
To prepare the filling: While the sauce simmers, place the mushrooms and red onion in a single layer on a rimmed baking sheet. Drizzle with olive oil and sprinkle with salt and pepper. Roast, stirring halfway through, until the vegetables are tender and browned in spots, about 15 minutes total. Transfer to a large bowl and stir in beans and roasted red peppers (if you are using jarred peppers make sure to remove the excess moisture). TIP: Can be done a few hours in advance.
Reduce oven temperature to 375 F.
To prepare the enchiladas: Spread 1/2 cup of the sauce in the bottom of a 9x13 baking dish. Place a skillet over medium heat. Coat both sides of a tortilla with cooking spray. Heat in skillet for 5 to 10 seconds per side, adjusting the heat if the pan gets too hot. (Or you can warm the tortillas in the microwave.) Spread about 1/3 cup of the filling and 1 Tbsp. of the sauce down the middle of the tortilla and roll it up to enclose the filling. Place seam-side down in the baking dish. Repeat with the remaining tortillas, filling and sauce. Spread the remaining sauce over the enchiladas. Top with crumbled queso fresco.
Bake in preheated oven, uncovered, until hot, about 15-20 minutes. Serve with fresh tomato or pico de gallo and garnish with cilantro.
Serves 4-6.
Nat's Notes:
1. Poblanos look like jalapenos only larger and darker green. Sometimes they're called "Pasillas" at the store. I only used half of the poblano and it was plenty spicy for us. I tend to tone things down a bit for my toddlers, though. Also, if the poblano isn't cooked thoroughly, it will retain more of its heat. (That may have been why my pepper was too spicy.)
2. I made corn tortillas from scratch (can also be done far in advance, simply freeze or chill them, then warm them when you're ready to use them so they don't break) and it added a lot to the flavor of the enchiladas.
3. I didn't have enough queso fresco on hand so I sprinkled a bit of shredded cheddar along with it.
adapted from Eating Well by A Hint of Honey