Roasted Sweet Potato and Chorizo Lettuce Wraps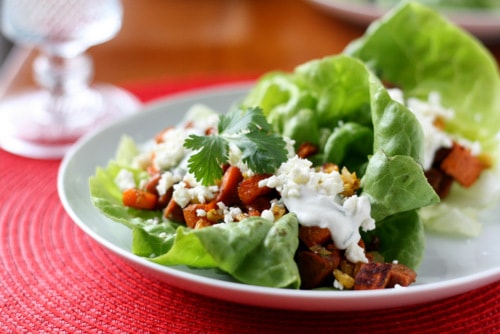 Oh, friends. It's been a rocky week.
Have I told you that I'm clumsy? And I'm even more clumsy when I'm pregnant.
This past week I've had a string of incidences that range in severity from dropping a brand-new roll of toilet paper into the toilet, to jamming our garbage disposal with things I don't usually put down there, to nearly breaking off the side window of our car while pulling out of the garage. (Yes, it's still attached. Barely.)
Lessons this week:
1. Close the toilet before refilling the cabinet behind the toilet with rolls of toilet paper.
2. Do not put chunks of ginger or ginger peel down the garbage disposal.
3. Even if you're having a deep discussion about belly buttons with your 3-year-old, still pay attention and give your side mirrors proper clearance while pulling out of the garage.
I better have this baby before I destroy everything we own.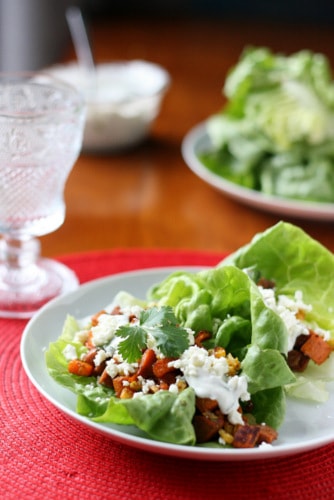 These lettuce wraps were one of the few things I did right in the past few days. I love the combination of sweet potatoes with spicy, Mexican flavors, and because I had just purchased a package of chicken chorizo, I was anxious to try it out.
Roasting the sweet potatoes with some corn brought out their sweetness which complimented the spices in the chorizo. I was afraid they'd be too spicy for my kids, so I made some cool cilantro cream to tone things down. Worked like a charm.
After the little carb-fest we had on Sunday, these were a nice change. And we all LOVED them.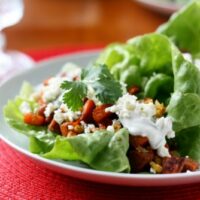 Roasted Sweet Potato and Chorizo Lettuce Wraps
Yield: Serves 4

Additional Time: 45 minutes

Total Time: 45 minutes
Instructions
Preheat oven to 450 degrees F. Place sweet potato cubes and corn on a large rimmed baking sheet. Drizzle with 2 T of the oil and sprinkle with cumin, cayenne, and a pinch or two of salt. Toss to ensure the vegetables are coated in the oil and spices. (Use your hands. It's fun.) Give the pan a few shakes to spread everything evenly in the pan. Roast for 15-20 minutes, stirring a couple of times during roasting, until the potatoes are tender and all of the vegetables have brown spots. Set aside. Meanwhile, heat the remaining Tablespoon of oil in a large skillet over medium heat. Saute the onion, stirring occasionally, until golden brown, about 8-10 minutes. Add the chopped chorizo. Stir and cook until the chorizo begins to brown on the edges, about 5 minutes. Add the sweet potato mixture to the skillet, then squirt the juice from half a lime over the top. Sprinkle in the cilantro and mix well. Remove from heat. Combine the sour cream, 1 T of lime juice, and 2 T chopped cilantro in a small bowl. Stir to combine, adding a pinch of salt to taste. Assemble the wraps by putting a couple spoonfuls of filling into the middle of a lettuce leave. Place a small amount of cilantro cream and feta cheese on top. Nat's Notes: 1. I used Aidell's pre-cooked chicken chorizo, which had a nice, spicy bite. Combined with the rest of the filling (and the cream), it wasn't too spicy for my small children. It was also easy to chop into cubes. If you use regular chorizo, just crumble it into the pan.