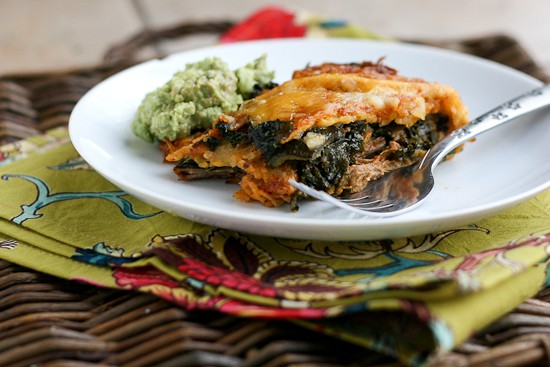 Oh, gosh. I'm so into these layered enchilada things. Have you tried the Stacked Roasted Vegetable Enchiladas that exploded all over Pinterest?
I was so excited about them that I made Stacked Chicken and Zucchini Enchiladas with Creamy Green Chile Sauce.
I thought there should really be a beef version, so I took some of the leftover shredded beef and sauce from the Taqueria-Style Shredded Beef recipe and made a third member of this little stacked enchilada trio.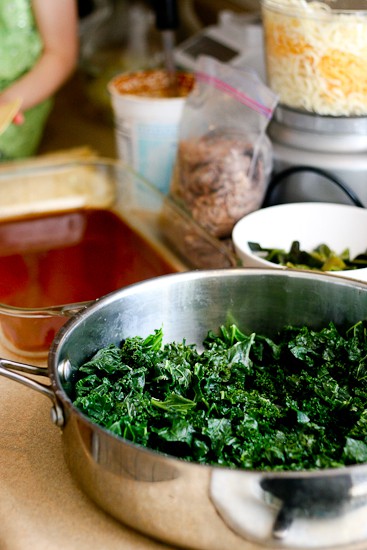 Whenever I make something like this (a cheesy, grain-loaded meal) I try to cushion the blow by doing two things — 1. to make it at least gluten-free (Steve and I feel a lot better afterward) and 2. to stuff as many vegetables as I can into it.
I think three poblanos and two whole bunches of kale was sufficient. By the way, it's a frightening amount of kale, but keep in mind that it does cook down. I have to remind myself still.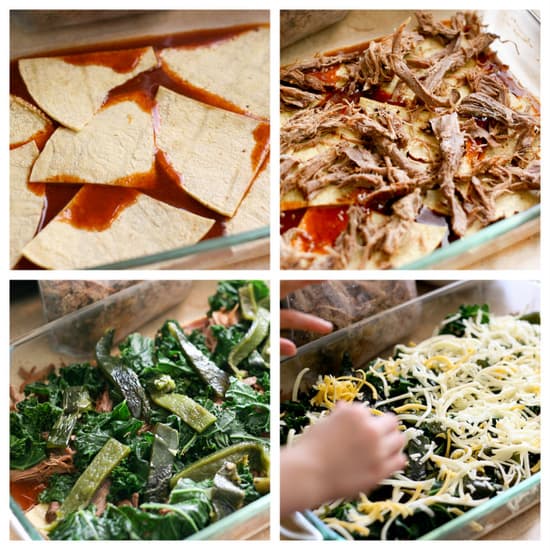 If you go from zero to enchiladas in one day you'll be completely exhausted. To make it easier, add these Shredded Beef and Kale Enchiladas to the same weekly menu as a slow cooked beef recipe. Then you've got the beef (and maybe the sauce) sitting in your fridge, and all that remains is the vegetable prep and assembly. (Both of which can also be done ahead of time.)
And by the way… I got a lot of suggestions to include more freezer-friendly meals. Well, THIS IS ONE OF THEM.
I've frozen the roasted vegetable version as well as this beef version and they cook up great after their cryogenic naps. You'll have to double the cooking time when they're frozen (and try to use metal or foil pans because frozen glass may explode in a hot oven), but you'll have more time to do other things.
Like scrape dried baby peas off the kitchen floor. Or take a shower.
Hopefully your life is a little more glamorous than mine. :)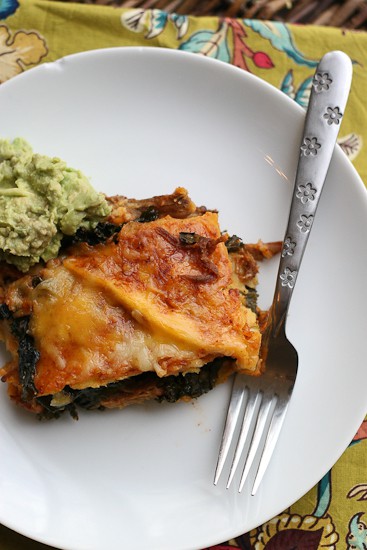 You could also use some leftover Slow Cooker Green Chile Chicken or Slow Cooker Chipotle Shredded Beef in this!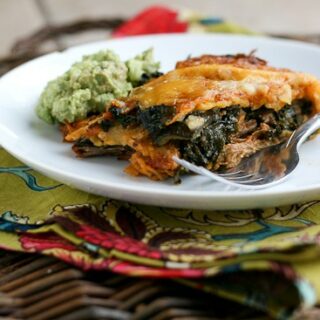 Leftover Shredded Beef and Kale Stacked Enchiladas
Total Time:
1 hour
30 minutes
This might be my favorite use for leftover shredded beef! It's so rich and hearty layered with enchilada sauce and sauteed kale. It even makes kale taste good, which isn't an easy feat sometimes.
Ingredients
3 Tablespoons coconut oil, divided
3 poblano peppers
2 bunches of kale, stems removed and chopped coarsely
3 cups leftover shredded beef (see links within the blog post for slow cooker ideas)
10-12 corn tortillas, quartered
3 cups enchilada sauce
3 cups lightly packed shredded cheese (I used a cheddar-Monterey Jack blend)
Instructions
Preheat your oven broiler. Rub a Tablespoon of coconut oil on the poblano peppers and place on a baking sheet under the broiler. Turn them every few minutes, and broil until large, black blisters cover the outside.
Remove from the oven, place in a bowl, and cover with plastic wrap. Let them steam for 10 minutes or so until they're cool enough to handle. The peels should come right off. Discard the peels, stems, and seeds. Slice into strips or chunks, whichever you prefer. Set aside.
Set oven to 350 degrees F.
Prep the kale by bringing the remaining 2 Tablespoons of coconut oil to medium-high heat in a large, deep saute pan. Put all of the kale in the pan (Yes, it looks like a mountain. It will cook down considerably.)
Sprinkle with a pinch or two of salt, and, using tongs, toss them around for a minute or so. Cover the pan and steam for 5-8 minutes or until the kale wilts to about half its volume. Don't overcook it or it will lose its bright color and look weird. Remove from heat and set aside.
Gather the rest of the ingredients and set up your layering station. Put 1/2 cup of enchilada sauce into the bottom of a 9x13 baking pan (I used a Pyrex). Cover the bottom with tortilla quarters. Layer: half of the meat, half of the kale, and half of the poblanos. Top with one third of the cheese and one third of the remaining enchilada sauce. Cover with another layer of tortillas, then repeat the layering. End with a layer of tortillas, then the remaining sauce and cheese.
Cover with foil and bake for 35 minutes. Uncover and bake for another 10 minutes so the cheese can melt and brown a bit. Use the broiler if needed, but watch it closely! Let it rest for 10 minutes before cutting.
Serve with lime wedges, guacamole, sour cream, and hot sauce.