Bacon, Kale, and Sweet Potato Breakfast Burritos
We have breakfast burritos a lot. Sometimes for dinner, too. They seem to come out differently every time because I throw in what I've got in the fridge based on
this basic recipe
, and I don't blog about every variation.However. . .
We've been trying eat more foods with a lower glycemic index (won't make your blood sugar go crazy), and because white potatoes have a high index, I swapped them out for sweet potatoes. I added kale (because I needed to use it) and bacon (because a breakfast burrito without bacon is a sad, sad thing) and ended up with a delicious smoky-sweet breakfast concoction. . . and decided to enter it into this contest right here. Wish me luck!
Kale for breakfast? I know, I know. Just trust me. You'll love it.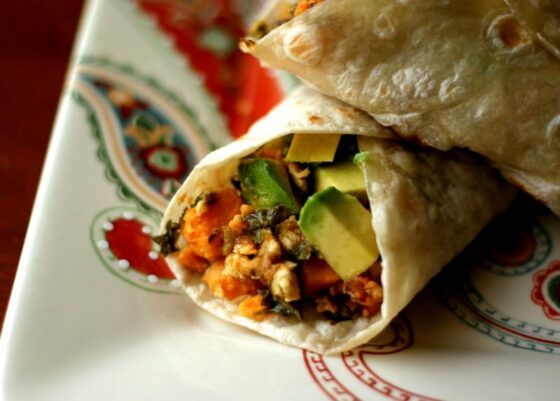 Bacon, Kale, and Sweet Potato Breakfast Burritos

Ingredients:

3 slices of uncooked bacon, chopped
2 1/2 c. sweet potato cubes (1/2 in - 3/4 in)
1/2 red bell pepper
1/2 c. chopped onion
1 c. chopped fresh kale
4 eggs
1/4 c. chopped cilantro
1/2 c. purchased salsa or pico de gallo
1/2 c. shredded cheese
salt and pepper
5-6 soft taco size or 2-3 burrito size tortillas
sour cream and diced avocado (optional)

Directions:

Cook bacon in a large skillet over medium heat for about 8-10 minutes or until crispy and most of the fat has rendered off into the pan. Remove bacon bits with a slotted spoon and set aside.

Drain all but 2-3 T of the bacon fat. (Or leave it all if you want to.) Return pan to medium heat and add the sweet potato, bell pepper, and onion. Add a couple pinches of salt and pepper over top and cook, stirring occasionally, for about 5 minutes until the onions begin to soften. Stir in the kale. Continue to cook until vegetables are tender (especially the potatoes), another 8-10 minutes or so.

Shove all ingredients to one side of the pan and add the eggs to the other side. Cook eggs until they're no longer liquid, but still not cooked through. Stir eggs into the vegetable mixture. Return bacon bits to the pan and add cilantro and salsa. Stir and cook until everything is heated through and the eggs are cooked thoroughly. Add salt and pepper to taste. Sprinkle cheese over top and add diced avocado, if desired.

Spoon about 1/2 c. of filling into each tortilla and top with a little sour cream before rolling them up.

Makes 5-6 burritos.

Nat's Notes:
1. To prep kale, grab each stem by the spine and rip off the leaves. Discard spines; chop leaves and use as needed.