Coconut Cake with Toasted Coconut Cream Cheese Frosting
Did you know two-year-olds are capable of cracking eggs? The first couple tries required fishing out dozens of shell shards before adding it the batter, but on the third try . . .
No shells. Yolk in tact (with just a little leak in the side). It was an exciting moment for us, and definitely worth the eggy mess it made all over her hands, apron and the counter.
Grandpa Perry's birthday was last week so Sophie helped me make his birthday cake — a coconut cake at his request. She's a pretty good helper if you can keep her tasting fingers out of everything.
This recipe is originally a cupcake recipe featured on Down Home with the Neelys (Food Network). A friend of mine made them for a Christmas party, and I tucked the recipe away waiting for an excuse to make it.
Instead of cupcakes, I made a cake. Instead of two round pans, I put it all into a high-sided commercial baking pan thinking I would separate it into three layers. I tell you, it's a good thing I put it in that pan instead of one of the dark nonstick ones because it would have burned during the HOUR AND A HALF it baked. I'm not joking. This thing ended up being close to a pound cake in density. I don't remember the cupcakes being that dense . . . but the cake was delicious anyway. Speaking of tasting fingers . . . someone wasn't happy that the cake was slightly out of her little reach.
Grandpa got his coconut cake, I had an excuse to use my rarely-used, but very-much-adored cake stand, and Sophie got to help me in the kitchen. Everybody was happy.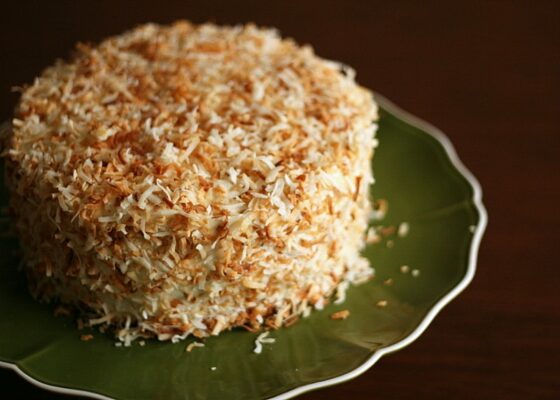 Coconut Cake with Toasted Coconut Cream Cheese Frosting

Ingredients:

For the cake:
2 ½ cups cake flour
1 teaspoon baking powder
½ teaspoon baking soda
1 teaspoon salt
2 ½ sticks unsalted butter, softened
2 cups sugar
5 large eggs
1 ½ teaspoons vanilla extract
1 teaspoon coconut extract
⅔ cup buttermilk
1 ½ cups sweetened coconut flakes

For the frosting:
2 (8-ounce) packages cream cheese, softened
1 stick unsalted butter, softened
2 teaspoons vanilla extract
6 cups confectioners' sugar
2 cups sweetened coconut flakes, for garnish

Directions:

Preheat oven to 350 degrees F. 
Into a medium bowl whisk together flour, baking powder, baking soda, and salt; set aside. 
In a large mixing bowl, cream butter and sugar together until light and fluffy, about 4 minutes. Add eggs 1 at a time until just combined. Add vanilla and coconut extract. Add buttermilk and dry ingredients, being careful not to over mix. Mix in the shredded coconut. 


Pour the cake into a 9x13 or two 8 or 9-inch round cake pans. Bake for 25-35 minutes (see note) or until golden brown and toothpick inserted in the center comes out clean. Remove from oven and let cool on wire racks before frosting. (Leave the oven on if you plan to toast the coconut.) 



To make the frosting, beat cream cheese and butter together until light and smooth. Add vanilla extract and slowly add the confectioners' sugar 1 cup at a time until thoroughly incorporated. 


Pour coconut flakes evenly onto a baking sheet. Place in oven for 2 to 3 minutes allowing flakes to cook and turn a golden brown color. Watch them so they don't burn. 
Assemble and frost the cake with the coconut frosting. Garnish with toasted coconut flakes.

Nat's Notes:
1. This recipe makes about 24 cupcakes. Fill cupcake liners about 2/3 the way full and bake for 15-18 minutes.
2. The baking time above is a very rough estimate. I put all the batter in a high-sided round cake pan, so mine took a LONG time to cook (about 90 minutes) because it was so deep. Start checking for doneness around 25 minutes and keep an eye on it.

adapted from The Neelys (Food Network)