Shrimp and Cotija Enchiladas with Salsa Verde
This is a recipe that I've had in my drafts folder for a while, but never had a chance to post. Things got backed up last summer and by the time I was ready to post it, it was almost Thanksgiving. Thinking this is a warm-weather type dish, I saved it until the sun came out again.(Thus the less-than-fabulous photography.)
I remember around the time I made them I was on a salsa verde kick and experimented with a couple different recipes to make that lovely green salsa from scratch. All of the recipes had one thing in common: tomatillos.
Tomatillos look like a green tomato wearing a paper-like "jacket". Although they're in the tomato family, they're technically not a variety of tomato. You may be able to find tomatillos in regular grocery stores (we can here in Cali), but they definitely have them in Latino markets.
The paper wrapping comes off easily (most of the time) and the fruit underneath is somewhat sticky, which was a surprise to me.After a rinse, the tomatillos were thrown onto a cookie sheet with some garlic cloves and poblano halves (a type of chile that's a little spicier than a bell pepper, but darker green in color). Then they all roasted together happily until a bit charred in places.
After a buzz in the food processor with some cilantro and onion. . . voila! Salsa Verde!My second favorite thing about this dish is the cotija cheese. I could sit and eat a big hunk of it by itself. I love it that much. You may also be able to find it in a regular grocery store (especially if you live in California), but check a Latin market if you have one. If not, just use feta. Feta's a bit stronger than cotija, so hold back if you need to.
These enchiladas were awesome. They're sorta time consuming, but you can make the salsa verde and cook the filling ahead of time. (Just be sure not to overcook the shrimp). We all loved these. And it wasn't just us . . . we had company over, too. My friend that ate them wasn't a huge fan of shrimp, but she loved these anyway.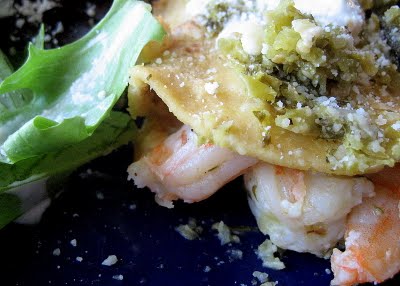 Shrimp and Cotija Enchiladas with Salsa Verde

Ingredients:

4 T olive oil, divided
2 1/2 lbs tomatillos, husked, rinsed
4 large fresh poblano chiles, halved lengthwise, cored, seeded
4 unpeeled garlic cloves
2 c of loosely packed coarsely chopped cilantro, plus additional for garnish
1 c (packed) chopped green onions
1 1/4 c chopped red onion plus thinly sliced red onion rounds for garnish
48 uncooked medium shrimp, peeled, deveined (about 1 1/2 lbs)
2 T chopped fresh oregano or 2 tsp dried
1 tsp ground cumin
12 5-6 inch-diameter corn tortillas
12 oz crumbled Cotjia or feta cheese, divided

Directions:

Preheat broiler. Line a large rimmed baking sheet with foil and brush lighly with 1 T olive oil. Arrange tomatillos, poblano chiles (cut side down), and garlic cloves on prepared baking sheet. Broil until tomatillos and chiles begin to soften and blacken in several spots, about 10 minutes. Watch them close so they don't burn. Remove from oven. Let stand until cool enough to handle, about 15 minutes.

Transfer tomatillos to blender or food processor. Peel garlic and add to processor. Peel charred parts off the chiles, coarsely chop them, then add 1/3 c of them to the processor. Set aside the remaining chiles for later. Add 2 c cilantro and 1 c green onions to processor. Blend until coarse puree forms, using on/off pulses. Season salsa verde (That's what you have now! Cool eh?) with salt and pepper. Transfer 1 1/2 c salsa to shallow bowl.

In a large skillet over medium-high heat, add 2 T oil. Add chopped red onions and saute until slightly softened, about 2 minutes. Sprinkle shrimp with salt and pepper. Add shrimp, oregano, cumin and reserved chopped chiles to skillet. Cook just until shrimp are almost opaque but not completely cooked through, tossing often, about 3 minutes. Remove shrimp mixture from the heat.

Preheat oven to 350 degrees F. Brush a large baking dish (9x13 or 10x15) with remaining oil. Spread 1/2 c of salsa from the processor in the bottom of the dish. Stack tortillas; wrap in damp paper towels and place on a plate. Microwave on high about 20-30 seconds until soft and pliable.

Working with 1 tortilla at a time, dip the tortilla into bowl with the 1 1/2 c salsa, turning to coat both sides evenly. Transfer to prepared baking dish. Place 4 shrimp and some onion-chile mixture down the center of the tortilla, then sprinkle a heaping tablespoonful of cheese over top. Roll up tortilla, enclosing shrimp and filling. Place seam side down in dish. Repeat with remaining tortillas, shrimp, onion-chile mixture, and cheese. Spread 2 c salsa verde from processor over enchiladas.

Bake just until heated through and cheese melts, about 20 minutes. Serve with remaining salsa verde, cheese, and Mexican crema or thinned sour cream. Top with red onion slices and chopped cilantro, if desired.

Serves 6.

from Bon Appetit June 2009