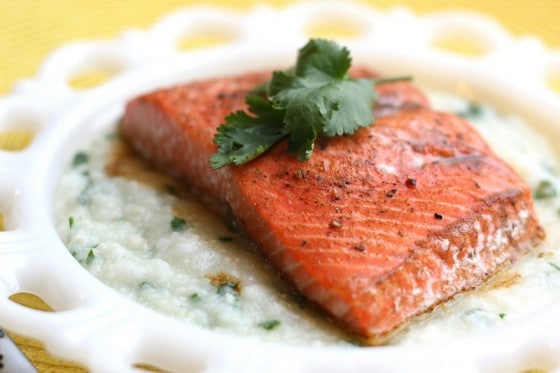 That roasted salmon up there is a quick dinner that can be made in under 30 minutes!
I'm totally in love with the smoky flavor of chipotle peppers, but because they're very spicy and I have two little mouths to feed, I tend to be shy when I use them. I loved the spicy-sweet flavor of the glaze on this salmon and would probably double the glaze for next time and put more on halfway through cooking.
And because I have a hard time following a recipe without tweaking things, my glaze is quite a bit thinner than the original.
A note about the hominy puree…. After I prepared it and tasted it I almost started laughing. The taste and texture was awfully close to grits. I guess that makes sense because grits I'm used to eating are made from hominy. I was surprised, too, that such a simple mix of ingredients could be so tasty. I wish I'd had more of it!
I also made some sweet potato fries and some crispy roasted brussels sprouts to boost the amount of veggies in the meal. And to have some back-up in case the salmon and hominy didn't fly with my little ones. They ate some, but weren't as thrilled as their parents.
---
If you make this recipe, be sure to post it to social media and tag me at @perrysplate or #perrysplate so I can send you some love!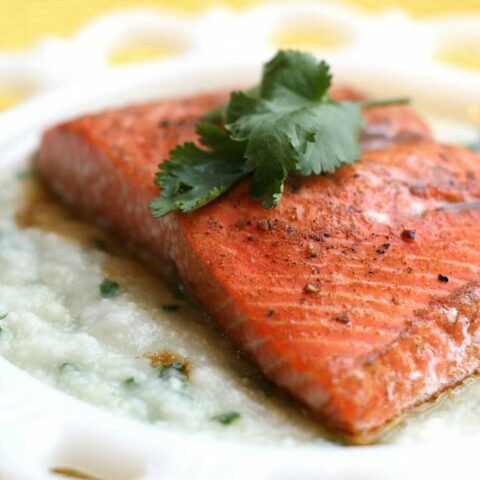 Roast Salmon with Sweet Chipotle Glaze and Hominy Puree
The sweet chipotle glaze on this salmon is just sweet enough and goes so well with the hominy puree!
Ingredients
1 1/2 teaspoons minced chipotle chile, seeds removed or straight adobo sauce (from a can of chipotles in adobo sauce)
2 Tablespoons honey
2 1/2 teaspoons red wine vinegar
1 teaspoon ground cumin
Nonstick spray
4 5-6 ounce salmon fillets with skin (scant 1 inch thick)
1 28-ounce can hominy, drained, juice reserved
2 tablespoons butter
2 tablespoons chopped fresh cilantro
Instructions
Preheat oven to 450°F.
Mix minced chipotle, honey, vinegar, and cumin in bowl; season glaze to taste with salt.
Coat small rimmed baking sheet with nonstick spray. Arrange salmon on sheet; sprinkle with salt and black pepper.
Spread glaze over fillets, using all the glaze. Roast until just opaque in center, about 10 minutes.
Meanwhile, puree hominy and 1/3 cup reserved juice in a food processor or blender until almost smooth.
Transfer pureed hominy to small skillet. Add butter and cilantro. Stir over medium heat until warmed through, mixing in more reserved juice by teaspoonfuls if too thick. Season to taste with salt and pepper.
Divide hominy between 4 plates, top with salmon, and serve. Serves 4.
Notes
Nat's Note: Chipotles in adobo sauce are smoked jalapenos canned in a tomato-based sauce and can be found in the ethnic aisle of your grocery store. They're very spicy, which is why I removed the seeds and used a small amount. (I have small children.) If you'd like it spicier, add more. If you can't find the canned chipotles, substitute 1/4 tsp dried chipotle chile powder for the amount in the recipe.