The Homemade Ice Cream Challenge + Lemon Buttermilk Sherbet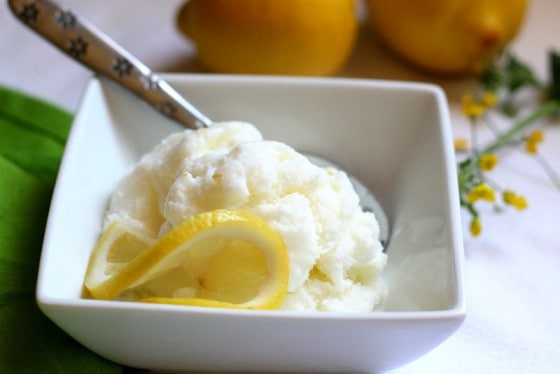 I had a patriotic dessert tentatively planned to post this weekend, but I still can't decide if I love it. Or if blueberries were meant to be with Brie. I may post it anyway, just to get a chuckle out of you.
We're taking a different route this weekend.
We've decided to take the Homemade Ice Cream Challenge of 2011.
(No, it's not a real challenge. I totally made it up.)
What is this, you say? The Perrys have decided not to buy ice cream all summer.* If we eat ice cream, sherbet, or sorbet at home, it will be homemade.
Why? For fun. And as you know, we're picky about the sweets we eat (and usually reserve them for special or social occasions), but ice cream is in our freezer all the time. It's kind of our kryptonite, but we don't go nuts with it. By making it all from scratch not only will it be better tasting and free of weird things, but we might actually eat less if I'm forced to make it myself.
Or not. I've got a dozen recipes in The Perfect Scoop
bookmarked, so that reason may backfire. By the way, if you buy any cookbook this summer, and own an ice cream maker, there is no reason why you shouldn't have a copy of this book. It's pretty much my ice cream bible.
So, today I wanted to share a light, refreshing sherbet from said bible. Typically I'm not too fond of lemon-y desserts, but I'm beginning to come around. I LOVED this sherbet. Lots of lemon, lots of buttermilk tang, but sweet enough that your face won't implode. (I'm also sensitive to sour things, so this was perfect for me!)
Plus, it only has three ingredients. Four if you count water.
If you have an ice cream maker and are itching to use it, climb aboard the challenge!
And have a fun and safe 4th of July weekend! This is a rather sentimental holiday for our family because of my husband's past deployment and the fact that we were engaged on the 4th. So go thank a soldier, hug your loved ones, and be grateful for the freedoms we enjoy! And eat some ice cream, too.
(Psst… Happy Canada Day to my lovely Canadian friends! I love Canadians!)
*Steve added a small clause enabling him to purchase one container of Tillamook Vanilla Ice Cream. 
Lemon Buttermilk Sherbet

Ingredients:

1/3 cup water
2/3 cup sugar
2 lemons, zest from one (about 2-3 tsp) and juice from both (about 1/4 cup)
2 cups buttermilk

Directions:

Combine the water and sugar in a small saucepan. Grate the zest from one lemon into the saucepan. Set lemon aside to juice later. Heat mixture (over medium heat) stirring frequently until sugar is dissolved. Remove from heat and allow mixture to cool to room temperature. Transfer to a small container and chill thoroughly in the refrigerator.

In a medium-sized mixing bowl, whisk together the buttermilk and the chilled lemon syrup. Whisk in the juice from both lemons. Freeze in your ice cream maker according to the manufacturer's directions.

Makes about 1 quart.

from The Perfect Scoop by David Lebovitz