Whole Grain Roasted Garlic & Rosemary Crusty Bread
See that bread up there? It has a crunchy crust, a soft interior and it's whole wheat. I made that little loaf myself.
It still amazes me that bread like this came out of my own kitchen. It's so easy, too. Steve gave me Healthy Bread in 5 Minutes a Day
for Christmas '09, and I've only recently started using it. I'm sorry I didn't start sooner!
My favorite things about these recipes:
1. The dough never touches the counter.
2. I never have to knead it.
3. I only have to mix up one batch of dough for every 3-4 loaves of bread.
4. Many of the recipes are whole-grain, but the texture is still awesome.
5. It is possible to have ready-to-bake pizza dough in my fridge at all times and pizza on the table in 30 minutes without needing the dough to rise. (This one is going to get me in trouble. Pizza is one of my biggest weaknesses.)
Is it really 5 minutes a day? On average, yes, it's about 5 minutes of active time where you have to use your hands. And those are only the days when you make dough or make something out of the dough. There are a few hours of resting/rising time, but you can leave the house if you want.
Yes, the recipe looks long and there are a lot of photos down there, but once you do the whole process a couple of times, you only need to look at the ingredient list after that. It's so easy I'm going to show you step-by-step.
(I didn't use garlic and rosemary when I made the batch below, but it's the same process. I put the instructions in the recipe for when to add the garlic and rosemary.)
1. Whisk the dry.
2. Add the wet.
3. Mix it all together. No dough hook needed. Or even a stand-mixer for that matter. You can use a wooden spoon and a bowl. The dough just needs to be mixed, not kneaded.
4. Put the dough in a 5-6 quart lidded container. (More on that below.) The dough will be very sticky and wet, and conform to the container.
5. Put the lid partially on the container and let it sit on the counter for 2 hours. This little container is the only piece of special equipment you may have to buy. Mine's only 4 quarts. (I had it before I started using the recipes in this book, and I didn't want to buy another one. It works for me. You can find them at restaurant supply stores or maybe a simple plastic food-safe container at a discount store would work as well.) .
6. After two hours, the dough should have risen and fallen, and the top of the dough should be flat. If it starts to sneak out of the container, just push it back in. (Mine does quite a bit because my container is small.) Put it in the fridge. You can store it for 7-10 days depending on the recipe and ingredients.
7. 90 minutes before bake time, sprinkle some flour on top of the dough (Mine's lower because I made pizza the night before.) Grab a big handful of dough (around the size of a grapefruit), and shape it into an oblong loaf. Gently so you don't squish all the air bubbles. Put the container back in the fridge. One container should give you 2 large, 3 medium, or 4 small loaves of bread.
8. Place it on a piece of parchment paper which sits on a cutting board or flat cookie sheet.
9. Cover it with plastic wrap. (Don't use a kitchen towel or it'll stick.) Let it sit for about 90 minutes.
10. Uncover. Get a cup of water ready. The dough doesn't need to double in size. It'll look bigger and a little more stretched out. This is perfect.
11. Cut slashes in the dough using a sharp knife. You might mangle the dough a bit (like I did) because it's so wet. That's OK. It'll puff up in the oven.
12. Brush water on the loaf.
13. This part is totally optional, but you can sprinkle seeds on the dough if you like. I mixed some seeds I had on hand in my pantry and made a little "bread sprinkling" mix. You can use poppy seeds, sesame seeds, sunflower seeds, flax seeds, pepitas, caraway or whatever else you have.
14. Your screaming-hot oven should be ready with a screaming-hot pan inside. My pizza stone broke last week. *Sniff* Using a stone would be best, but you can also use a flat metal baking sheet. (or an inverted rimmed one)
15. Quickly slide the dough (with the parchment) onto the hot pan.
16. Here's the fun part. Take that cup of water you were using earlier and throw it into the bottom of your oven. Wahoo! A note about this…. Place a broiler pan or another metal pan in the oven to catch the water. Do NOT use a glass pan (or it might shatter). And be careful not to throw water on your stone if you happen to be using one. I'm not sure why mine cracked in half, but I wonder if I accidentally splashed water on it.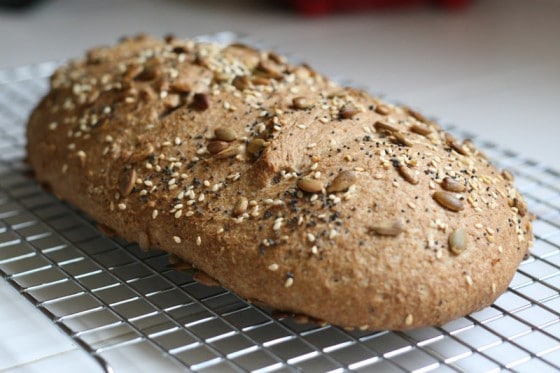 17. 30-40 minutes later you have this gorgeous hunk of bread that no one will believe you made yourself. Not even you. It should have a richly browned crust that's very firm and when you hold the hot loaf up to your ear you should hear a crackling sound. Bread that sings to you. Isn't that great?
When I made this bread with roasted garlic and rosemary, I ate about half of the loaf (in one sitting) with some Roasted Garlic and Balsamic Dipping Oil. They were meant to be together.
Like I mentioned above, this dough makes some pretty wicked pizza crust and flatbread. It's even easier than making regular bread because after you grab the dough out of the container, it's ready to be stretched, sprinkled with toppings and put in the oven.
Pizza in under 30 minutes whenever I want. No rising needed. I think my wildest dream just came true.
Whole Wheat Roasted Garlic & Rosemary Crusty Bread

Ingredients:

7 cups whole wheat flour
1 T + 1/2 tsp active dry or instant yeast
1 T + 1 tsp Kosher salt
1/2 cup vital wheat gluten
1 T dried rosemary, crushed between your fingers
4 bulbs of roasted garlic (see instructions in notes)
3 1/2 cups lukewarm water
1/2 cup olive oil

Directions:

Combine the flour, yeast, salt, vital wheat gluten and rosemary in large bowl or work bowl of a stand mixer. In a separate bowl, combine the roasted garlic, water, and oil. Add the wet ingredients to the dry ingredients and mix until well-incorporated. Use the paddle attachment if using a stand mixer. It's not necessary to knead the dough.

Transfer the dough to a 5-6 quart lidded container. You should have a very sticky, shaggy dough that's loose enough to form to the container. Place the lid on the container, but leave it cracked open. Let the dough sit at room temperature for about two hours.

The dough should rise, then collapse and level off on top. Once this happens, place the lid on (not airtight) and place it in the refrigerator for at least 2 hours. You can use it right away, but it's easier and tastier if it sits for a while in the fridge. You can leave the dough in the fridge for up to 7 days and use it when you wish.

On baking day, lay a piece of parchment on a flat cookie sheet or a rimmed pan turned upside down. Remove the container from the refrigerator and sprinkle a bit of flour on top of the dough. (This makes it easier to work with.) Grab a large handful of dough (about 1/3 of it) and carefully form it into a relatively smooth oval shape, tucking the sides underneath (or stretch it out like a baguette). Be careful not to smash it too much or overwork it. Forming the dough should take less than a minute.

Place the dough on the parchment and cover with plastic wrap. Let it sit on the counter for 90 minutes (or 45 minutes if the dough hasn't chilled). Don't expect it to rise up and get puffy like regular bread dough. It should spread out a little sideways.

Thirty minutes before baking time, preheat the oven to 450 degrees F with a baking stone on a lower rack in the oven. If you don't have a baking stone, place a rimmed cookie sheet in the oven upside down about 10 minutes before the bread goes in. Also, make sure there is a broiler pan in the bottom of the oven. If you don't have one, place a metal pan on the bottom of the oven. Do NOT use a glass pan or it will shatter (you'll see why in a second).

Remove the plastic wrap and using a sharp bread knife, make three 1/4-inch slashes in the dough. Fill a 1-cup measuring cup with water. Brush the dough with water and sprinkle with seeds (optional). Slide the bread (with the parchment underneath) on to the heated stone. Before you close the oven door quickly pour the rest of the water on the broiler pan on the bottom of the oven. Immediately close the door to trap the steam.

Bake for 30 minutes, removing the parchment after 20 minutes. Bread should be richly brown and very firm to the touch. When you remove it from the oven, hold it up to your ear. You should hear a crackling sound coming from the bread. This is a good thing. Let it cool until it reaches room temperature before cutting.

Nat's Notes:
1. For instructions on how to roast garlic, see this post. It can be done a few days ahead of time.

adapted from Healthy Bread in Five Minutes a Day by Jeff Hertzberg and Zoë François